The classic combination of coconut milk, mango and sticky rice is so popular from the street food of Thailand which is one of my favourites too. Whenever I see coconut and mango, my mind goes to the classic mango sticky rice which is also called khao niaow ma muang. The base ingredient of this dish is glutenous rice which develops a soft and chewy texture. So, mango season has arrived in India and I want to treat myself by making this mango sticky rice. I recommend you all to give a try to this Thai dessert that will take you to Southeast Asia by just spooning rice into a bowl, adding some fresh mango slices, and smothering it with the delicious coconut sauce.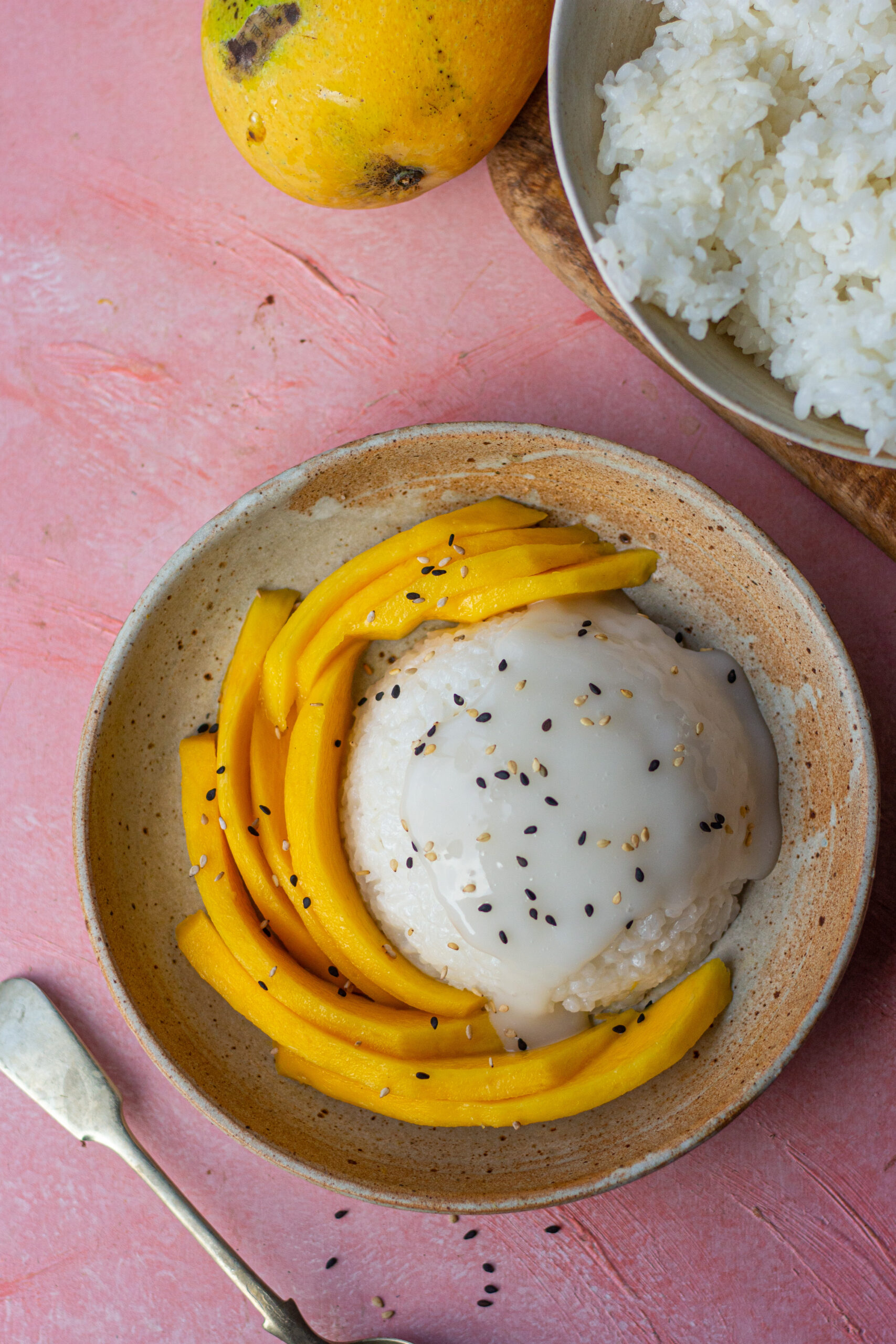 INGREDIENTS USED TO MAKE THIS MANGO STICKY RICE
STICKY RICE
Sticky rice is the base ingredient of mango sticky rice. These are glutenous and develops a chewy texture when cooked. I have used the rice from urban platter but you can use local rice also from your nearest supermarket. 
COCONUT MILK
Coconut milk gives flavour to both rice and sauce. It is the parent ingredient of our mango sticky rice pudding. Traditionally this is made with fresh coconut milk but I have used dabur coconut milk for this recipe. 
  SUGAR
It is also responsible for flavouring the mango sticky rice. You can use normal home sugar to prepare it. 
CORN FLOUR
To make the sauce thick and nice, we add corn flour. It also prevents lumps in the coconut cream sauce. 
THINGS TO KEEP IN MIND BEFORE MAKING MANGO STICKY RICE
As the sticky rice is the main component of this recipe, do not substitute it with any other local or jasmine rice. They can be found in supermarkets or online also.

 

You don't need a pressure cooker to make the rice. Just soak the rice and cook it in normal pot.

 

Use high quality coconut milk to make this recipe. Shake the can well before using it as the milk separates when sitting for too long.

 

You can serve this both hot and cold. It tastes best when serve cold but depend on your choice completely.

 

If you want to reheat the rice use a microwave or a steamer instead to in the saucepan.

 

For maximum flavour use best quality mango to make this mango sticky rice

 

If you want to substitute sugar and make it healthier, you can use mild sweeteners.

 
EQUIPMENTS USED TO MAKE MANGO STICKY RICE
The kind of equipment you use when you're baking makes a huge difference to the end result! I would recommend you to use good quality mixing bowls and saucepan 
I have used Borosil Induction for cooking the rice. It makes cooking hassle free and quick. 
OTHER MANGO RECIPES ON THE BLOG: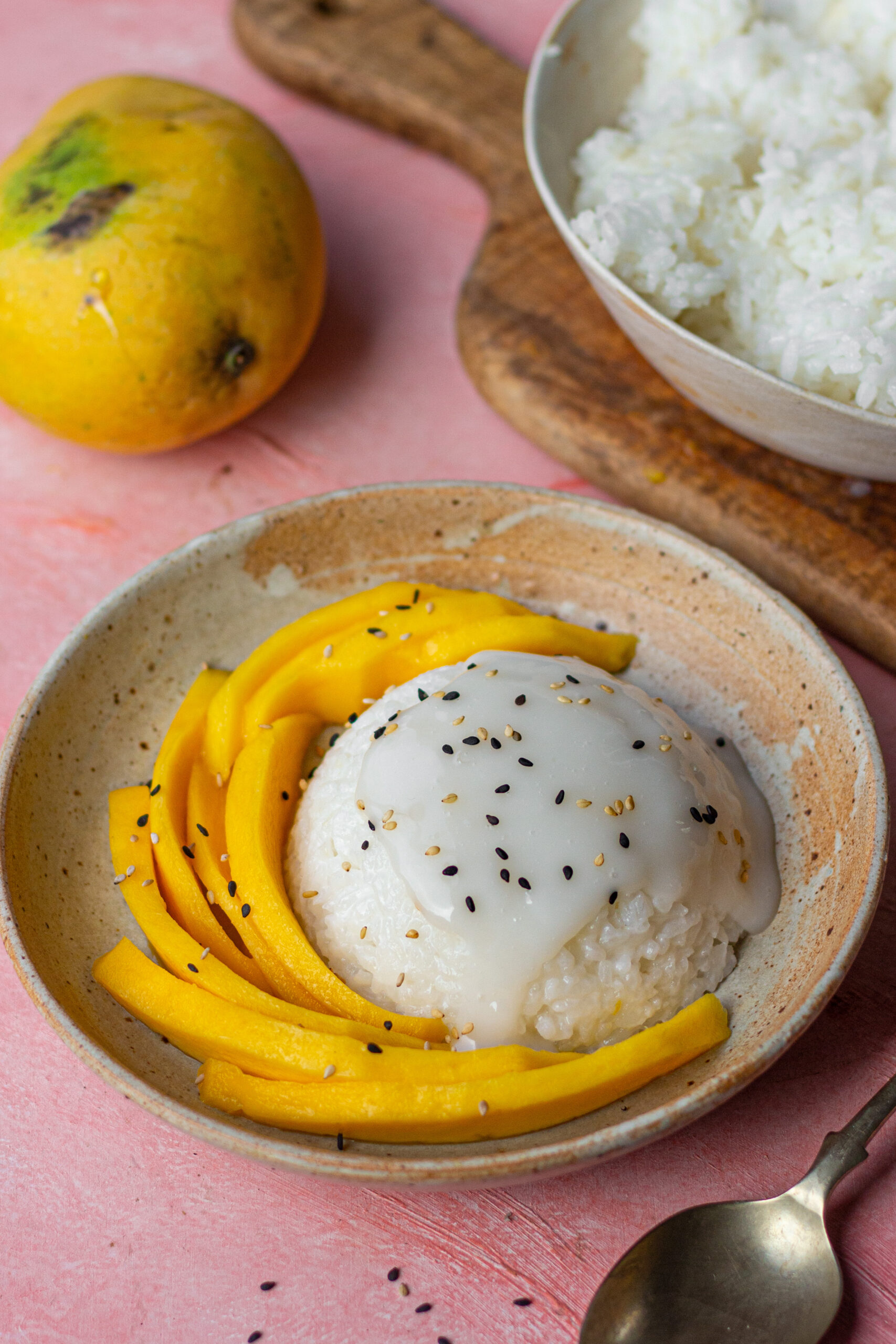 MANGO STICKY RICE
Ingredients
½ cup sticky rice
1 cup coconut milk
5 tbsp sugar
¼ tsp salt
½ tbsp corn flour
Garnish
½ mango, sliced
Toasted sesame seeds
Instructions
Rinse the sticky rice 3-4 times under clean water and then boil it in simmering water for about 20 minutes or until fully cooked.
Meanwhile,heat the coconut milk, sugar and salt in a saucepan and heat till the sugar dissolves completely.
Add half of this warm mixture to the cooked rice and mix well. Cover it and set it aside
Place the remaining mixture again over low heat and add cornflour to it. Heat till it thickens a little.
Cut a mango slice into your desired shape. I cut mine in long strips.
Press the rice into a bowl using a spoon and demould in a serving plate. Arrange the mangoes around it and pour the sauce over it. Garnish it with some toasted sesame seeds and enjoy!
If you like my MANGO STICKY RICE RECIPE and happen to make it in your kitchen, do tag me on
Instagram
and share pictures with me using #Bakewithshivesh. Happy Baking!