This small serve caramel pudding is very dear to me because my mother used to make such a beautiful caramel custard. She actually gave me my first taste of this dessert. Therefore, each time I make this for my family and myself, I am reminded of her great personality and mouthwatering desserts. You only need a few basic, everyday kitchen staples to make this velvety caramel custard. So allow me to demonstrate how to make this amazing treat.
CARAMEL FOR THE CARAMEL PUDDING
This is the first layer of our caramel pudding and honestly slightly crucial. You will have to be careful while preparing a caramel because it is very very hot and needs to be handled with care. Unlike a caramel sauce, this caramel is just basically caramelized white sugar, vinegar and water. Once caramelized to a golden amber colour, we will take it off the heat and pour it into our ramekins . Few things to keep in mind while preparing the caramel:
Do not give into the urge of stirring the caramel, i know it can look and feel very satisfying but it is not necessary and can often lead to your caramel seizing. So your best bet would be to just swirl your saucepan to give everything a good mix.
Transfer the caramel into the ramekin as soon as it gets ready, if you wait any longer the caramel will start to harden and there is go saving it.
INGREDIENTS USED IN CARAMEL PUDDING
Since we are going to dissolve the sugar in the milk, you can honestly use any type of sugar be it granulated, castor or even powdered. Whatever you have at hand works. I have used this caster sugar
A lot of brands nowadays sell custard powder. You can pick whatever is the most accessible to you. I have used weikfield here for my caramel custard. Key factor to always remember while preparing custard is always mixing the powder with a liquid base. You can mix with little milk and then make a slurry and then mix it in the saucepan with the remaining ingredients.
To make a perfect easy caramel every-time, simply add one or two drops of vinegar and just enough water to wet the sugar. The idea is to lower the PH. you can also use a small pinch of citric acid or cream of tartar if you have.
The main source of creaminess is milk here. I would suggest you milk that is full fat or atleast has some percentage of fat. You can however use milk that is toned/ skinny here but i think this recipe would really benefit from the richness of the milk. If you are trying to veganize this recipe, simply swap cow milk with either soy or coconut.
EQUIPMENTS USED FOR MAKING SMALL SERVE CARAMEL PUDDING
This recipe comes together quickly and hardly needs any equipment.
I have made my caramel and the custard batter in a stahl saucepan.
To set the small serve caramel pudding, I have used glass ramekins .
Not a single day goes in my kitchen when I don't use a Silicon Spatula, this is the one I recommend. Same goes for my set of Measuring Cups and Measuring Spoons.
OTHER RELATED RECIPES FROM THE BLOG
TIPS TO MAKE CARAMEL PUDDING
Let the caramel completely set in the ramekin then pour the custard batter over it or else batter can sink in the caramel sauce.
Whisk sugar, milk and custard powder properly in a saucepan on low heat to avoid lumps.
Make sure you serve this small serve caramel pudding chilled.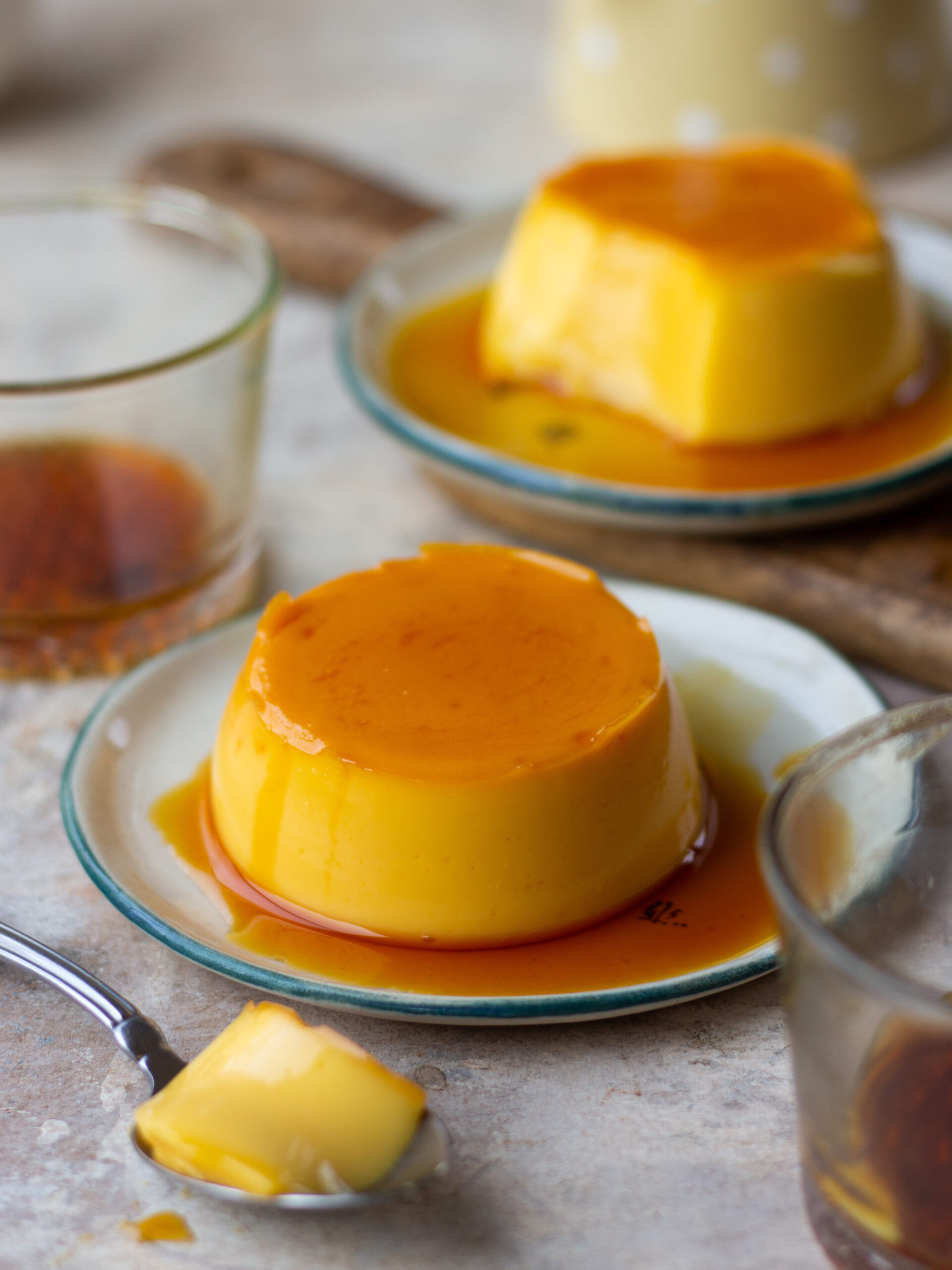 CREME CARAMEL PUDDING
Ingredients
Caramel sauce
2 tbsp sugar
1 tbsp water
¼ tsp vinegar
Custard
½ cup + 2tbsp milk
1 tbsp sugar
1 tbsp custard powder
Instructions
Add sugar, water and vinegar in a pan and heat without stirring till a nice amber coloured caramel is achieved.
Carefully pour the caramel into a ramekin.
While the caramel cools, combine milk, sugar and custard powder in a saucepan set over medium heat and whisk continuously so no lumps form. Continue cooking the custard and remove from heat once it starts to thicken.
Pour the custard on top of the caramel and let it chill in the refrigerator for at least 4 hours or until the pudding sets completely.
Once the custard is set, demould it carefully on a plate and enjoy!
If you like my small serve caramel pudding recipe and happen to make them in your kitchen, do tag me on Instagram and share pictures with me using #Bakewithshivesh. Happy Baking!