There are so many days when I just want a good decadent dessert but if you know me, you know how lazy I get at times. So finally, I have a recipe of this tempting Chocolate Mousse Cake that's perfect for those lazy days when you don't want to work too much in the kitchen. I have made this chocolate mousse recipe as a small, single serving but you can of course increase the quantities as needed. This Small serve Chocolate Mousse comes together with just a couple of ingredients and is definitely a crowd pleaser. The size is so cute that I just enjoy it all by myself.  Haha!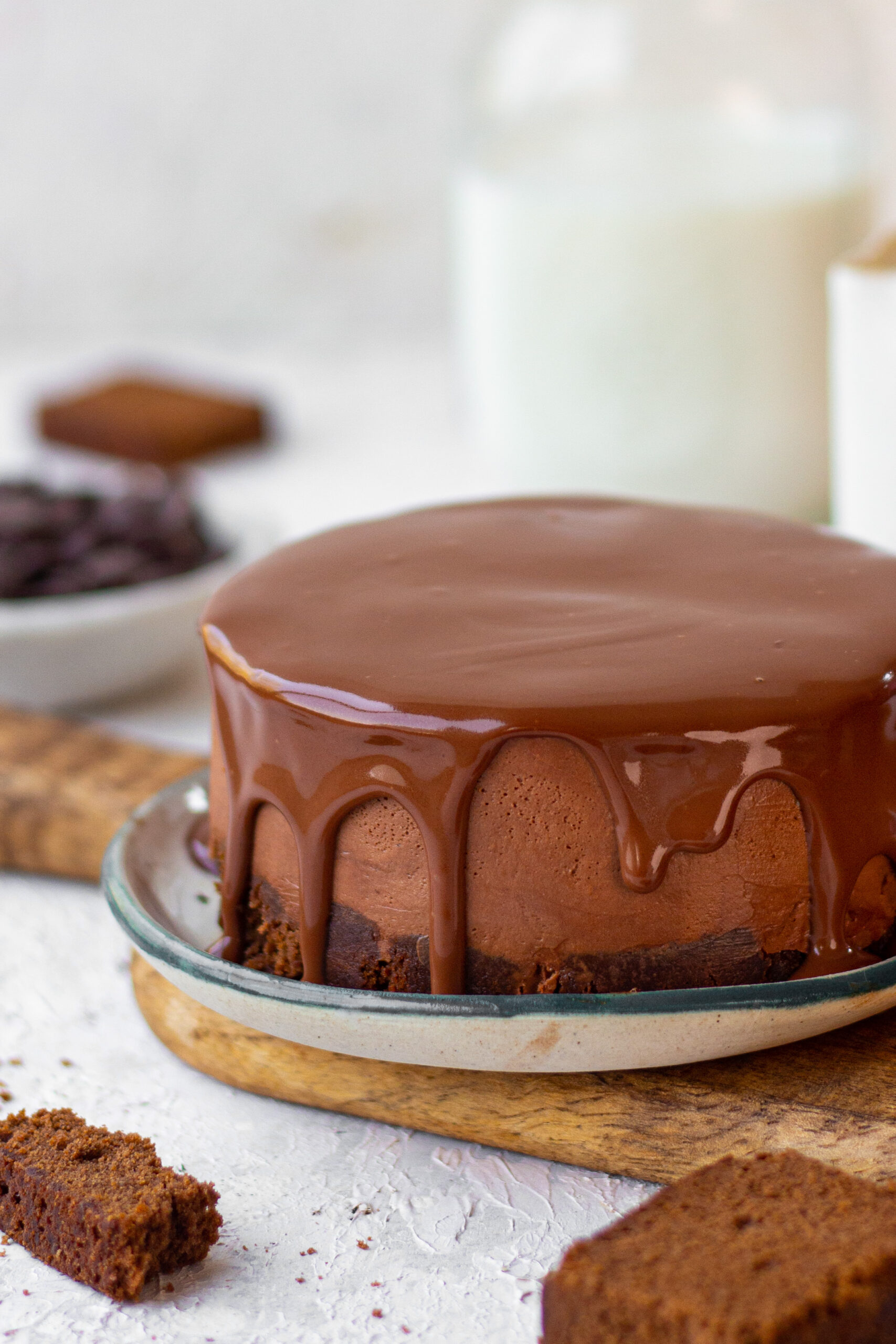 INGREDIENTS USED IN CHOCOLATE MOUSSE CAKE
The base of the mousse cake is a soft sponge cake. For this recipe, I have used a store bought Brittania cake in chocolate flavour. It gives a great texture to the mousse cake and also enhances the look of it. The cake being a chocolate flavour intensifies the overall taste as well
Since the entire recipe is based on a chocolate mousse, a good quality chocolate is a must. Chocolate chips or a couverture chocolate are my go-to options for any chocolate dessert. They have a much better flavour. I have used Callebaut Dark Chocolate Callets but you can also use a compound bar if there's no availability.
A good whipping cream gives the entire structure to the mousse cake. It should be stable enough to hold and set in the refrigerator and also have a good fat content so that it can whip well. Whipped cream is what makes the mousse so light and airy.
Some amount of fresh cream is also added to the chocolate before adding it all to the whipped cream. Fresh cream gives a smooth and homogenous texture when combined with chocolate and doesn't let the chocolate solidify when mixed with whipped cream. It also gives a rich flavour to the whole dessert. I use D'lecta fresh cream to make this chocolate mousse cake.
EQUIPMENTS USED IN MAKING CHOCOLATE MOUSSE CAKE
As I said, it's an easy recipe so it doesn't require a lot of equipment as well.
Mixing bowls that are sturdy as well as presentable and affordable are important since they aree used in so many recipes. I buy mine from here
You also need an electric beater to whip the cream and ultimately bring the mousse together by mixing the whipped cream with chocolate ganache. I use a Borosil Hand mixer.
My set of Measuring Cups and Measuring Spoons always come in handy and are the most important part of any recipe.
For the mould to set in the mousse cake, I use a 4 inch spring form pan which is so easy to use and even clean.
RELATED RECIPES FROM THE BLOG
TIPS TO MAKE THIS SMALL SERVE CHOCOLATE MOUSSE CAKE
Line the springform pan with butter paper so that the edges remain clean when demoulded.
Whip the whipping cream till soft peaks are achieved.
To make the cream more stable, add in a pinch of salt before whipping.
Make sure that the chocolate completely melts and the ganache has a smooth texture to avoid any lumps in the mousse.
You can decorate the mousse cake with a simple chocolate ganache or also with praline, chopped nuts or chocolate shavings as well.
You can always double or triple the quantities to make the cake in your desired size.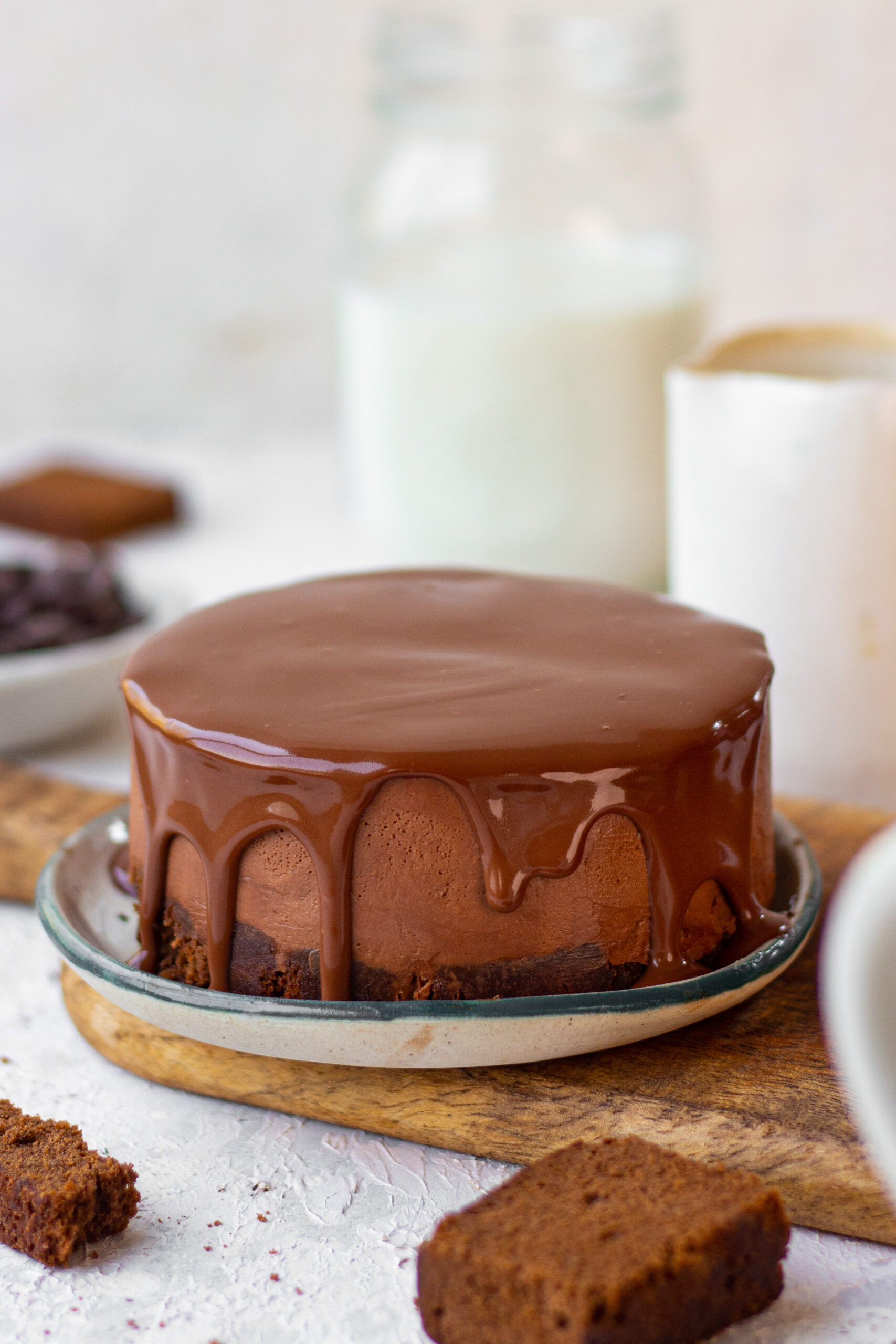 SMALL SERVE CHOCOLATE MOUSSE CAKE
Ingredients
6-7 pieces Britannia chocolate cake
1 tbsp espresso shot (1 tbsp water + ½ tsp coffee powder)
¾cup dark chocolate chips
¼ cup fresh cream
½ cup whipping cream
¼ cup fresh cream
2 tbsp dark chocolate callets
Instructions
Line a 4-inch springform pan with parchment and keep it aside.
In a bowl pour hot fresh cream over dark chocolate chips. Mix until the chocolate melts completely and you have a smooth ganache.
In another bowl, whip the whipping cream to soft peaks and fold the ganache in it.
Place cake pieces in the bottom of the lined pan and make sure it's all packed nicely. Soak it with the espresso shot
Pour the mousse on the top of the cake and flatten it using an offset spatula. Refrigerate it for 2 hours or until the cake sets completely.
For the glaze- pour hot cream over the chocolate and make it a liquid ganache.
Decorate the mousse cake with the glaze and serve.
If you like my Small Serve Chocolate Mousse Cake recipe and happen to make them in your kitchen, do tag me on Instagram and share pictures with me using #Bakewithshivesh. Happy Baking!