Coffee Panna Cotta
I love making cold desserts. I love making set desserts that are so satisfying to demould. So, I decided to experiment with the classic panna cotta but with coffee and also GELATIN FREE. I have made a lot of panna cotta recipes but I wonder why I never paired it with coffee soon enough. Its like a bite of delicious, silky smooth cold coffee and who can resist that? I have also made a brown sugar syrup to pair with this which gives this Coffee Panna Cotta an even better caramelly flavour. And this Coffee Panna Cotta comes together quite easily and is set within a few hours as well.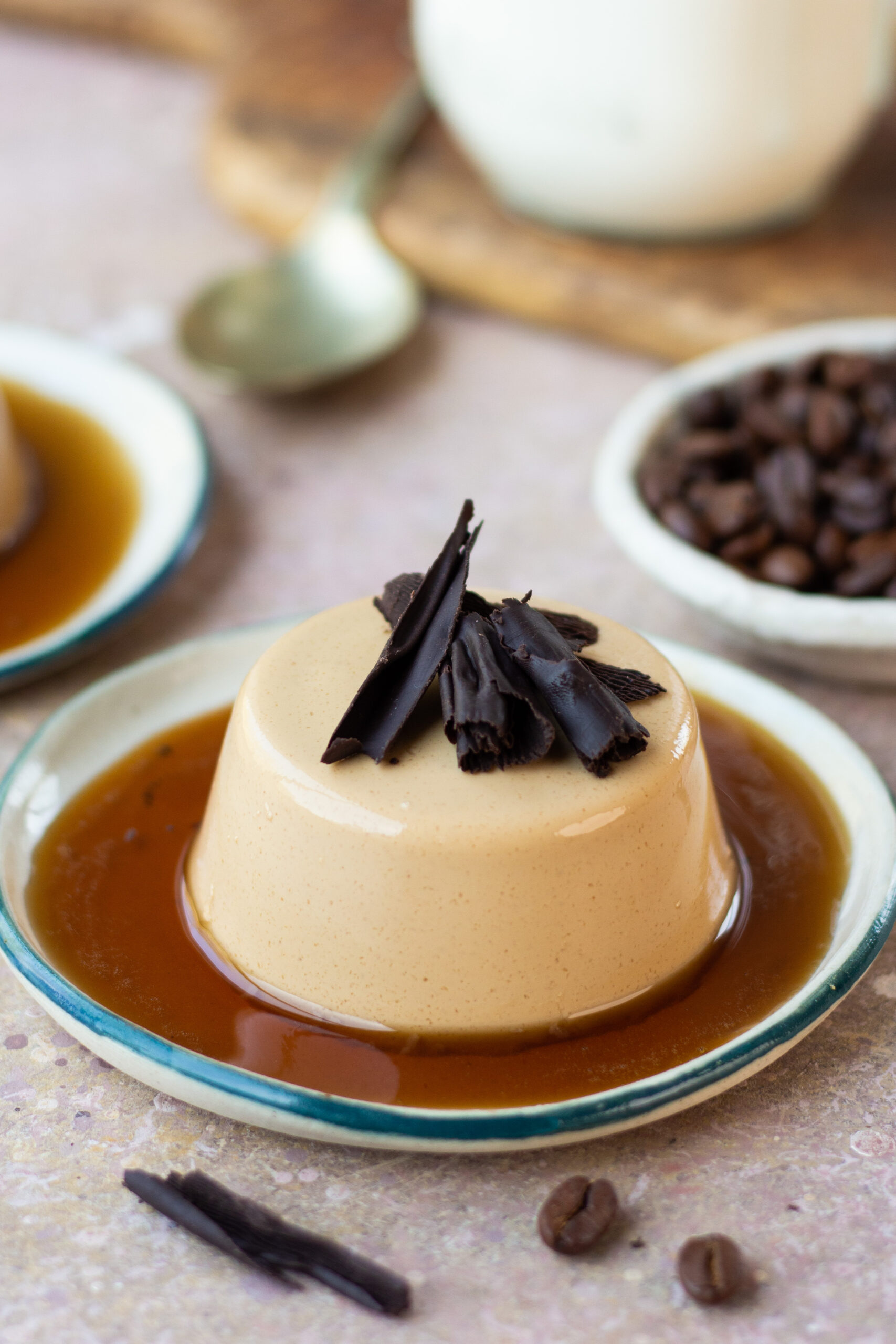 INGREDIENTS USED IN COFFEE PANNA COTTA
Panna cotta has a base that's made of cream and milk. Fresh cream provided the rich, creamy texture to the dessert and also enhances the overall flavour of the panna cotta. I have used D'lecta cream but you can use any fresh cream that is available near you.
The main flavour for this panna cotta is coffee. Coffee powder heated with milk and cream makes it taste better and also gives colour to the panna cotta. I use Nescafe coffee powder to make this recipe.
The other dairy ingredient used in making panna cotta is milk. It is the base of this recipe. Traditionally, panna cotta is made only with cream but substituting some amount of cream with milk makes it lighter and healthier. I have used Nestle milk but you can choose any milk of your choice.
It adds sweetness and texture to the dessert.
The setting agent used in panna cotta is agar agar. It is the vegetarian substitute to gelatin and is required in much less quantity than gelatin. It needs heat to get activated and is boiled well in order to set the panna cotta.
EQUIPMENTS USED IN MAKING COFFEE PANNA COTTA
The kind of equipment you use when you're baking makes a huge difference to the end result! I would recommend you to use good quality mixing bowls and other equipment so that your chocolate cookies come out delicious!
To mix all my ingredients together in, I'm using Borosil's 100% Borosilicate Glass Bowl which is microwave and oven safe, plus the bowls are super easy to clean and handle, which makes my baking process totally hassle free!
Not a single day goes in my kitchen when I don't use a Silicon Spatula, this is the one I recommend. Same goes for my set of Measuring Cups and Measuring Spoons.
OTHER RELATED RECIPE FROM THE BLOG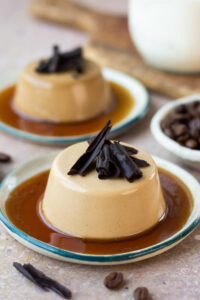 TIPS TO MAKE THIS COFFEE PANNA COTTA
Heat the mixture before adding agar agar till a point when everything is completely dissolved.
Agar agar needs heat to get activated so after adding a it, bring it to a boil and then remove it from heat.
Pour the panna cotta mixture into the ramekin via the back of a spoon or through a strainer to avoid any air bubbles and a smooth texture.
Do not demould the panna cotta before its completely set.
Be careful while making the brown sugar syrup and be cautious not to burn it.

COFFEE PANNA COTTA
Ingredients
• ⅓ cup fresh cream
• ⅓ cup milk
• 1 tbsp castor sugar
• ½ tbsp coffee powder
• ½ tsp agar agar
Brown sugar syrup
• 4 tbsp brown sugar
• 1 tbsp water
Garnish
• Chocolate curls
Instructions
In a saucepan set over medium heat, heat milk, cream, sugar and coffee powder till well combined.
Once the mixture is a bit warm, add agar agar and heat it till a single boil comes. Make sure to continuously whisk to avoid any burning.
Take the saucepan off the heat and pour the final mixture into a small ramekin. Tap the ramekin gently to remove any air bubbles.
Refrigerate the ramekin for about an hour or till it sets completely.
For the syrup, add brown sugar and water in the saucepan and heat until the sugar melts completely.
Demould the set panna cotta on a plate and pour the syrup.
Decorate it with chocolate curls and serve!
If you like my Coffee Panna Cotta recipe and happen to make them in your kitchen, do tag me on Instagram and share pictures with me using #Bakewithshivesh. Happy Baking!