I had my first Mishti Doi, or sweetened set curd not a very long time ago. I was in my early 20's I think. But ever since then, I've really enjoyed this Bengali sweet dish as a part of my meals or post meals. This Mishti Doi recipe is a perfect balance of sweet and is best enjoyed chilled in summers. This recipe of Mishti Doi is neither baked nor steamed but made in its most traditional way. I hope you love it as much as I do.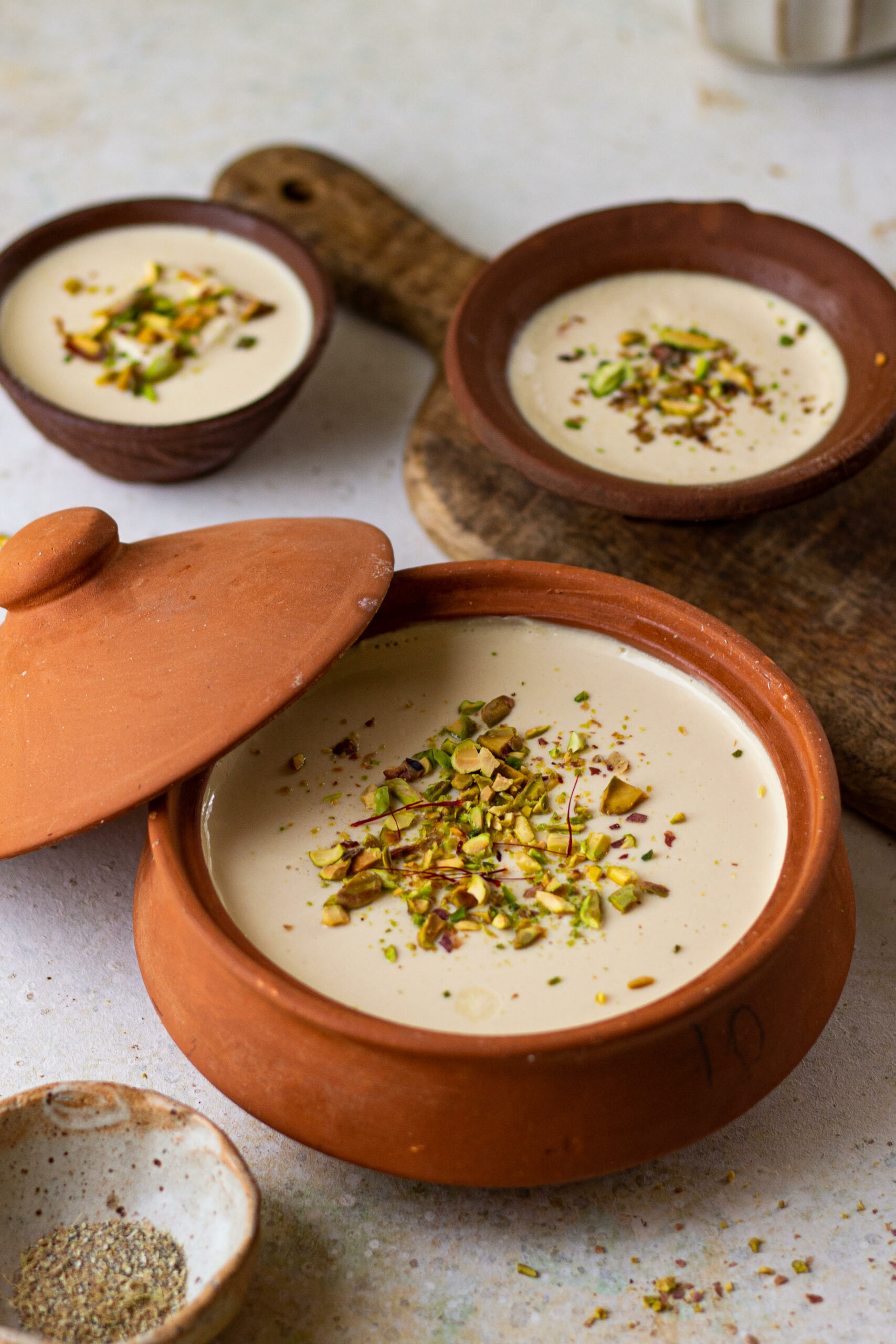 INGREDIENTS USED IN MISHTI DOI
Any curd that is set is made using milk. It is the core and basically the only ingredient that is required to make curd. A full fat milk will yield a smoother and creamier texture but you can opt for skimmed milk as well. I have used Nestle milk to make Mishti Doi. I haven't tried this recipe with vegan milk and its quite unlikely that it'll set in the same manner.
Since it's a sweetened yogurt, we will obviously use a sweetener. Traditionally, Mishti Doi is made using jaggery, however, I'm using sugar here. We need to caramelise the sugar and then add in the milk. Caramelising your sugar for this recipe gives you the advantage of deciding the intensity of the flavour as well as the taste of the final product.
The reason we need hung curd for this recipe is because it acts as a starter and catalyst in setting the milk and converting it into curd. Curd already contains lactic acid bacteria which multiplies and ferments the milk, finally giving us curd. Home made or store bought, both works. It just shouldn't have water in it.
EQUIPMENTS USED IN MAKING MISHTI DOI
As I said, it's an easy recipe so it doesn't require a lot of equipment as well.
Measuring Cups and Measuring Spoons are the first thing that anybody who in cooking or baking needs. The right quantities will help in the desired outcome so these two things are a must.
I am using Stahl Pans to heat the milk and caramelise the sugar.
You also need a wooden spoon to make the caramel.
An earthen pot is optional, but preferable since it imparts a good flavour and is presentable too. You can use any  utensil that you use to set your curd and make Mishti Doi.
RELATED RECIPES FROM THE BLOG
TIPS TO MAKE THIS MISHTI DOI
Reduce the milk carefully and accurately so that it doesn't burn or stick to the bottom of the pan.
Do not stir the sugar while caramelising until completely melted and started to turn yellow-brown.
Use only a wooden spoon while caramelising the sugar.
Be careful while adding the milk to the caramel as it splatters.
Make sure to first combine the caramelised sugar with only a part of the milk before adding the entire thing.
If the mixture looks lumpy after adding the hung curd, you can sieve it and carefully add it to the earthen pot.
Ensure that the utensil is also lined with some hung curd before pouring the entire Mishti Doi mixture.
MISHTI DOI
Ingredients
1 litre or 4 cups full fat Milk
¾ cup Sugar
¾ cup hung curd
A few saffron strands
Pistachios for garnish
Instructions
Pour milk in a kadhai. Add a few saffron strands and heat for around 10 minutes till it is reduced to around 800ml. Once reduced, remove it from heat, cover and keep aside.
While the milk is cooling, spread the sugar in a saucepan and heat on low-medium heat. Let it cook undisturbed till the sugar melts and starts to caramelise.
Once you get a nice, amber caramel, add in 1 cup of the previously heated milk and cook while continuously stirring.
Keep stirring till the entire caramel melts into the milk.
Add this mixture to the remaining milk and heat for another 2 mins.
Pour the entire milk mixture onto the hung curd and whisk well till everything is nicely combined.
Take an earthen pot and coat a thin layer of yogurt in it.
Add the milk mixture in it and cover it with a lid or foil. Keep it in a warm place for 4-6 hrs or overnight.
Refrigerate it and enjoy chilled. You can add chopped pistachios or other nuts of your choice as a garnish.
If you like my Mishti Doi recipe and happen to make them in your kitchen, do tag me on Instagram and share pictures with me using #Bakewithshivesh. Happy Baking!