Both of my grandparents love gulab jamun. They have always taken me along with them to eat gulab jamun for desserts since I was little.
Gulab jamun is a popular Indian delicacy created by deep-frying milk dough balls and then dipping them in sugar syrup. Traditionally, the dough is produced with milk solids and flour.
I had to prepare something special for their anniversary this time, so I used the gulab jamun MTR mix to make this very moist and delicious gulab jamun tea cake for them.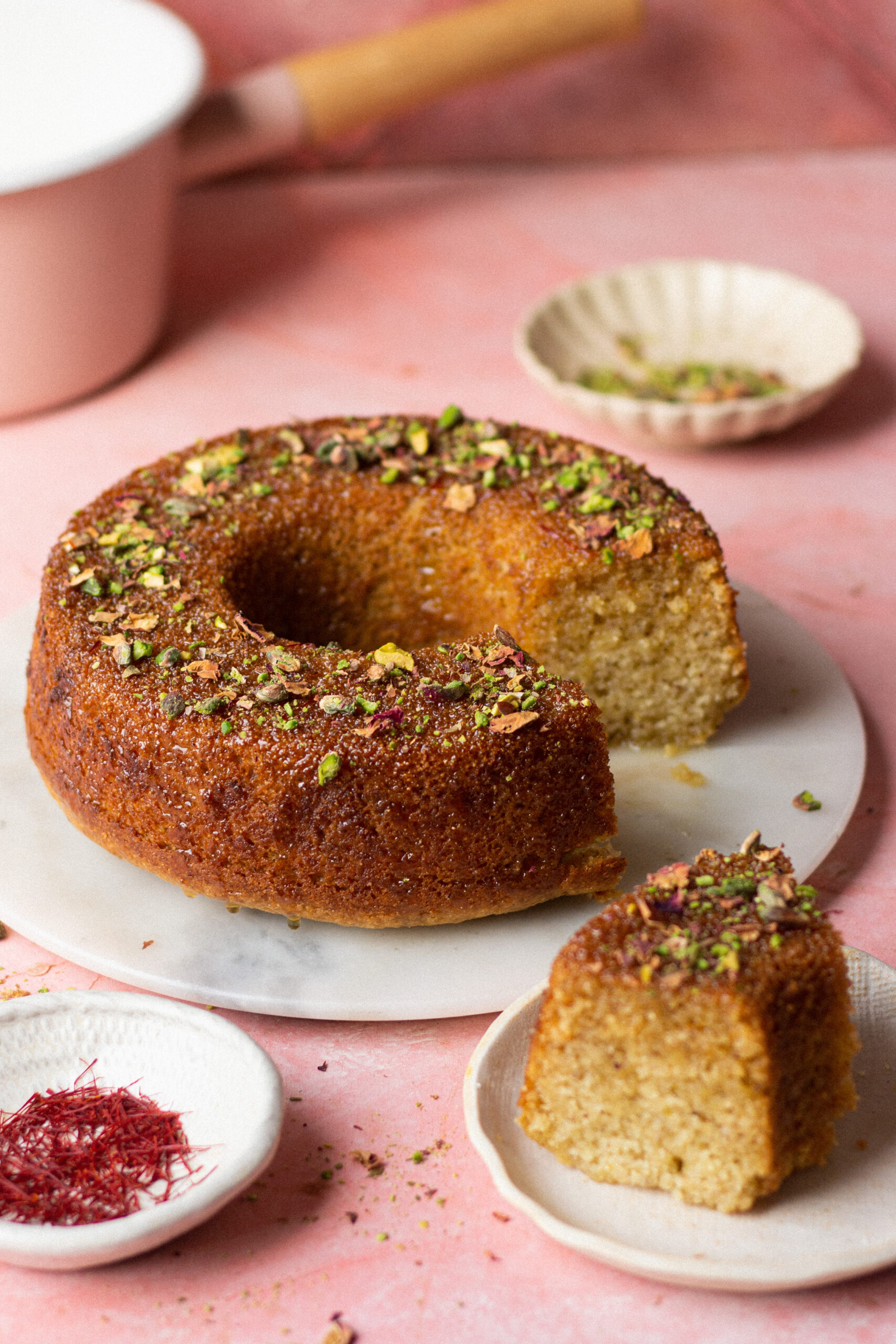 INGREDIENTS USED IN GULAB JAMUN CAKE
I have used gulab jamun mix in my eggless gulab jamun cake recipe.
Milk gives a beautifully blended taste with the needed moisture. Milk adds richness and soft texture to the cake. But please make sure that you add only the mentioned quantity of milk.
Oil is better than butter for this recipe as I feel oil combines well with milk. Oil makes the cake lighter.
I have used caster sugar in my recipe. Always remember to use caster sugar in cake recipes as it is easier to dissolve instantly.
EQUIPMENTS USED FOR MAKING GULAB JAMUN CAKE
This recipe comes together quickly as I've made this gulab cake recipe in a blender .
I've used my stahl saucepan for making the sugar syrup.
Not a single day goes in my kitchen when I don't use a Silicon Spatula, this is the one I recommend. Same goes for my set of Measuring Cups and Measuring Spoons.
OTHER RELATED RECIPES FROM THE BLOG
TIPS TO MAKE GULAB JAMUN CAKE
Make sure the gulab jamun mtr mix is not expired.
First blend the nut with suji for a few seconds then combine all the ingredients in it.
For the sugar syrup- don't boil it too much as it will thicken when it cools down. Make sure you stop at the desired consistency.
GULAB JAMUN CAKE
Ingredients
1 cup gulab jamun cake premix
1 cup suji
½ tsp baking powder
½ tsp baking soda
¾ cup sugar
¼ cup whole nuts
½ tsp cardamom powder
½ cup oil
1½ cup milk
For the Syrup
½ cup sugar
½ cup water
1 cardamom pod
¼ tsp saffrom strands
¼ tsp lemon juice
¼ tsp rose water
Instructions
Preheat the oven to 180 degrees and grease an 8'' bundt cake tin.
In the hamilton beach juicer mixer grinder, add whole nuts and suji together and blend for a few seconds.
Now add all the remaining ingredients sugar, gulab jamun premix, flour, baking powder, baking soda, cardamom powder, oil and milk together.
Blend everything together until smooth.
Transfer the batter in the greased tin and bake it for 40-45 minutes or till a toothpick inserted in the center comes out clean.
For the soaking syrup, add sugar, water, cardamom and saffron strands in a saucepan and bring it to a boil. Let it boil, while continuously stirring till the syrup is reduced and becomes thick in consistency. It should just coat the back of the spoon.
Remove from heat and add rose water and lemon juice to it.
Pour the rose-flavoured glaze on the top once cooled and decorate it with pistachios and rose petals.
If you like my gulab jamun cake recipe and happen to make them in your kitchen, do tag me on Instagram and share pictures with me using #Bakewithshivesh. Happy Baking!