When it comes to indulgent desserts that capture the essence of summer, Litchi Rosé Pudding stands out as a refreshing and delightful choice. This elegant dessert combines the exotic flavor of litchi with the subtle resulting in a dessert that's perfect for warm-weather gatherings, special occasions, or simply treating yourself to a taste of luxury. In this blog, we'll walk you through the steps to create this exquisite Litchi Rosé Pudding.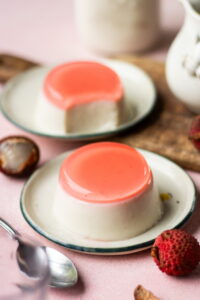 INGREDIENTS NEEDED FOR LITCHI ROSE PUDDING
MILK
Milk adds richness and a smooth consistency to the pudding. It helps balance the flavour and contributes to the overall creamy texture. 
SUGAR
Sugar sweetens the pudding, enhancing its taste and balancing the natural richness of the milk. It also helps to thicken the pudding and contributes to its smooth texture.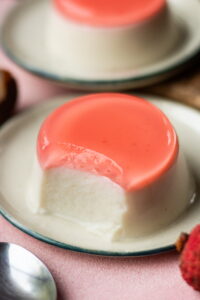 EQUIPMENT USED FOR SMALL SERVE LITCHI ROSE PUDDING
It's an easy recipe so it doesn't require a lot of equipment. 
My set of Measuring Cups and Measuring Spoons always come in handy and are the most important part of any recipe. 
Apart from this, a good heavy bottomed saucepan to combine everything is necessary. 
You also need am induction or a heat source to heat the mixture and combine all the ingredients. 
OTHER RECIPES FROM THE BLOG
LITCHI ROSE PUDDING
Ingredients
½ cup water
1 tbsp rose syrup
¼ tsp agar agar
For lychee pudding-
½ cup milk
10-12 lychee, deseeded
¼ tsp agar agar
1 tbsp sugar
Instructions
In a saucepan set over medium heat, pour water and rose syrup and cook for few minutes.
Now add agar agar powder and whisk it properly.
Take it off the heat when it comes to a boil.
Now, pour it in the ramekin and let it set in the refrigerator.
Next , in a mixer blend lychee untill smooth.
In a saucepan set over medium heat, put the milk, sugar and litchi juice.
Cook this mixture for a couple of minutes and then add agar agar powder and whisk until it completely dissolves.
When the mixture begins to boil, take the pan off the heat and let it cool down a little bit and then pour over the set rose jelly.
Keep the remekin in the fridge for atleast 4 to 5 hours or overnight, until it is completely set.
Demould it carefully on a plate and enjoy!
If you like my Small Serve litchi rose Pudding recipe and happen to make them in your kitchen, do tag me on
Instagram
and share pictures with me using #Bakewithshivesh. Happy Baking!