If you're looking for a simple yet indulgent treat that's perfect for breakfast, brunch, or a delightful snack, look no further than caramelised cheese toast. This delectable creation combines the savoury allure of melted cheese with the sweet magic of caramelisation, resulting in a heavenly experience. If there's one dish that embodies the perfect blend of comfort and indulgence, it's undoubtedly caramelised cheese toast. So, let's dive in and discover the secrets behind this irresistible creation.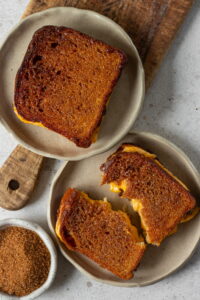 INGREDIENTS USED IN CARAMELISED CHEESE TOAST
Let's take a closer look at the key players that will bring this masterpiece to life. Each ingredient serves a distinct purpose, contributing to the harmonious blend of flavours and textures that make caramelised cheese toast
Bread:
Start with your favourite type of bread. Whether you prefer classic white bread, whole wheat, sourdough, or a hearty artisanal loaf, choose what suits your taste. I have used classic white bread to make caramelised cheese toast.
Cheese:
At the heart of this dish lies the cheese. It's the star of the show, the ingredient that elevates simple toast to a gourmet experience. Always opt for a cheese that melts beautifully and has a rich, creamy flavour. I have used cheese slice. You can even choose Cheddar or mozzarella cheese as well.
Butter: Butter serves a dual purpose in caramelised cheese toast. It not only adds a rich, buttery flavour but also helps achieve that crispy, golden exterior. Choose unsalted butter to have better control over the saltiness of your creation.
Brown sugar: Sugar is the magical ingredient that transforms your toast from ordinary to extraordinary. It's what gives the top layer that enticing caramelised sweetness and the beautiful golden hue that's impossible to resist. You can use normal castor sugar as well but I would recommend to use brown sugar for that extra caramelised flavour.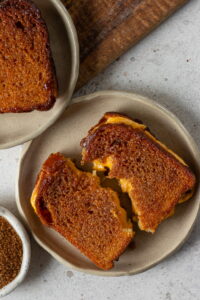 TIPS FOR MAKING CARAMELISED CHEESE TOAST
Making caramelised cheese toast is a simple and gratifying process, but a few pointers can help you perfect it:
Butter Both Sides:
Butter both sides of each bread slice. This ensures a golden, crispy exterior on both sides of your caramelised cheese toast.
Low and Slow:
Cook your caramelised cheese toast on low to medium heat. This slow cooking process allows the cheese to melt gradually while the sugar caramelises without burning.
Perfectly Melted Cheese:
To achieve that gooey, melted cheese centre, make sure to let your cheese slices come to room temperature before assembling the sandwich. This helps the cheese melt evenly.
Caramelised cheese toast is a delightful fusion of sweet and savoury that's quick and easy to make. With just a handful of ingredients and a few handy tips, you can create a mouth-watering treat that's sure to please your taste buds. So, gather your ingredients and get your pan sizzling.
Caramelised Cheese Toast
Caramelised cheese toast
Ingredients
¼ cup butter
¼ cup brown sugar
2 cheese slices
2 bread slices
Process-
1.In a bowl add soften butter and brown sugar, mix it well.
2.Now take 2 cheese slices and sandwich  them between bread slices.
3.Apply a generous layer of the butter sugar paste on both the sides.
4.Place the sandwich in the preheated pan over medium heat.
5.Toast the sandwich on each side until the butter-sugar paste caramelises and becomes golden brown.
6.Once the desired level of caramelisation and cheese melt is achieved, remove the sandwich from the pan.