If you're a fan of the creamy, chocolaty goodness that is Nutella, and you're a cookie lover at heart, then this recipe of Nutella Stuffed Cookies is about to become your new obsession. Picture this: a batch of warm, brown cookies, crispy on the edges and irresistibly chewy in the centre, each one oozing with a decadent surprise — a generous filling of luscious Nutella. Whether you're planning a cozy evening in, a gathering with friends, or simply treating yourself to a moment of pure bliss, these Nutella Stuffed Cookies are the ultimate sweet escape.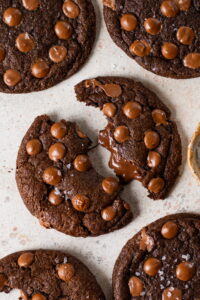 INGREDIENTS USED IN NUTELLA STUFFED COOKIES
The most obvious role of Nutella in these cookies is to act as a gooey and irresistible filling. When the cookies are baked, the Nutella melts and becomes soft, creating a burst of intense flavor and texture that contrasts with the surrounding cookie dough. The creamy consistency and nutty notes of Nutella complement the cookie's texture and enhance its overall taste.
I am using all- purpose flour to make my easy chocolate cookies. It gives that nice crisp and structure to the cookies. Flour serves as a base for incorporating the other dry ingredients, like baking powder, baking soda, and salt. This ensures that these leavening agents are evenly distributed throughout the dough.
To make these cookies chocolatey I'm using this unsweetened cocoa powder by Cadbury. It gives that immense chocolate flavour to any baked good. You can use any good quality cocoa powder which is easily available to you in nearby grocery stores.
Butter is the main ingredient in making cookies as it gives richness and tenderness to the cookies. We alter the way butter works in a recipe by changing its temperature and for these easy chocolate cookies I have used this salted butter which will give a crispy structure to the cookie.
It is the prime ingredient in my Nutella Stuffed Cookies. It adds sweetness and richness to the cookies. Here I'm using both brown and white sugar to strike a perfect balance of sweetness. You can use either one of the two in double quantity however it might change the texture and level of sweetness in the cookies. Brown sugar contributes to a more caramel-like flavour which I love personally and would recommend 100%.
Cornflour reduces the development of gluten, which can result in cookies that are less chewy and have a more melt-in-your-mouth quality. It can help retain moisture in cookies. Its ability to absorb and hold onto liquid helps prevent cookies from becoming overly dry or crumbly.
Leavening agents, that is baking powder and baking soda, play a significant role in cookies by causing them to rise, expand, and become light and airy during baking. While cookies are not typically meant to rise as much as bread or cakes, leavening agents still contribute to their texture, flavour, and appearance.
Milk is a liquid ingredient that adds moisture to the cookie dough. This moisture content affects the final texture of the cookies. Milk can help create cookies that are softer, chewier, and less crumbly. It contributes to a more tender texture by preventing excessive dryness in the dough. Its main purpose is binding the entire dough together. The sugars and proteins in milk can participate in the Maillard reaction, a chemical process that occurs during baking and contributes to the browning and development of complex flavours in the cookies.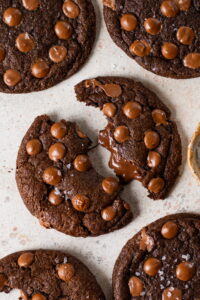 EQUIPMENT USED FOR MAKING NUTELLA STUFFED COOKIES
The kind of equipment you use when you're baking makes a huge difference to the end result! I would recommend you to use good quality mixing bowls and other equipment so that your Nutella Stuffed Cookies come out delicious!
To mix all my ingredients together in, I'm using Borosil's 100% Borosilicate Glass Bowl which is microwave and oven safe, plus the bowls are super easy to clean and handle, which makes my baking process totally hassle free!
Not a single day goes in my kitchen when I don't use a Silicon Spatula, this is the one I recommend. Same goes for my set of Measuring Cups and Measuring Spoons.
And they are ready in less than 20 mins in my oven.
OTHER RELATED RECIPES FROM THE BLOG
TIPS TO MAKE THESE NUTELLA STUFFED COOKIES
Make sure the butter is softened and not too cold or melted.
You can experiment with peanut butter or lotus biscoff spread instead of Nutella as well.
Sift all the dry ingredients separately before dumping in to make the dough.
If the dough feels too thin or sticky, add 1 tbsp flour at a time till it reaches the right consistence.
There shouldn't be chunks of butter in the batter.
You can use whole wheat flour also in same proportion for a healthier version of these easy chocolate cookies
Freeze cookies for about 1 hour before baking.
NUTELLA STUFFED COOKIES
Ingredients
5-6 tbsp nutella
½ cup softened butter
½ cup caster sugar
¼th cup light brown sugar
1 tsp vanilla
1 cup all purpose flour
¼ cup cocoa powder
1 tsp cornflour
½ tsp baking soda
3 tablespoons milk
Instructions
Take a parchment paper and spoon 1 tbsp nutella blobs on it. Make 5-6 nutella balls from it. Freeze these for 1 hr.
For the cookie dough, beat butter and the sugars along with vanilla until the mixture is light and fluffy
Add the dry ingredients - flour, cocoa powder, cornflour and baking soda to the mixture.
Add in the milk and bring everything together into a non sticky dough. You can use a wooden spoon or your hands to do so.
Divide the dough into 5-6 equal portions depending on the number of nutella balls.
Take one portion and make it into a ball using your palms. Press it down a little from the centre and make a little cavity. Place the frozen nutella in the centre and close the cookie dough.
Place the stuffed cookie dough on a silicon mat or parchment sheet lined on a baking tray and refrigerate for 1 hour.
Bake the cookies for 12-15 minutes at 180 degree Celsius.
Once baked let them cool on a wire rack for at least 10 minutes.
If you like my Nutella Stuffed Cookies recipe and happen to make them in your kitchen, do tag me on Instagram and share pictures with me using #Bakewithshivesh. Happy Baking!