Indulging in a comforting cup of hot chocolate doesn't have to be a guilty pleasure anymore. Embracing the cozy essence of this beloved beverage, Introducing you to a revamped classic: Healthy Hot Chocolate. In a world where wellness takes centre stage, this delightful concoction lets you savour the rich, velvety goodness of traditional hot chocolate without compromising on health. Say goodbye to store-bought packets laden with sugar and artificial additives, and say hello to a recipe that's as nourishing as it is delicious.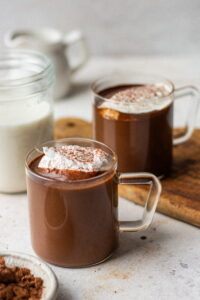 INGREDIENTS USED IN MAKING HEALTHY HOT CHOCOLATE
Every ingredient in this recipe has been carefully chosen to elevate both the taste and the health quotient of your hot chocolate:
Milk:
I have used toned milk from Nestle but you can opt for your favourite milk, whether it's dairy, almond, oat, or soy. Milk provides a creamy base while also delivering essential nutrients.
Medjool Dates:
Sugar imparts sweetness and flavour to hot chocolate, but since I aspire to create a healthier rendition of this indulgence, I have opted for Medjool dates.. These natural sweeteners are a source of dietary fibre, potassium, and various vitamins. They lend a gentle sweetness to your hot chocolate while bringing in an earthy richness.
Cocoa Powder:
Cocoa powder is a fundamental ingredient in creating the deep, luscious flavour that defines hot chocolate. Cocoa powder's rich taste and aroma is the agent behind 'I can't have enough of this hot chocolate' feeling! So make sure you pick the right one and add the good flavours.
Dark Chocolate:
The quality of the dark chocolate you choose greatly influences the outcome of your hot chocolate. Incorporating dark chocolate into your hot chocolate recipe introduces a layer of depth and intensity that sets it apart from traditional cocoa powder. So, Always use good quality chocolate.
Cinnamon Powder:
Beyond its aromatic essence, cinnamon offers potential anti-inflammatory and blood sugar-stabilizing properties, making it an intriguing addition to your cup.
TIPS FOR MAKING HEALTHY HOT CHOCOLATE
Creating a cup of Healthy Hot Chocolate is a simple and gratifying process, but a few pointers can help you perfect it:
Pitting Dates:
Ensure you remove the pits from the Medjool dates before blending. This step prevents any unwanted crunchiness in your velvety beverage.
Chocolate Selection:
When selecting dark chocolate, aim for a product with a higher cocoa content and minimal added sugar for the best balance of flavour and health benefits.
Blending:
To achieve a smooth consistency, use a high-speed blender. This will help blend the dates and chocolate seamlessly into the milk, creating a luscious texture.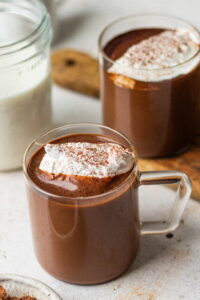 WHAT MAKES THIS HOT CHOCOLATE HEALTHY
What sets this hot chocolate apart in terms of healthiness is the intentional choice of ingredients. Medjool dates, acting as a natural sweetener, bring not only sweetness but also nutritional value. Dark chocolate and cocoa add a dose of antioxidants, while cinnamon offers potential blood sugar regulation. When combined with the right milk, this concoction provides a comforting and nourishing beverage that aligns taste with wellness. Thus, it is safe to say that this healthy hot chocolate is guilt-free and the most delicious hot chocolate.
HEALTHY HOT CHOCOLATE
Ingredients
1+1/2 cup milk
5 medjool dates, pitted
3 tbsp dark chocolate
2 tbsp cocoa powder
¼ tsp cinnamon powder
Instructions
Soak 5 dates in ½ cup hot milk for 5 mins.
Blend the soaked dates along with the milk to form a smooth paste.
Now, in a saucepan add the milk, cocoa powder and cinnamon powder along with the date paste and whisk untill it combines.
Add dark chocolate and mix until the mixture just comes to a boil and begins to thicken.
Remove the saucepan off the heat and serve the healthy hot chocolate immediately.
This recipe serves 2 small glasses or 1 large glass of hot chocolate.
If you like my One Bowl Chocolate Cake recipe and happen to make them in your kitchen, do tag me on 
Instagram
 and share pictures with me using #Bakewithshivesh. Happy Baking!