Imagine the warmth of a steaming cup of chai, perfectly paired with the nostalgic crunch of Parle-G biscuits. Now, picture this delightful duo transformed into a creamy, luscious dessert that melts in your mouth, introducing you to a world of sweet nostalgia and comforting flavors. That's the magic of Parle-G Chai Pudding, a dessert that's not just a treat for your taste buds but also a journey down memory lane.
As you embark on this culinary adventure, you'll be enchanted by the comforting aroma of tea leaves and the rich creaminess of fresh milk and cream, all blended together to create a dessert that's truly extraordinary.
Join me as we delve into the art of crafting a dessert that harmonizes the timeless charm of Parle-G with the aromatic essence of chai. It's a symphony of flavors that pays homage to tradition while offering a delightful twist that is both innovative and deeply rooted in the fabric of Indian tea culture. Let's explore the Parle-G Chai Pudding, where childhood memories meet the sophistication of a well-brewed cup of tea, creating a dessert that's as heartwarming as it is elegant.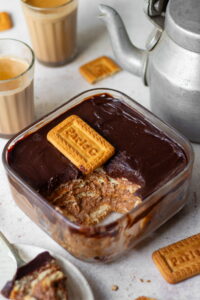 INGREDIENTS USED IN PARLE-G CHAI PUDDING
Milk


The foundation of our Parle-G Chai Pudding is high-quality milk, which provides the creamy base and the perfect backdrop for the infusion of chai flavors. Opt for whole milk for that extra richness. I have used Nestle Milk in this recipe.

Fresh Cream
To elevate the texture and richness of our pudding, fresh cream is a must. It adds a velvety smoothness that perfectly complements the crumbly Parle-G biscuits. Cream is a source of moisture, which is essential for creating a moist and luscious pudding.
Sugar:


Sugar is primarily used to sweeten the pudding. In the case of Parle-G Chai Pudding, it balances the slightly bitter and earthy notes of the tea leaves, creating a harmonious blend of sweet and spicy flavors.

Sugar contributes to the texture of the pudding. It helps to tenderize the proteins in the milk and cream, resulting in a smoother and creamier consistency. The sugar also enhances the mouthfeel of the pudding, making it more enjoyable to eat.



Cardamom Powder:

Cardamom, ground from the aromatic seeds of the cardamom plant, is the secret ingredient that elevates chai pudding to a new level.

Cornflour:

Cornflour is prized for its exceptional ability to thicken liquids when heated. In this context the Parle-G Chai Pudding, transforms the liquid mixture of milk and chai into a luxurious, custard-like consistency. This thickening quality is crucial for achieving that creamy texture that dessert lovers crave.

Cocoa Powder:

For a twist on the classic Parle-G Chai Pudding, you can add cocoa powder to create a chocolate-chai fusion that's simply divine. I have used Hersheys cocoa powder for this recipe.

Tea Leaves
Tea leaves release aromatic compounds during brewing, contributing to the overall aroma of the chai. These aromatic notes add depth and complexity to the pudding, enhancing the sensory experience. Chai is often associated with warmth and comfort. The inclusion of tea leaves in the pudding brings a familiar and cozy sensation, making the dessert reminiscent of a comforting cup of chai. This authenticity adds a unique touch to the dessert, making it a delightful fusion of two beloved treats.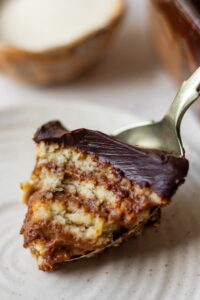 EQUIPMENT YOU NEED FOR THE PARLE-G CHAI PUDDING
Measuring Cups and Measuring Spoons. are an integral part of any baker's kitchen and it's very important to measure ingredients with precision.
I have used a glass square dish to make this Parle-G chai pudding but, you can use any deep square dish.
The kind of equipment you use can hugely impact the final product. So, make sure to always use the best of the equipment that is available.
Apart from this, a good heavy-bottomed saucepan to make the pudding. You also need am induction or a heat source to heat the pudding mixture.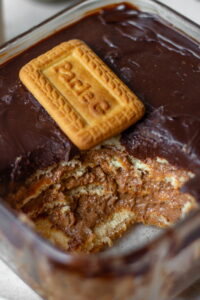 OTHER RELATED RECIPES FROM THE BLOG
TIPS TO KEEP IN MIND WHILE MAKING PARLE-G CHAI PUDDING
Use a robust and strongly brewed chai to infuse a prominent tea flavor into the pudding.
Taste the chai infusion before incorporating it into the pudding mixture. Adjust the sweetness level by adding more or less sugar based on your preference.
Ensure that the Parle-G biscuits are well-soaked in the milk. This step is crucial for achieving the desired texture and flavor in the final pudding.
Elevate the chai flavor by adding a pinch of ground cinnamon, cardamom, or ginger to the pudding mixture. These spices can complement the tea flavor and add an extra layer of warmth.
Explore various toppings like whipped cream, a drizzle of caramel sauce, or a sprinkle of chai masala to add extra flair to your pudding.
Refrigerate the pudding for an adequate amount of time (at least 4 hours or overnight) to allow it to set properly. This ensures a firm consistency and enhances the overall flavor.
Consider serving the Parle-G Chai Pudding in individual glasses or bowls for a charming presentation.
Parle-g Chai pudding
Ingredients
18-20 parle-g biscuits
¼ cup milk for soaking
Pudding-
3 tbsp cornflour
1 tbsp cocoa powder
2 cups milk
½ cup fresh cream
6 tbsp sugar
3 tbsp tea leaves
½ tsp cardamom
Topping
Chocolate ganache
½ cup chocolate
½ cup cream
Instructions
For the pudding- In a bowl mix cornflour and cocoa powder and set it aside.
Take a sauce pan and add milk, fresh cream, tea leaves, cardamom and sugar. Bring this to simmer over medium heat.
Now, strain the chai mixture over dry ingredients and mix well.
Transfer the entire mixture back to the saucepan and bring it to a boil over medium heat, whisking continuously until it begins to thicken.
For chocolate ganache- in a bowl add ½ cup chocolate and pour ½ cup warm cream over it. Let it sit for a while till chocolate melts. Mix well till you achieve smooth consistency.
Assembly- Take a deep square dish. Begin by dipping Parle-G biscuits into room temperature milk. Create the first layer by arranging these biscuits at the bottom of the container and then add the chai pudding on the top of biscuit layer.
Repeat this step 3 times and spread chocolate ganache on the top evenly and let it set in the fridge for 2-3 hours.
Enjoy the dessert cold.
If you like my Parle-G Chai Pudding recipe and happen to make them in your kitchen, do tag me on Instagram and share pictures with me using #Bakewithshivesh. Happy Baking!