As the crisp autumn air ushers in the season of celebrations, there's no better way to warm your heart and delight your taste buds than with a slice of chai cheesecake. This delightful dessert effortlessly combines the comforting flavors of chai tea with the creamy decadence of cheesecake, creating a dessert that is as festive as it is indulgent. Infusing this beloved flavor into a classic dessert like cheesecake adds an extra layer of festive charm. The deep, earthy tones of chai bring a sense of coziness, making chai cheesecake the perfect treat for autumn and winter gatherings. Whether you're hosting a festive dinner party, a holiday gathering, or simply craving a delightful dessert, chai cheesecake is the ideal choice.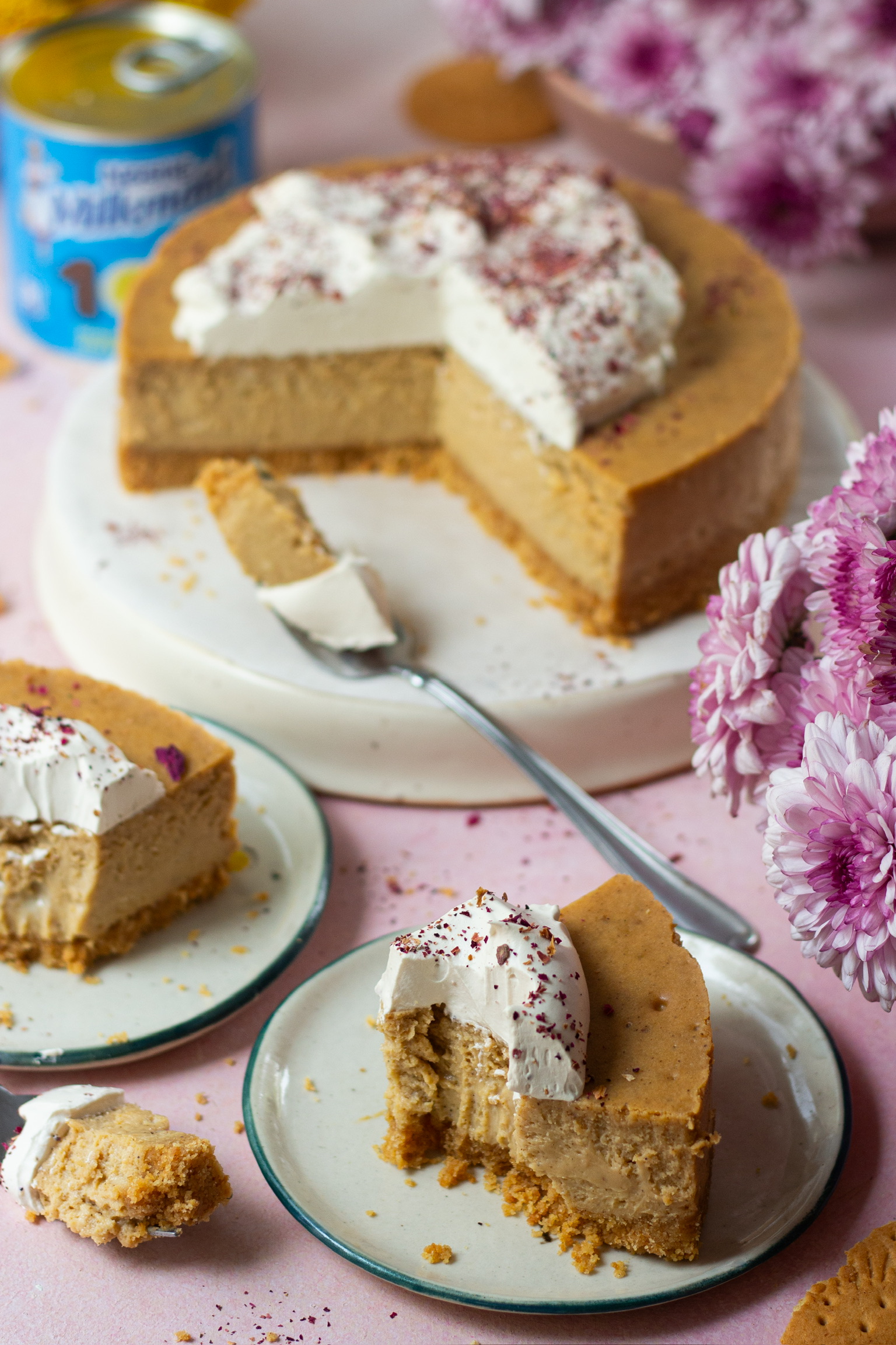 INGREDIENTS USED IN CHAI CHEESECAKE
Cream cheese forms the base of the cheesecake filling. It provides a rich and creamy texture, giving the dessert its indulgent taste.
Fresh cream is another key component that adds to the creaminess of the cheesecake. It contributes to the smooth consistency of the filling, ensuring a luscious mouthfeel.
Tea leaves, typically black tea leaves, are the essence of chai flavor. They are steeped in the cream to infuse the dessert with the warm, aromatic notes of tea. This infusion imparts the distinctive chai taste to the cheesecake.
Condensed milk is used as a sweetener and a binding agent in the recipe. It adds sweetness to the dessert and helps achieve the desired consistency without the need for granulated sugar.
Cornflour, also known as cornstarch, is often used in cheesecake recipes as a thickening agent. It helps stabilize the filling, giving the cheesecake a firm yet creamy texture when set.
Cardamom powder is a quintessential spice in chai recipes. Its warm, citrusy flavor complements the other spices in chai and adds depth to the cheesecake's taste profile. It enhances the overall aromatic experience of the dessert.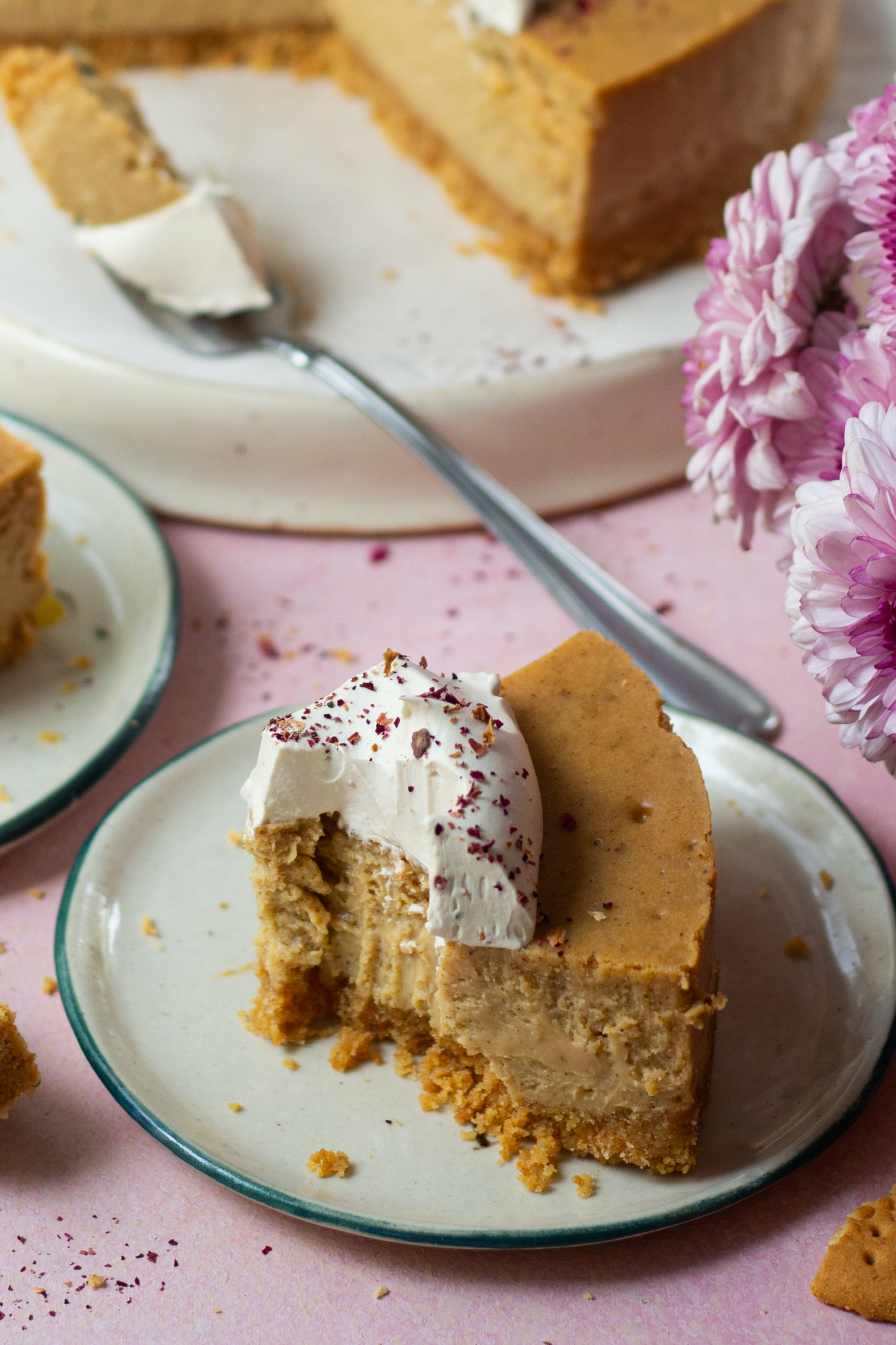 BAKING THE CHAI CHEESECAKE IN OVEN
The very important thing to keep in mind while making a cheesecake is to always cook it in a water bath. This not only prevents the top from cracking but also allows it to cook evenly throughout. To make a water bath, take a baking pan bigger than your cheesecake mould. Add the cheesecake mould to the bigger baking pan. Now we are going to fill it with hot water and then set it in the oven to bake. The water in the water bath will allow even temperature to be maintained for the cheesecake and you will have a beautiful cheesecake in your hand.
TIPS FOR MAKING CHAI CHEESECAKE
YOUR CREAM CHEESE SHOULD ALWAYS BE SOFTENED
This is a very important tip. It is imperative that you use softened cream cheese only. This will make sure that you can beat your cream cheese very easily and thoroughly. This is important because this is what gives the cheesecake its smooth and silky texture
DON'T OVER MIX
Just like most batter, overmixing is never a good thing while making a cheesecake batter. Rather than vigorously mixing ingredients in, it is advised to fold in the ingredients one by one. This ensures that your batter has some air and all ingredients get incorporated.
ALWAYS PREPARE A WATER BATH
A crucial part of baking cream cheese is baking it slowly and evenly. A water bath always helps with this. The correct way to prepare a water bath is to heat water on the stove and then pour it over the oven tray.
Chai Cheesecake
Ingredients
For the biscuit layer-
18 digestive biscuits
4 tbsp ghee
For the cheesecake filling-
1 + ½ cup cream cheese
¾ cup fresh cream
2 tbsp tea leaves
1 can condensed milk
2 tbsp cornflour
1 tsp cardamom powder
For the topping-
½ cup whipped cream
Dried rose petals
Instructions
Preheat the oven at 160 degree Celsius and prepare a 6 inch springform pan.
In a mixer, add digestive biscuits and crush them. Now, add ghee and mix well.
Transfer the biscuit crumbs into a 6-inch springform pan and press them down into an even layer. Now refrigerate it for 10-15 mins.
In a saucepan, add cream along with tea leaves and let the mixture come to a boil so that the cream is properly infused with tea leaves. Strain it and let it come to room temperature.
In a large bowl add cream cheese, cream infused with tea leaves, condensed milk, cornflour and cardamom powder. Mix everything well.
Transfer the batter in the mould with biscuit base.
Set the springform pan in a bigger baking dish with hot water creating a water bath.
Bake the cheesecake for 40-45 minutes or until sides get firm and centre jiggles a little.
Once the cheesecake comesbat room temperature, transfer it in the fridge and let it chill for 7-8 hours or overnight.
Before serving the cheesecake, decorate it with whipped cream and dried rose petals.
If you like my chai cheesecake and happen to make them in your kitchen, do tag me on Instagram and share pictures with me using #Bakewithshivesh. Happy Baking!