Chocolate Cake in a Blender is proof that you don't need elaborate baking skills or a mountain of dishes to enjoy a delicious homemade cake. This easy, no-fuss recipe is perfect for satisfying your chocolate cake cravings in a pinch. So, if you're looking for a quick and effortless way to enjoy the pure pleasure of chocolate, why not give blender baking a try? Your taste buds will thank you, and you'll have more time to savor the sweet moments in life with this easy chocolate cake in a blender.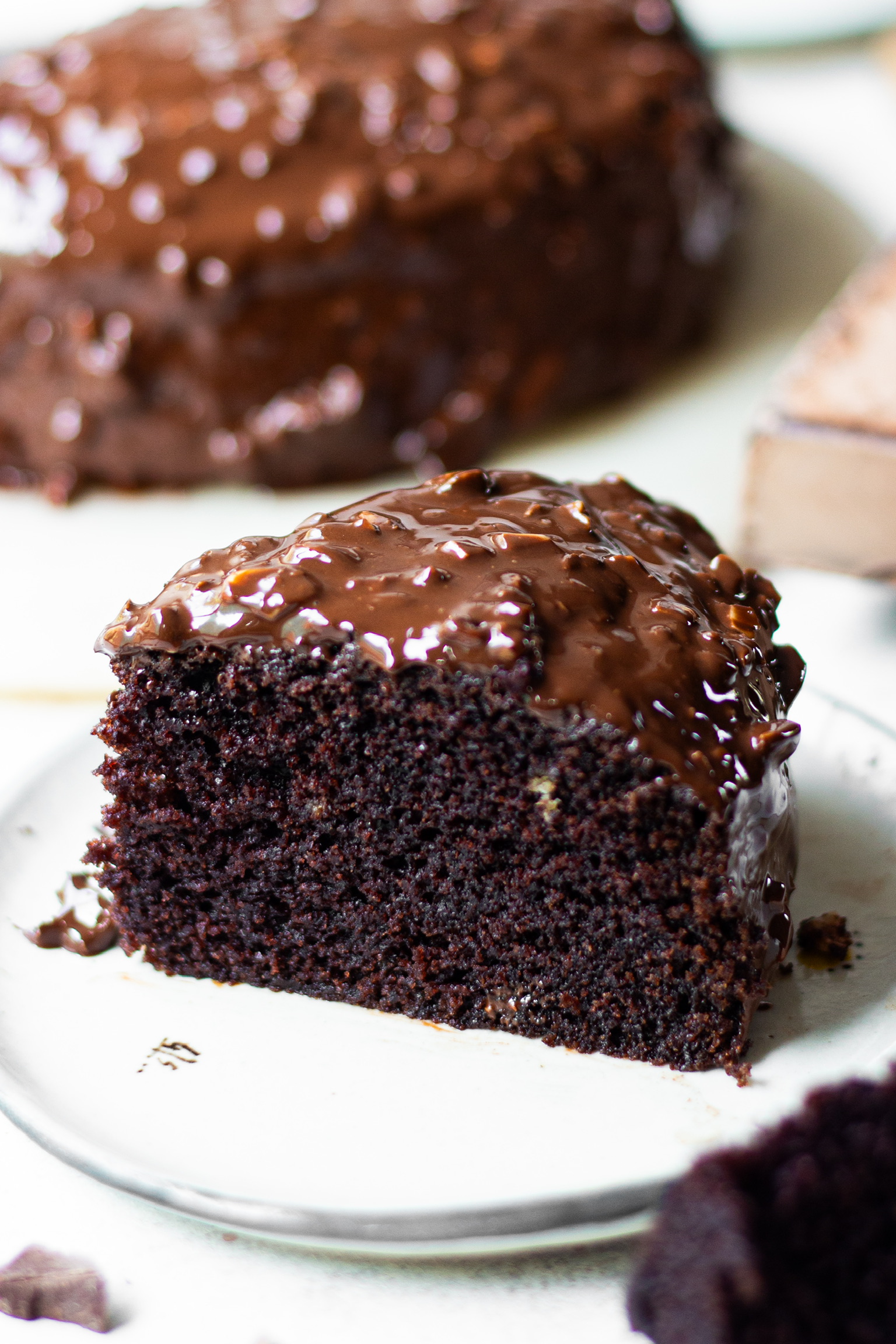 INGREDIENTS USED IN CHOCOLATE CAKE
COFFEE POWDER
I have used coffee in this recipe to make it more flavorful. If you are not a coffee fan, then you can simply ignore it. 
 COCOA POWDER
Unsweetened cocoa powder is required to make this chocolate cake in a pan. I generally, use hershy's cocoa powder, you can use whichever best you can get your hands on.
 SUGAR
For this chocolate cake in a blender , I am using caster sugar as it is perfect for this chocolate cake in a blender. If you want you can also use the powdered sugar which is made by blending granulated sugar in the blender. 
 OIL
I am using sunflower vegetable oil here which is flavourless and odourless. I would recommend
using this kind of oil only and no other as it disturbs the texture of the chocolate cake in a pan.
FLOUR
I am using all-purpose flour here. If you want you can also use 50% of whole wheat flour with
all-purpose flour to make it healthier.
 BAKING POWDER AND BAKING SODA
For the leavening agents, I am using both baking powder and baking soda here to get the best 
results out of this chocolate cake in a pan.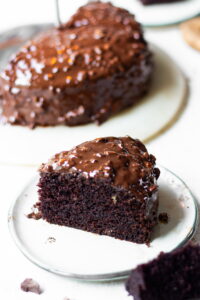 EQUIPMENTS USED TO MAKE CHOCOLATE CAKE
IN A BLENDER 
The kind of equipment you use when you're baking makes a huge difference to the end result! I would recommend you to use good quality mixing bowls and other equipment so that your eggless marble cake comes out delicious! 
To mix all my ingredients together in, I'm using Wipro blender which is super easy to clean and handle, which makes my process totally hassle free! 
Not a single day goes in my kitchen when I don't use a Silicon Spatula, this is the one I recommend. Same goes for my set of Measuring Cups and Measuring Spoons.
I've baked this cake in a cooker by adding salt in it with a stand on which we will put our baking tin so that it doesnt get burn from the bottom
SIMILAR RECIPES ON THE BLOG ARE:
CHOCOLATE CAKE IN A BLENDER
Ingredients
¾ cup milk
1 tsp vinegar
½ cup oil
½ cup sugar
¾ cup flour
3 tbsp cocoa powder
½ tsp baking powder
½ tsp baking soda
Glaze-
½ cup chocolate, melted
2 tbsp oil
¼ cup cashews, chopped
Instructions
In the jar of wipro elato mixer grinder, add milk, vinegar, oil, wholewheat flour, cocoa powder, baking powder and baking soda.
Blend everything together untill smooth.
Pour the batter in a 5- inch circle tin lined with parchment paper.
Preheat the cooker by adding some salt on the botton of the cooker along with a small stand and heating in on low-medium with the lid on for 5-7 mins.
Place the cake tin on the stand and cover it with the cooker lid. Cook on low-medium heat for 30-35 mins.
Carefully demould the cake and keep it aside.
Now melt some chocolate and mix in oil and chopped cashews.
Pour the chocolate glaze on the cake and enjoyy!
If you like my chocolate cake in a blender and happen to make them in your kitchen, do tag me on Instagram and share pictures with me using #Bakewithshivesh. Happy Baking!