In my journey of nutritious indulgence, this Berry Smoothie Chia Pudding is a star. This delightful fusion of vibrant berries, creamy milk, and nutrient-packed chia seeds is not only a treat for the taste buds but also a feast for the eyes. Berry Smoothie Chia Pudding, as the name suggests, combines the fruity exuberance of a berry smoothie with the wholesome goodness of chia pudding to create a harmonious and satisfying treat. Whether you're looking for a wholesome breakfast option, a midday energy boost, or a delightful dessert, the Berry Smoothie Chia Pudding has got you covered.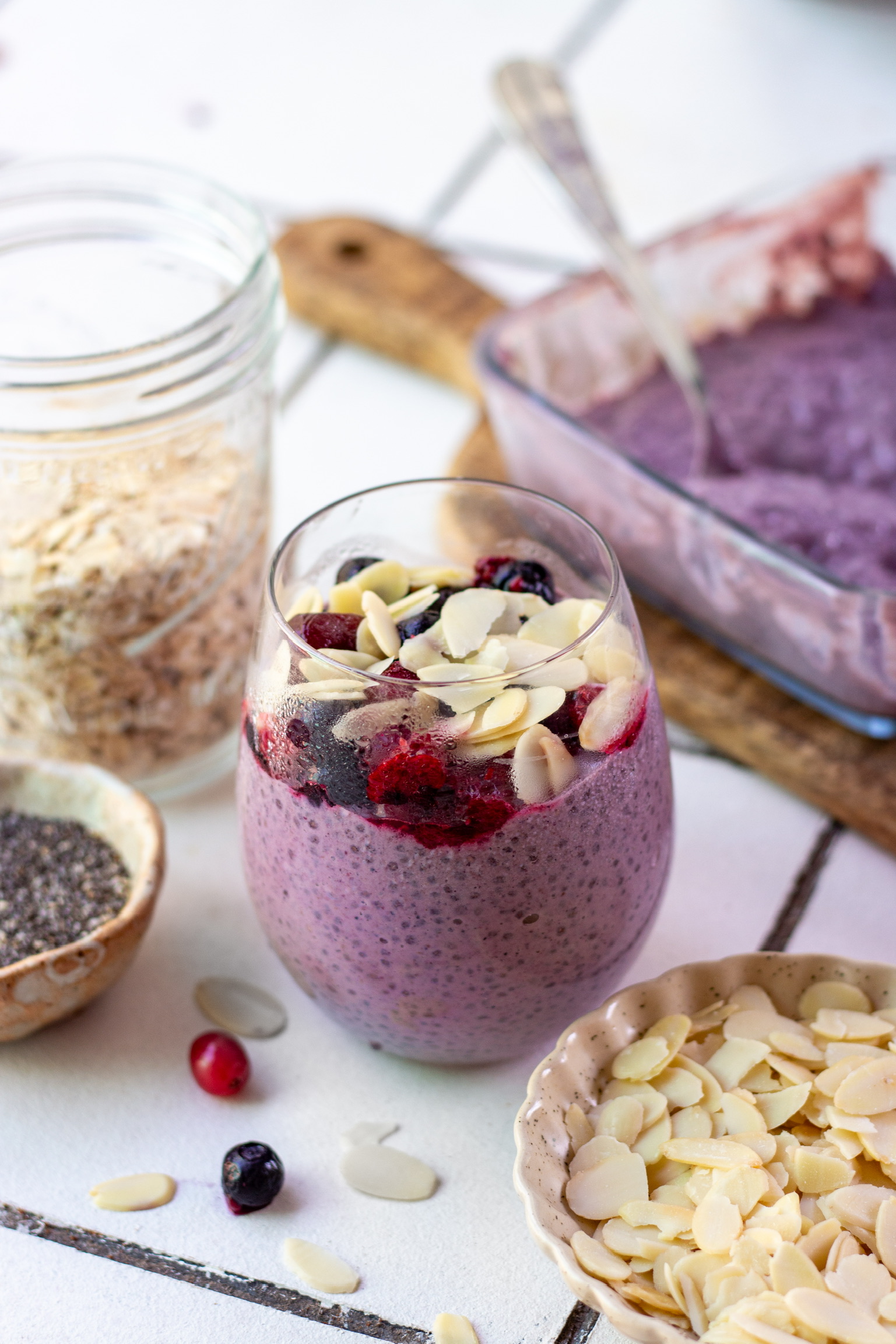 INGREDIENTS USED IN BERRY SMOOTHIE CHIA PUDDING
Mixed berries are a key ingredient in berry smoothie chia pudding, contributing to its flavour, colour, and nutritional profile. Berries are rich in antioxidants, including vitamin C, vitamin A, and various phytonutrients. Mixed berries, which can include strawberries, blueberries, raspberries, and blackberries, provide a burst of vibrant and varied fruit Flavors. Each type of berry contributes its own unique taste, creating a complex and well-rounded flavour profile. The inclusion of berries adds a textural contrast to the creamy pudding base. The small seeds and juicy texture of berries provide a delightful and satisfying element. I have used frozen packed berries for this recipe but you can use fresh mixed berries too.
Milk is the base for any chia pudding, Milk is blended along with a few other ingredients and is then refrigerated overnight with chia seeds to let it set. It gives structure and creaminess to the whole Berry Smoothie Chia Pudding. I have used Nestle milk but you can use any of your choice.
Oats are a nutrient-dense whole grain, rich in fibre, vitamins, and minerals. They add valuable nutrients to the dish, including fibre, which supports digestive health and provides a feeling of fullness. Oats have a mild, nutty flavour that complements the sweetness of the berries and honey. They also add a chewy, textured element to the pudding, creating a balanced sensory experience.
Chia seeds have a remarkable ability to absorb liquid and expand, creating a gel-like consistency. This property turns the mixture into a thick, pudding-like texture without the need for cooking or additional thickeners. Chia seeds are a nutritional powerhouse, packed with fibre, protein, healthy fats, vitamins, and minerals. This makes chia pudding a nutrient-rich option. Chia seeds have a mild, nutty flavour that blends well with various ingredients, allowing them to take on the flavours of other components in the pudding.
Honey is added to the Berry Smoothie Chia Pudding to impart the right amount of sweetness to this dessert. Honey is a natural source of various nutrients, including antioxidants and trace minerals, which is why it is better than sugar. It allows you to adjust the level of sweetness to your preference. You can add more or less honey depending on how sweet you want the chia pudding to be.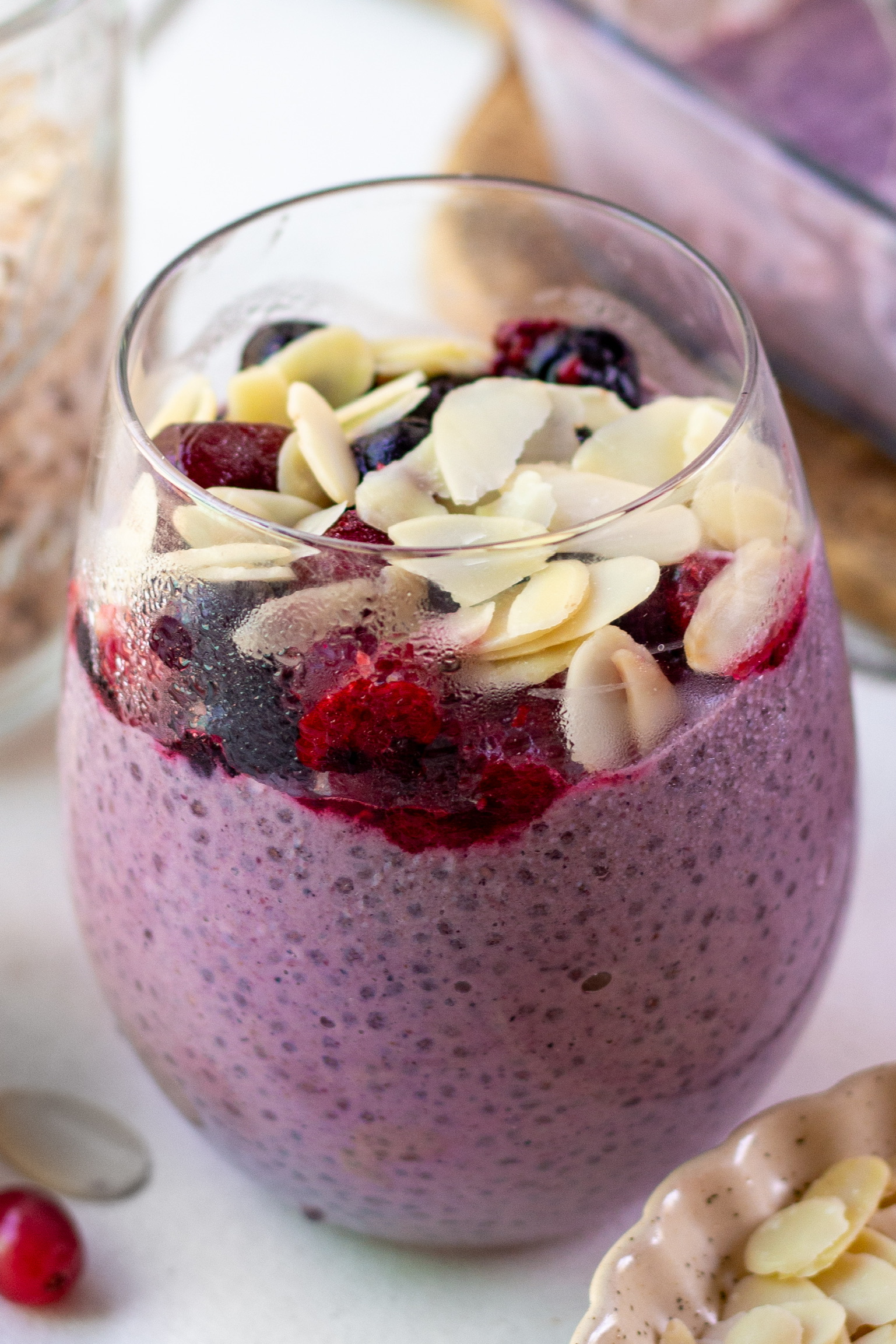 EQUIPMENT USED IN MAKING BERRY SMOOTHIE CHIA PUDDING
It's an easy recipe and doesn't require a lot of equipment.
My set of Measuring Cups and Measuring Spoons always come in handy and are the most important part of any recipe.
Apart from this, a good mixer grinder to combine everything is necessary.
And you need your favourite bowl to set the chia pudding in.
RELATED RECIPES FROM THE BLOG
TIPS TO MAKE THIS BERRY SMOOTHIE CHIA PUDDING
A full fat milk will give better texture and flavour so prefer using that.
Prefer frozen berries because they add a nice chill and thickness to the smoothie.
Choose fresh, high-quality chia seeds. They should be plump and have a neutral scent. Quality seeds ensure a better texture in the pudding.
After combining the chia seeds with the smoothie, make sure to stir thoroughly to prevent clumps. Allow the mixture to sit and thicken in the fridge for at least 2-4 hours, or overnight for best results.
If the pudding is too thick, you can add a little extra milk or yogurt. If it's too thin, add more chia seeds and let it sit for a bit longer.
Top your berry smoothie chia pudding with additional berries, nuts, seeds, granola, or a drizzle of honey for added texture and flavour.
BERRY SMOOTHIE CHIA PUDDING
Ingredients
1 cup frozen berries, plus more for garnish
2 tbsp oats
1 + ¼ cup milk
1 tbsp honey
3 tbsp chia seeds
A few almond flakes, for garnish
Instructions
Add the mixed berries, oats, honey and milk in a blender. Blend until the mixture is smooth.
Transfer the berry smoothie to a bowl and add in the chia seeds.
Allow the mixture to set in the fridge for 1-2 hours or overnight till the chia seeds swell up and becomes thick.
For serving transfer it into a glass and top it with more frozen berries and almond flakes.
If you like my Berry Smoothie Chia Pudding recipe and happen to make them in your kitchen, do tag me on Instagram and share pictures with me using #Bakewithshivesh. Happy Baking!