Who isn't a fan of Tiramisu cakes, right? I too wear my heart on my sleeves for a slice— such is the incredible taste and texture! Therefore, inspired by the exceptional taste of Tiramisu, I thought of giving it an interesting twist! As I'm trying to lean slightly towards trying healthier recipes (blame the New Year Resolutions mania), this was my attempt of lacing the goodness of Tiramisu into a Chia Pudding. And I must proudly admit, that I fell in love with the rich flavours of coffee and cocoa that perfectly blended into the Tiramisu chia pudding and made it taste exactly like a dessert. This Tiramisu Chia Pudding is more than just a healthy breakfast option, and you can count on me for that!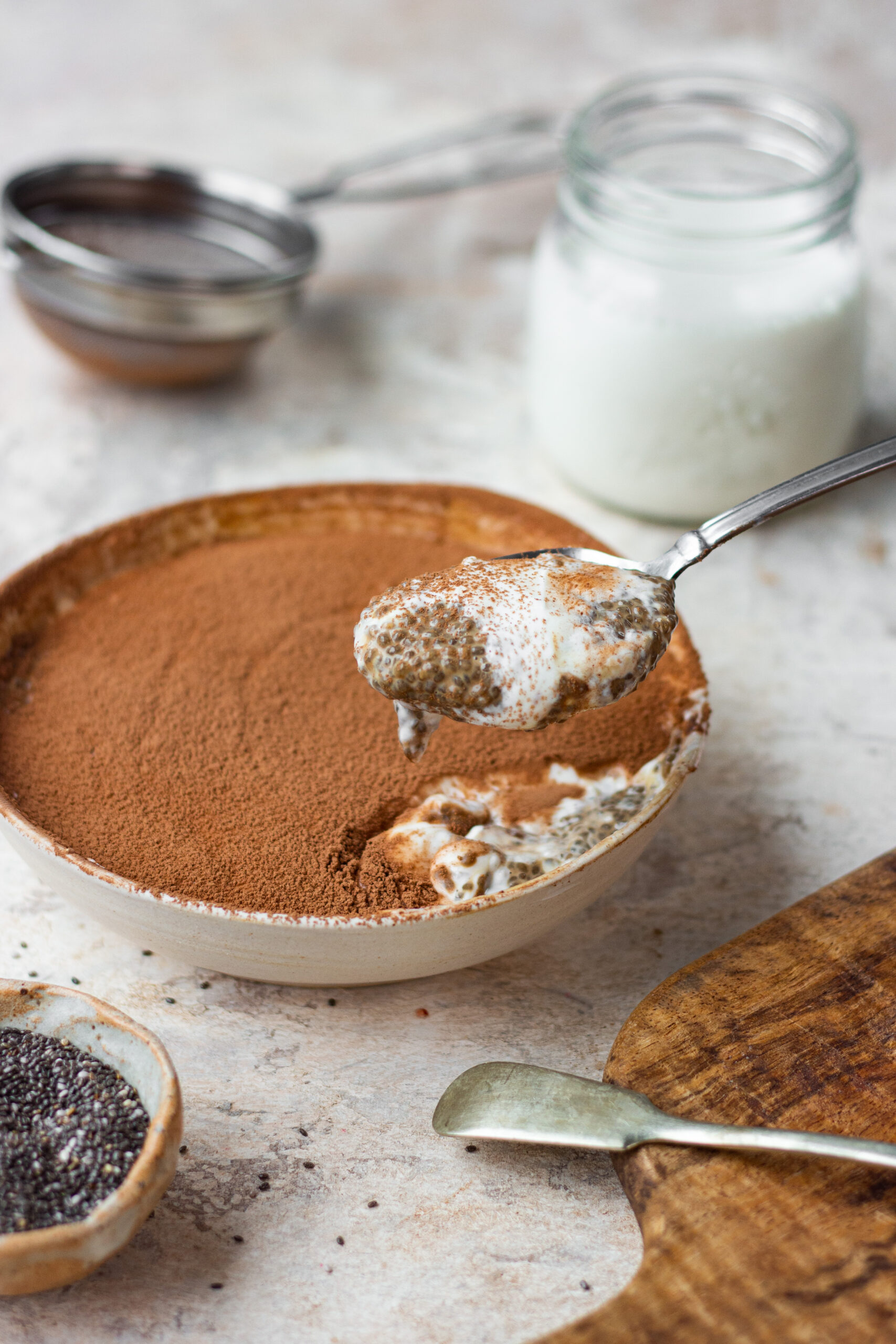 INGREDIENTS USED IN TIRAMISU CHIA PUDDING
Milk is the main essence of a pudding. It gives base and structure to this Tiramisu chia pudding. You can try a variety of milk that's easily available in the market, as per your taste and choice. I have used Nestle toned milk and it perfectly soaked the chia seeds. You can opt for non-dairy and healthier options also, like, oat milk or almond milk.
Finding the right coffee for Tiramisu gives you the quality you are looking for. Coffee is what rolls the decadent Tiramisu flavour into the pudding. Hence, choosing the right one is essential. I have used this coffee powder.
Maple Syrup or Honey is a smarter choice, if you wish to avoid those extra calories that comes with adding sugar. Both are amazing sweeteners and a great fit for this recipe. They give you great flavour and I personally love them! I have used this maple syrup.
Chia seeds are a source of fibers, proteins, omega 3, calcium and iron. They are a great way to balance your diet. Apart from the various health benefits, it is the main ingredient that makes this pudding dense and creamy!
This protein rich ingredient is what will give you the Tiramisu Chia Pudding of your dreams!
Cocoa powder's rich taste and aroma is the agent behind 'I can't have enough of this pudding' feeling! So make sure you pick the right one and add the good flavours to your pudding.
EQUIPMENTS USED FOR MAKING TIRAMISU CHIA PUDDING
This recipe comes together quickly and hardly needs any equipment.
One bowl and a whisk is all that is required to make Tiramisu Chia Pudding.
Measuring Cups and Measuring Spoons. are an integral part of any baker's kitchen and its very important to measure ingredients with precision.
I have used flat whisk for this recipe.
OTHER RELATED RECIPES FROM THE BLOG
TIPS TO MAKE TIRAMISU CHIA PUDDING
Make sure the milk is warm to infuse the coffee powder completely.
You can change the amount of coffee and maple syrup according to your taste.
Refrigerate the chia pudding for atleast 4 hrs or overnight.

Tiramisu Chia Pudding
Ingredients
1 cup warm milk
1 tbsp coffee
2 tbsp maple syrup/ honey
4 tbsp chia seeds
½ cup greek yogurt/ hung curd
Cocoa powder (for dusting)
Instructions
Add coffee powder to warm milk and mix well till the coffee is completely dissolved. If you don't like your coffee strong, you can reduce the amount the 1 tbsp coffee.
Add the maple syrup and mix again.
Lastly, add the chia seeds and stir well. Refrigerate this for atleast 4 hrs or overnight.
Once the mixture becomes thick, spread some greek yogurt or hung curd on top of it.
Finish the tiramisu chia pudding by dusting some cocoa powder on top of it and your healthy dessert is ready!
If you like my Tiramisu Chia Pudding recipe and happen to make them in your kitchen, do tag me on Instagram and share pictures with me using #Bakewithshivesh. Happy Baking!