Strawberries are still in season and I clearly haven't had enough of them! If you too prefer your drinks to be flavourful, refreshing, and one that adds a good kick to your mood, then you cannot scroll past this Strawberry Boba Milk recipe without giving it a shot! This Strawberry Boba Milk is the perfect drink to have in this strawberry season.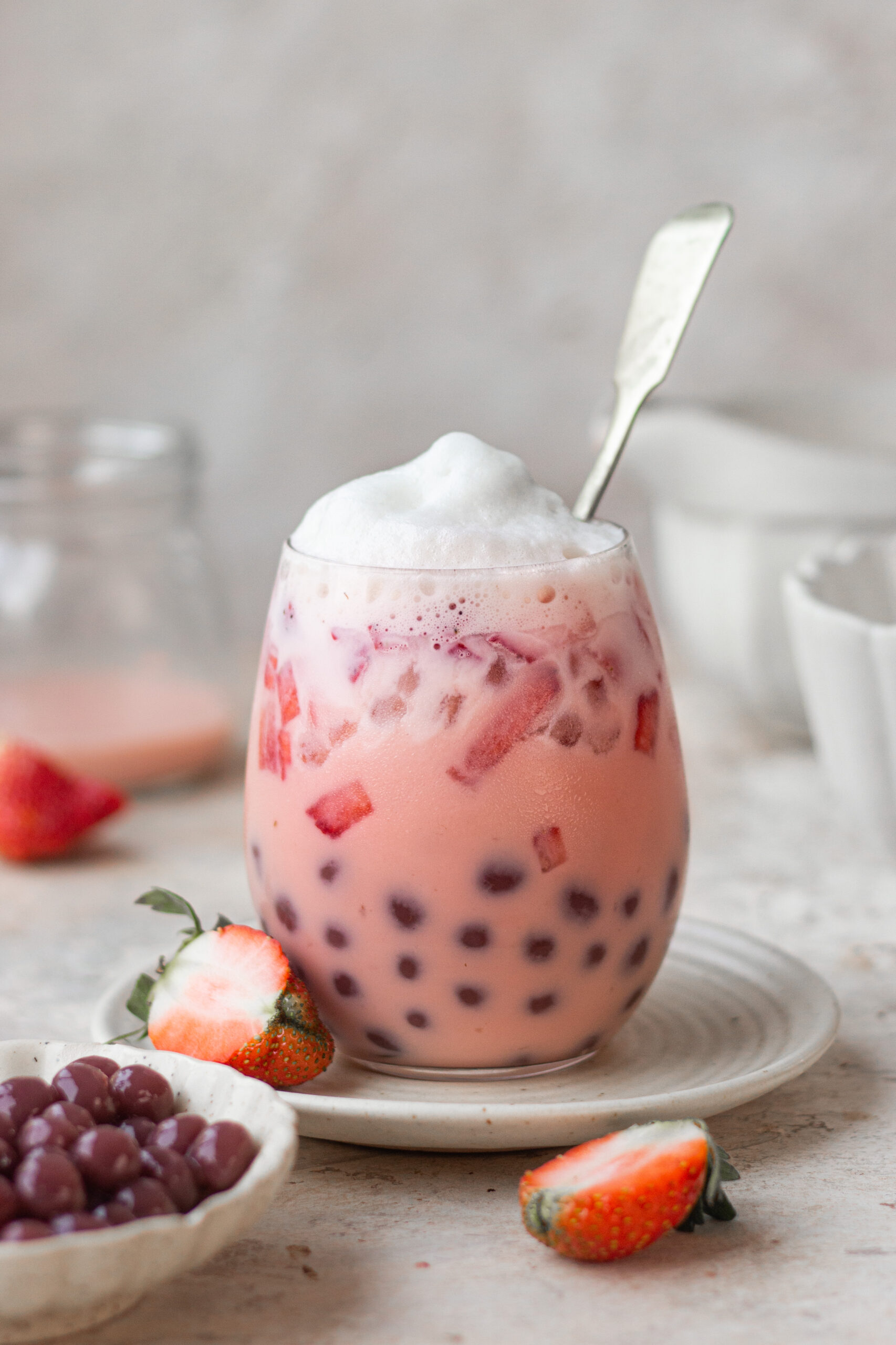 INGREDIENTS USED IN STRAWBERRY BOBA MILK
The boba pearls used in the Bubble tea are traditionally made with tapioca flour or tapioca starch. The starch gives the pearls a chewy texture upon cooking and boiling them gives it the sheen of the pearls.
Strawberries are in season right now, so, fresh strawberries work the best for this drink. Strawberry puree as well as finely diced strawberries, both go into the drink and contribute to the burst of flavor which is oh-so-irresistible. You can use frozen strawberries as well.
A full cream milk will obviously make it more delicious but you can just use any milk that you use regularly. I have used Hersheys Strawberry Milk for this recipe.
EQUIPMENTS USED FOR MAKING STRAWBERRY BOBA MILK
To make strawberry puree, I have used my Nutrifresh Blender.
For milk foam, I have used Milk Frother which I have recently ordered from amazon and it has made my work so hassle-free and quick.
Measuring Cups and Measuring Spoons. are an integral part of any baker's kitchen and its very important to measure ingredients with precision.
Boba Milk requires a special Boba Straw and you can purchase yours from here . It is reusable and hence environment friendly.
OTHER RELATED RECIPES FROM THE BLOG
TIPS TO MAKE STRAWBERRY BOBA MILK
Make sure the tapioca pearls are not undercooked as they will not taste good with the milk then.
Drizzle some honey on tapioca pearls so that they do not stick to each other.
Add chopped strawberries to your drink so that it tastes good and looks more presentable.
STRAWBERRY BOBA MILK
Ingredients
4-5 strawberries
2 tbsp castor sugar
2 tbsp water
¼ cup + ¾ cup tapioca flour
½ cup strawberry milk
2 fresh strawberries, chopped
Milk foam (optional)
Instructions
Blend strawberries, water and sugar in a blender jar. Add red food colour at this stage, if you like.
Transfer the mixture into a bowl and add ¼ cup tapioca flour.
Microwave for 1 min in 15 secs interval each. It will become sticky and thick.
Now add the remaining ¾ cup tapioca flour to form a dough.
Shape the dough into long, thin logs and cut equal portions. Take each portion and roll it into small balls using your palms.
Now, boil them in boiling water till they become shiny and somewhat translucent. This will take around 20-25 mins.
Strain them and wash under cold running water to cool them down.
In a tall glass or a mason jar, add the boba pearls along with ice and chopped strawberries.
Finish it off by pouring the strawberry milk and topping it with some milk foam.
Enjoy !
If you like my Strawberry Boba Milk recipe and happen to make them in your kitchen, do tag me on Instagram and share pictures with me using #Bakewithshivesh. Happy Baking!