I have always been fascinated by Bubble tea and I finally tried it in my kitchen. I thought it is a Japanese drink but the Bubble tea actually originated from Taiwan.  Just a random bubble fact for you all.  The boba pearls are always made with tapioca starch and gives the Bubble Tea its distinct component and wow factor. The process might seem a little intimidating but trust me, its too fun to make. I made the classic Bubble tea using brown sugar and paired it with homemade caramel milk.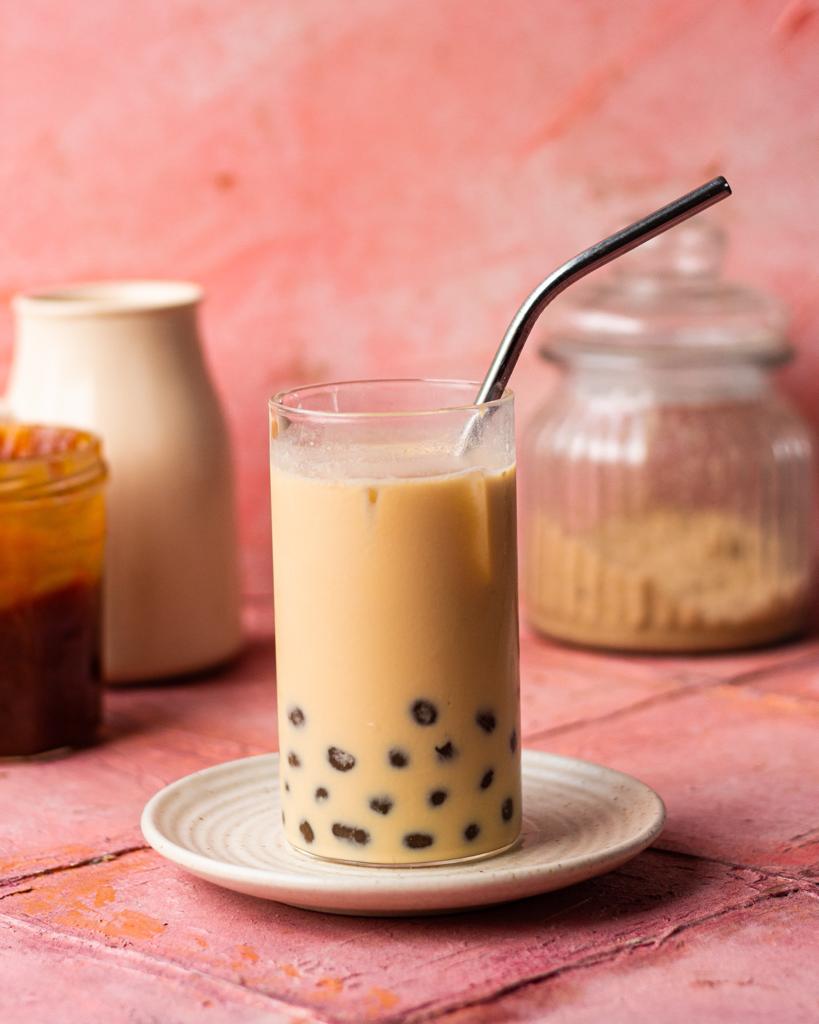 INGREDIENTS USED IN BUBBLE TEA
The boba pearls used in the Bubble tea are traditionally made with tapioca flour or tapioca starch. The starch gives the pearls a chewy texture upon cooking and boiling them gives it the sheen of the pearls. I haven't come across any recipe that uses any other kind of flour so you can purchase the tapioca flour from here.
Brown sugar contributes to the brown-black color and the sweetness of the boba pearls. They also have more moisture content and deeper flavour.
I have used  Nestle milk to make my caramel milk which pairs very well with brown sugar. You can use any kind of milk of preference.
EQUIPMENTS USED FOR MAKING BUBBLE TEA
To make this recipe, I have used my new favorite Stahl cooking pan and saucepan. It is chip-proof, metal-spoon friendly and even cooks faster.
I have used the Stahl pan to make the boba dough. And then I used the Stahl saucepan to boil the dough balls.
Obviously, no recipe is complete without proper quantities of ingredients. I used these measuring spoons and measuring cups to measure my ingredients precisely.
Bubble tea requires a special Boba Straw and you can purchase yours from here. It is reusable and hence environment friendly.
TIPS TO MAKE BUBBLE TEA
Cook the Boba pearls dough on low heat and only till just combined. Otherwise, there is a risk of burning the dough.
You can add a little water if the dough seems too dry.
Use a wooden spoon to bring together the dough.
The kneading process requires patience but it does come together after 10-15 mins.
Cut the dough balls into equal portions to get uniform boba pearls.
Let the caramel milk come to room temperature before pouring it over boba pearls and ice.
OTHER RELATED RECIPES FROM THE BLOG
BUBBLE TEA
Ingredients
Boba Pearls:
1 cup tapioca starch
⅓ cup water
⅓ cup packed brown sugar
Caramel milk:
3 tbsp caramel sauce
1 cup milk
Instructions
In a pan add the brown sugar and water and heat on low till the sugar dissolves.
Add half of the tapioca starch and cook till everything just comes together to form a paste.
Add the remaining tapioca starch to form a dough and take it off the heat.
Knead the dough for a good 10 to 15 minutes.
Shape the dough into long, thin logs and cut equal portions.
Take each portion and roll it into small balls using your palms.
Now, boil them in boiling water till they become shiny and somewhat translucent.
Strain them and wash under cold running water to cool them down.
Now, to make the caramel milk, just heat some milk in a saucepan and add homemade or store bought caramel to it.
Heat until well combined and let it cool on the counter later.
In a tall glass or a mason jar, add the boba pearls along with ice.
Finish it off by pouring the caramel milk and your homemade bubble tea is ready.
Enjoy!
If you like my easy Bubble Tea recipe and happen to make them in your kitchen, , do tag me on 
Instagram
 and share pictures with me using #Bakewithshivesh. Happy Baking!