Need your mocha cravings fulfilled in minutes? Then this easy Nutella Iced Mocha is just for you. All you need is a handful of ingredients and 5 minutes to make this recipe. The generous amount of Nutella makes it extra chocolaty and simply so delicious. The subtle flavor of coffee works perfectly well with Nutella and hence this Nutella Iced Mocha recipe doesn't require any extra sugar as well. This recipe is perfect to jump start your day and to lift your spirits up.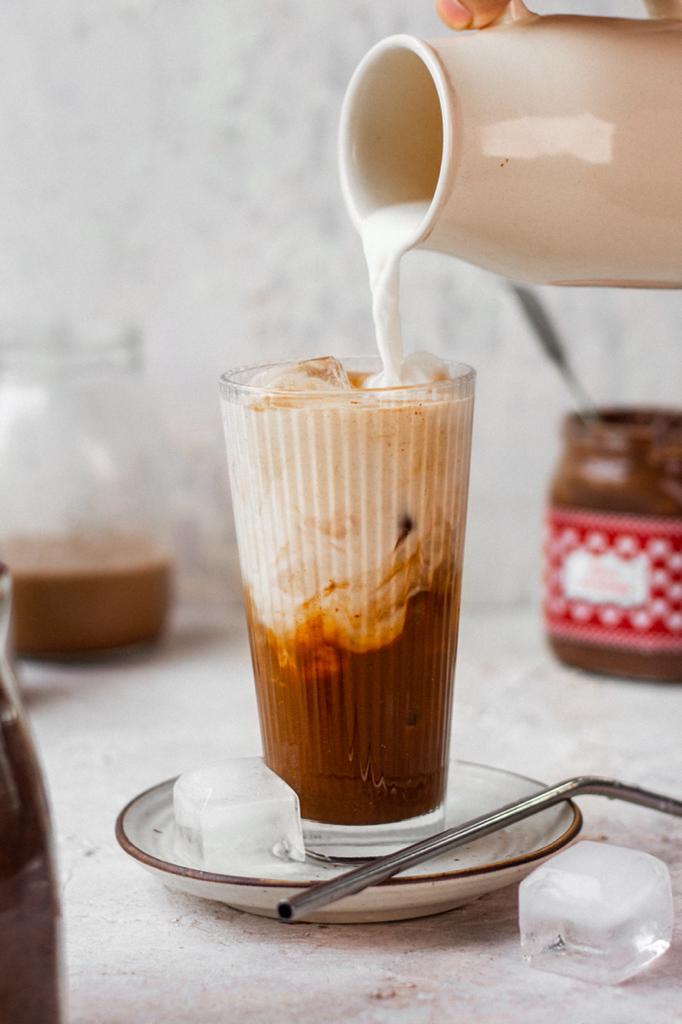 INGREDIENTS USED IN NUTELLA ICED MOCHA
I have used instant coffee powder in this recipe as it blends well in the drink. I used Nescafe coffee but you can use any. You can always increase or decrease the amount to make it as strong as you like/ as per your preference of coffee.
The secret ingredient that makes this Nutella Iced Mocha so good is the addition of cocoa powder. It makes the drink slightly thick giving it a very rich consistency. I have used Cadbury cocoa powder but you can choose any good quality cocoa powder that is easily available to you in nearby grocery stores.
Nutella
The star of the drink is of course, Nutella. Its smooth, chocolaty and also adds in a little nutty flavor to the Iced Mocha. An ingredient that is loved by kids and grown ups alike, you can never go wrong with Nutella.
A full cream milk will obviously make it more delicious but you can just use any milk that you use regularly. I have used Nestle milk for this recipe. You can opt for non-dairy and healthier options also, like, oat milk or almond milk.
EQUIPMENTS USED FOR MAKING NUTELLA ICED MOCHA
This recipe is so simple, you hardly need any equipment to make this recipe.
However, a good quality coffee frother makes the Nutella Iced Mocha come together beautifully. I have used this to make my Nutella Iced Mocha.
You will need measuring spoons to scoop out the right amount of coffee powder and cocoa powder.
You also need hot water, which you can easily heat over a stove or in an electric kettle.
I like to make my drinks in this beautiful, tall Glass and sip it from this environment-friendly metal straw.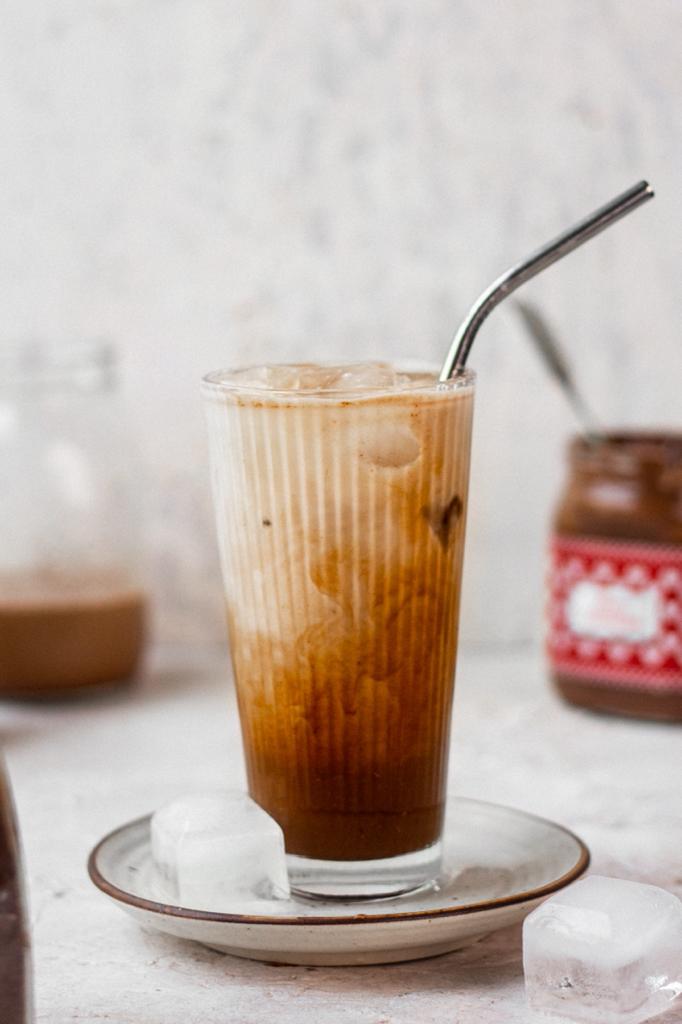 TIPS TO MAKE NUTELLA ICED COFFEE
Make sure that the coffee powder or cocoa powder are not lumpy due to humidity or else, they wont mix properly.
You can swap the coffee powder with an espresso shot as well and skip adding the water otherwise.
You came enjoy it as a hot beverage too by heating it after the entire drink comes together.
You can garnish it by adding a marshmallow or a dollop of whipped cream and chocolate shavings.
OTHER BEVERAGE RECIPES FROM THE BLOG
NUTELLA COLD COCO
Ingredients
1 tbsp Coffee powder
½ tbsp Cocoa Powder
1 spoonful of Nutella
3 tbsp Hot Water
½ cup Milk
4-5 Ice Cubes
Instructions
In a glass, add the coffee powder, cocoa powder and a spoonful of Nutella.
Pour the hot water over it and blend together using an electric coffee frother. You can also bring it together using a whisk or a fork.
Add in the ice cubes as per your liking.
Pour some milk on top of it and stir it using a straw.
Serve and enjoy chilled !
If you like my easy Nutella Iced Mocha recipe and happen to make them in your kitchen, , do tag me on 
Instagram
 and share pictures with me using #Bakewithshivesh. Happy Baking!