I love tiramisu! This masala chai tiramisu is a beautiful combination of the evergreen jodi of chai and rusk along with a smooth and delicious mascarpone filling. The cardamom and ginger in chai pairs so well with the milk rusks and the creamy filling, you are going to love it. The soaked rusk in chai is all things nostalgic and would melt in your mouth so nicely. It's one of the most easily put together glass dessert and absolutely fuss-free. Let's see what we need to make my masala chai tiramisu.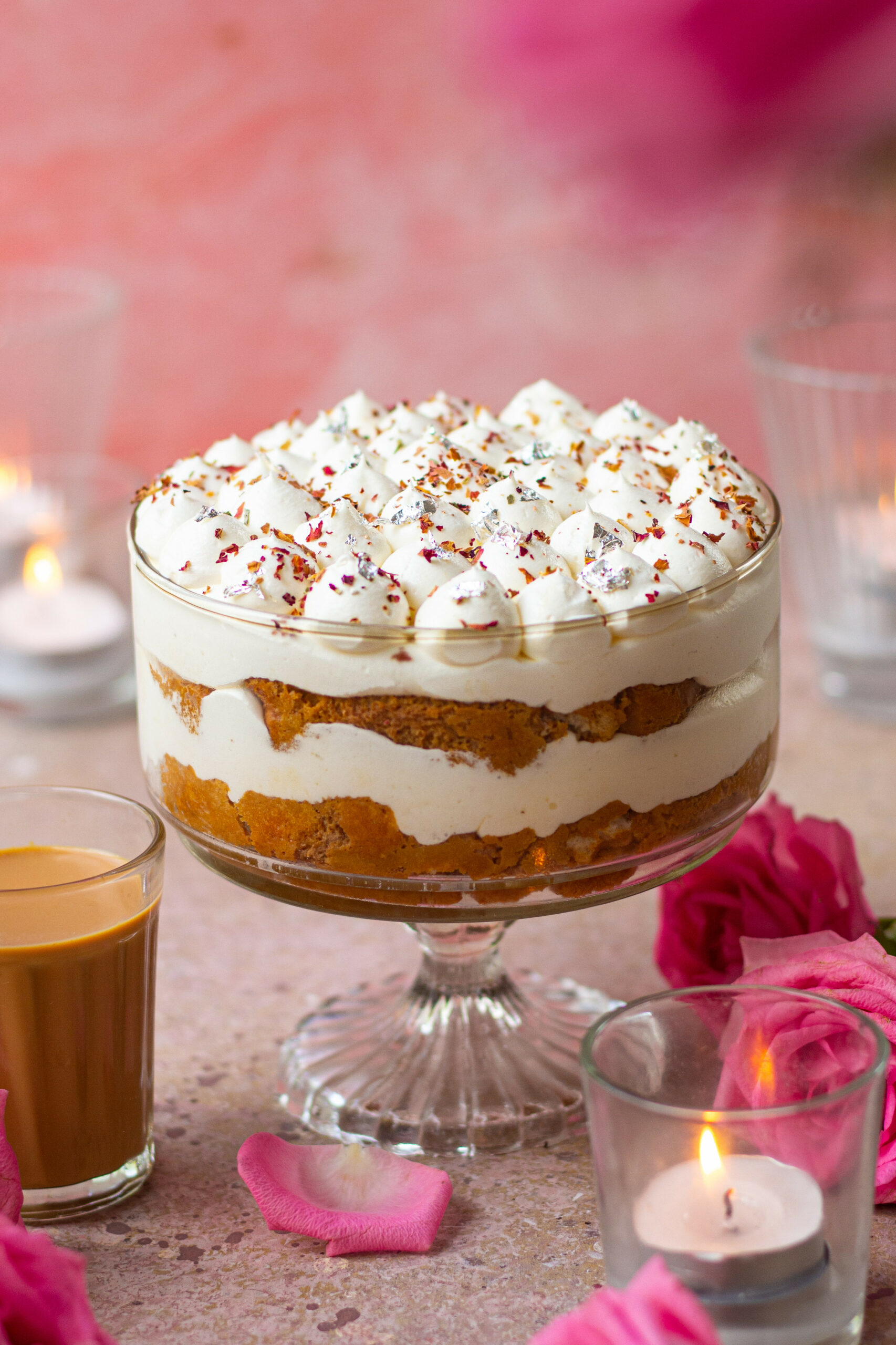 INGREDIENTS NEEDED TO MAKE MASALA CHAI TIRAMISU
WATER & MILK
To make masala chai tiramisu, you will need to make a delicious aromatic chai to soak your rusks in. Let's start by taking equal quantities of water and milk for chai. You can take them in any ratio you prefer.
CARDAMOM PODS, BLACK PEPPER & GINGER POWDER
To add beautiful flavours to my chai, I have used whole cardamom pods, which I smashed open before adding. I also added some black peppers for that kick of spice and ginger powder for the taste and aroma. Feel free to add whatever you like in your chai. A small stick of cinnamon, few cloves, freshly grated ginger, lemon grass are some other good options to add to your chai for masala chai tiramisu.
TEA LEAVES
To make chai for masala chai tiramisu, of course you will need tea leaves or chai patti. Make sure you do not add too much to your chai as that makes it bitter. Add just the apt amount you use for your regular chai.
SUGAR
Feel free to use any kind of sugar for your chai for masala chai tiramisu. I have used regular granulated sugar. If you like you can use brown sugar, coconut sugar or even jaggery if that is what you make your chai with.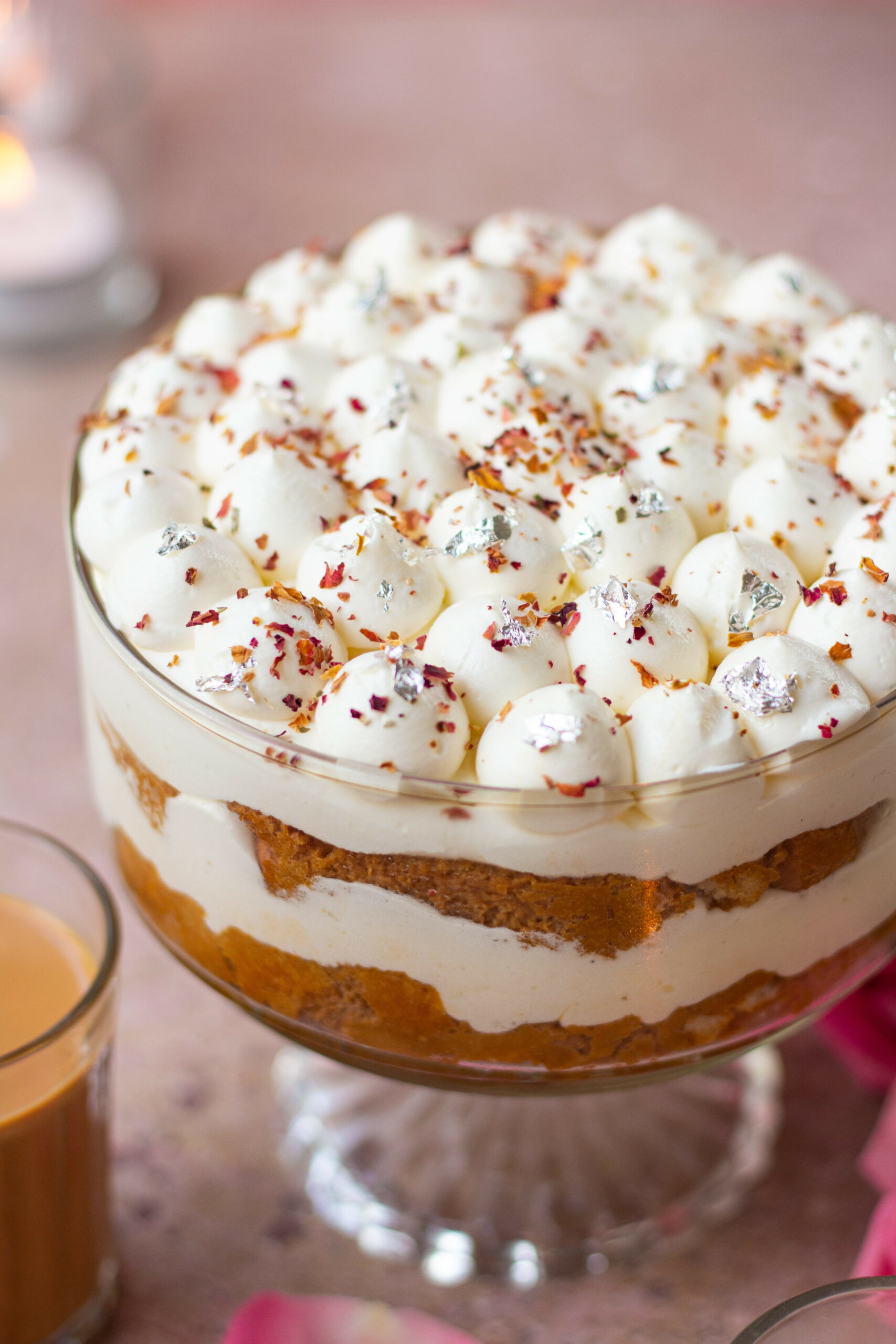 RUSK
Since rusk and chai are best of friends, I have used regular rusks to layer my tiramisu. Feel free to use ParleG biscuits, digestive biscuits, or any other kind of biscuits to layer your masala chai tiramisu.
MASCARPONE
To layer my soaked rusks in masala chai tiramisu, I made a super delicious and smooth mascarpone cheese frosting. If you cannot find mascarpone around you, you can substitute it with cream cheese. Make sure to adjust icing sugar accordingly.
ICING SUGAR
Make sure you do not use any other kind of sugar except icing sugar while making mascarpone frosting as they would not melt in and make your frosting grainy instead of smooth. For a smooth masala chai tiramisu filling, icing sugar is your best bet.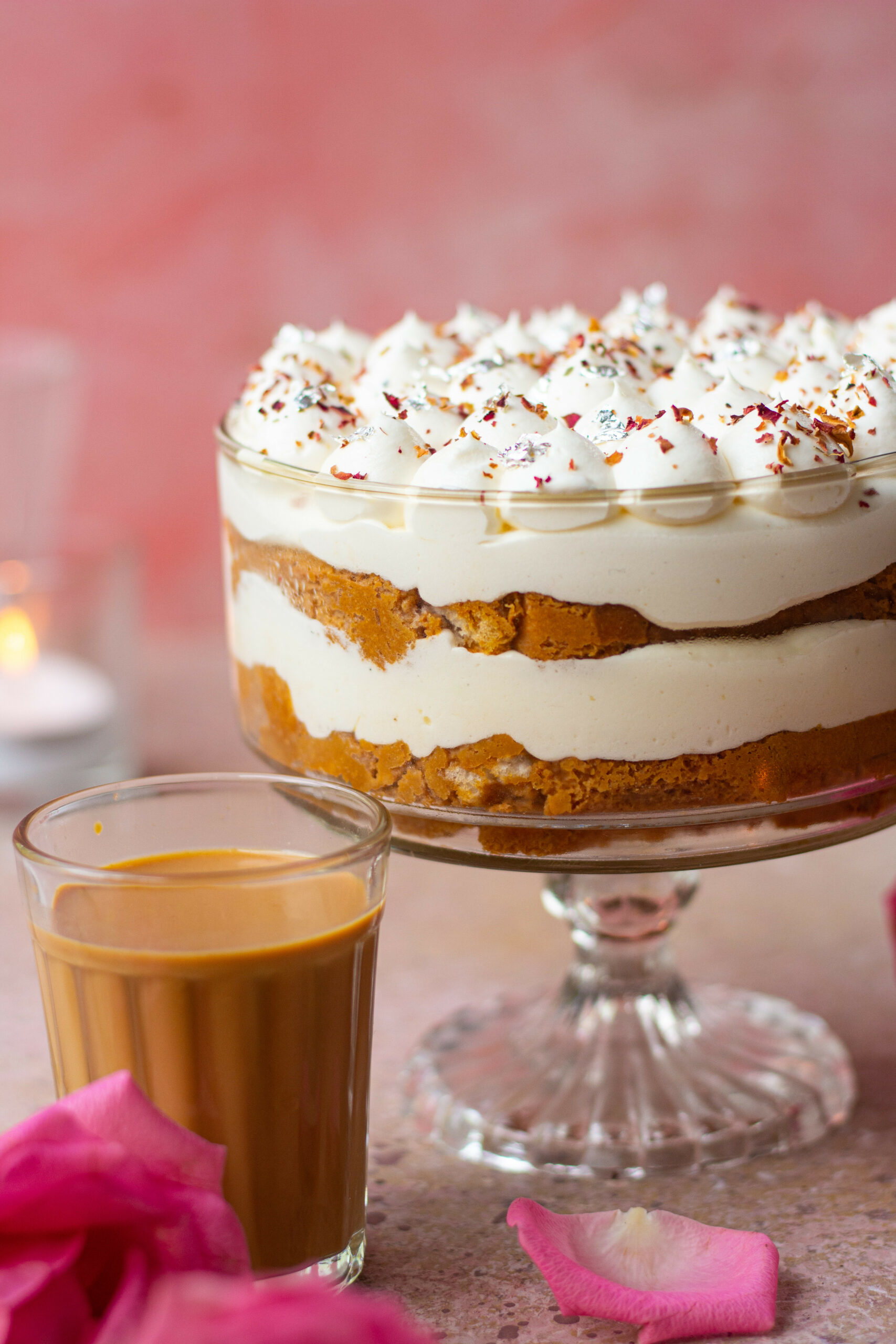 WHIPPING CREAM
To make your mascarpone frosting light and airy, you will need to add whipping cream. Whip the cream in a separate bowl and then mix it with the softened mascarpone cheese until you see no lumps. That is your filling for masala chai tiramisu.
CARDAMOM POWDER
I love cardamom powder in all things festive. It not only brings out a beautiful subtle flavour but also takes the whole fragrance of the dessert up a notch. It pairs beautifully here with the masala chai tiramisu.
SAFFRON STRANDS
I have also added a few saffron strands to my filling for that lovely aroma it brings in my masala chai tiramisu. If you do not have saffron strands, you can skip adding them.
EQUIPMENT USED FOR MAKING MASALA CHAI TIRAMISU
The kind of equipment you use when you're baking makes a huge difference to the end result! I would recommend you to use good quality mixing bowls and other equipment so that your masala chai tiramisu come out delicious!
To whip all my filling ingredients together in, I'm using Borosil's 100% Borosilicate Glass Bowl which is microwave and oven safe, plus the bowls are super easy to clean and handle, which makes my baking process totally hassle free!
Not a single day goes in my kitchen when I don't use a Silicon Spatula, this is the one I recommend. Same goes for my set of Measuring Cups and Measuring Spoons.
To make my chai, I have used my Borosil induction.
If you try this recipe and like it, do try other tiramisu recipes from the blog. I am sure you are going to love them too!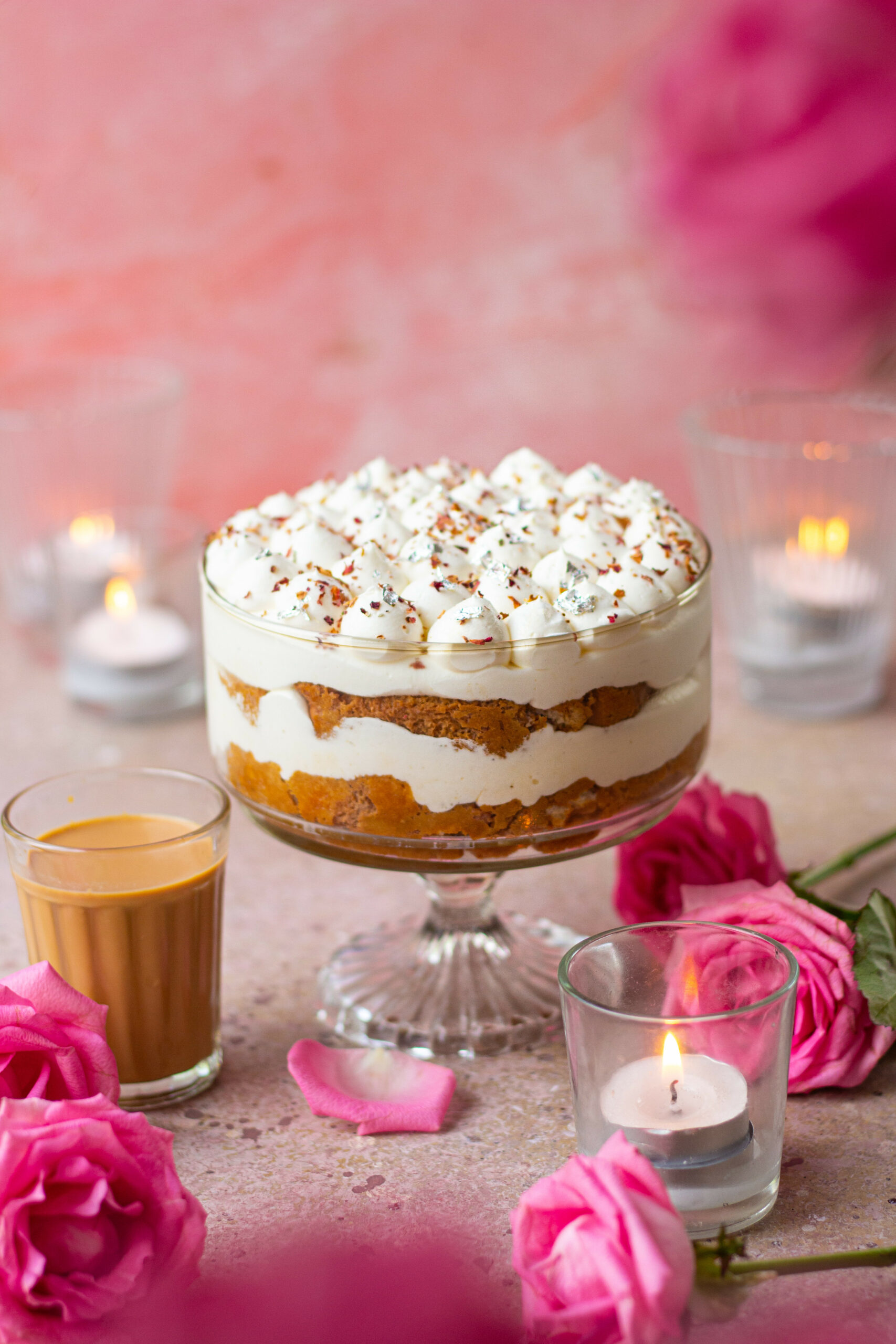 OTHER TIRAMISU RECIPES FROM THE BLOG
Masala Chai Tiramisu
Ingredients
¾ cup water
¾ cup milk
2 cardamom pods
5 black peppers
½ tsp ginger powder
2 tbsp tea leaves
2 tbsp sugar
½ cup mascarpone
¼ cup icing sugar
¾ cup whipping cream
¼ tsp cardamom powder
3-4 saffron strands
Instructions
Start by making the chai to soak rusks. Add water and milk in a saucepan set over medium heat.
Add cardamom pods, black peppers, ginger powder, tea leaves and sugar. Bring it to few boils until it gets a beautiful brown colour of chai.
Take it off the heat, strain and set it aside.
To make the filling, in a medium sized mixing bowl, add mascarpone, icing sugar, whipping cream, cardamom powder and saffron strands.
Using an electric hand whisk, whip all of it together until the mixture becomes light and airy.
Soak the rusks in the chai for a few minutes.
Start by layering the tiramisu. In a glass dish, make a bed of soaked rusks. Followed by a layer of filling. Repeat the process several times until the dish is full.
Top the tiramisu with class look, small dollops of the filling. Topped with crushed dried rose petals and silver foil, both being optional.
Refrigerate the tiramisu for a while before serving.
If you like my masala chai tiramisu recipe and happen to make it in your kitchen, do tag me on Instagram and share pictures with me using #Bakewithshivesh. Happy Baking!