This festive season I decided to make sweets from scratch at home and with lots of brainstorming I decided to try my hands on my favourite sweet which is obviously cookies but giving it an indian twist and making nankhatai! I soundly believe that a good Nankhatai biscuit should be deliciously flaky, nicely crisp, lightly sweet and delectably tender; this Nankhatai recipe is exactly that. Surprisingly easy to make with basic pantry ingredients that you already have in your kitchen, this recipe of badam nankhatai is definitely a keeper and doesn't need an oven to get prepared!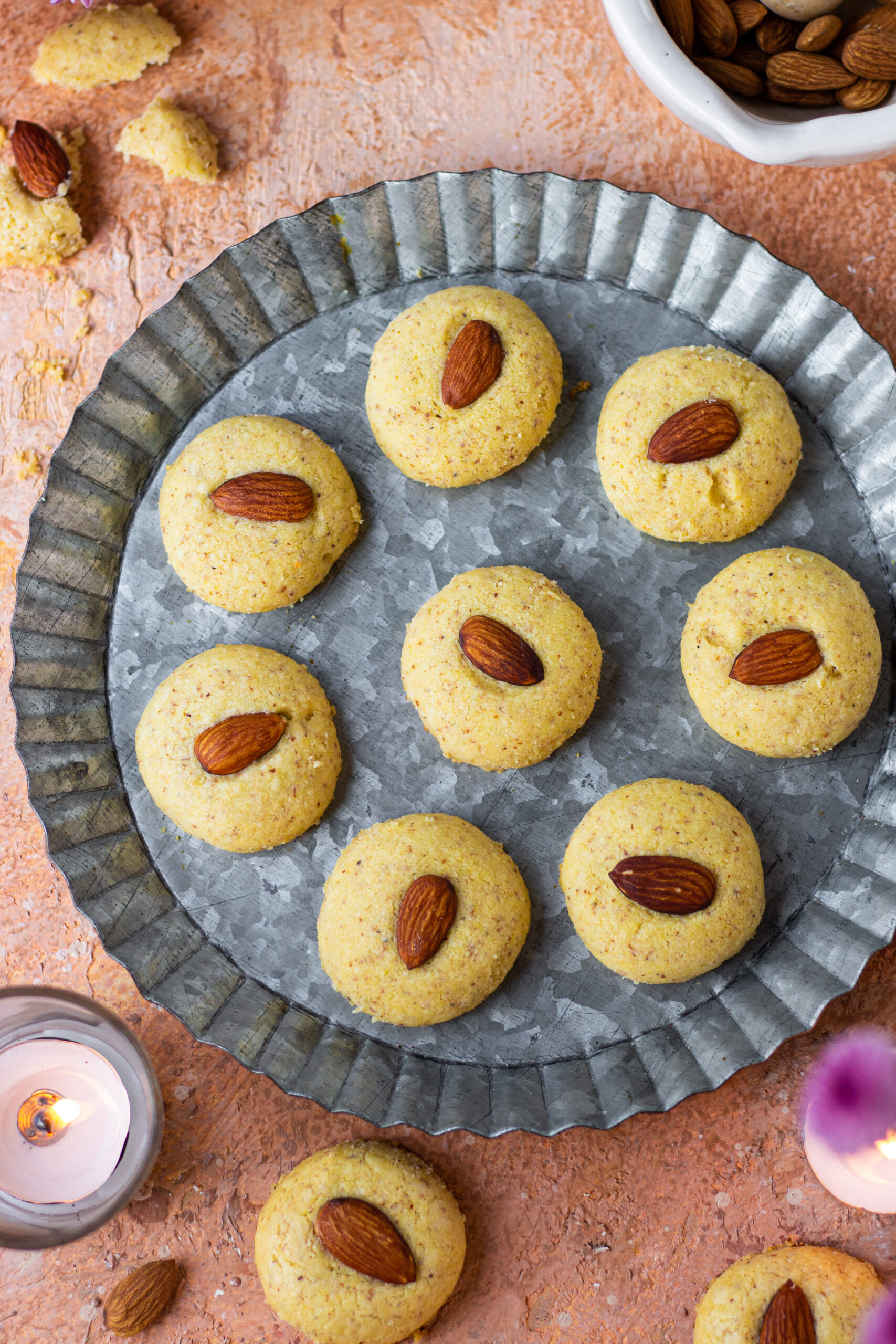 INGREDEINTS USED IN BADAM NANKHATAI
FLOUR
Every Indian Household uses a different measurement to make these biscuits. A combination of Maida (APF), Besan (Chickpea Flour) and Rava (Semolina) is ideal as besan is what gives the earthy and nutty flavour and semolina is responsible for the grittiness.
GHEE
Do not substitute ghee; the fat source with anything else. This is the key ingredient. To make a good badam Nankhatai all you need is to make use of REAL GHEE. What I mean by real ghee is that you do not substitute it with Butter or any other shortening like Dalda.
ICING SUGAR
As icing sugar has cornflour mixed in it. It helps with the binding of these badam nankhatai. As these are eggless so using icing sugar is always preferable.
HOW TO STORE THESE BADAM NANKHATAI
When stored the right way, these cookies would last for weeks. Store it in an air-tight container only when it is completely cooled.
This would last for 15 to 20 days, even more but honestly this won't last that long as it is that good!!
TIPS AND TRICKS FOR MAKING THESE BADAM NANKHATAI
Use only GHEE, combination of flours as mentioned and also powdered sugar for the perfect texture.
Melted ghee might make your dough runny and with too solid ghee you would end up kneading the dough a lot more than needed. To avoid that use room-temperature semi-solid ghee that is neither melted not solid.
Use some kind of flavouring agents like cardamom, rose or saffron as usually these are considered to be a flavourful, rich and aromatic Indian biscuits.
Chilling the dough is advisable so that the cookies do not flatten out while baking but it is not compulsory.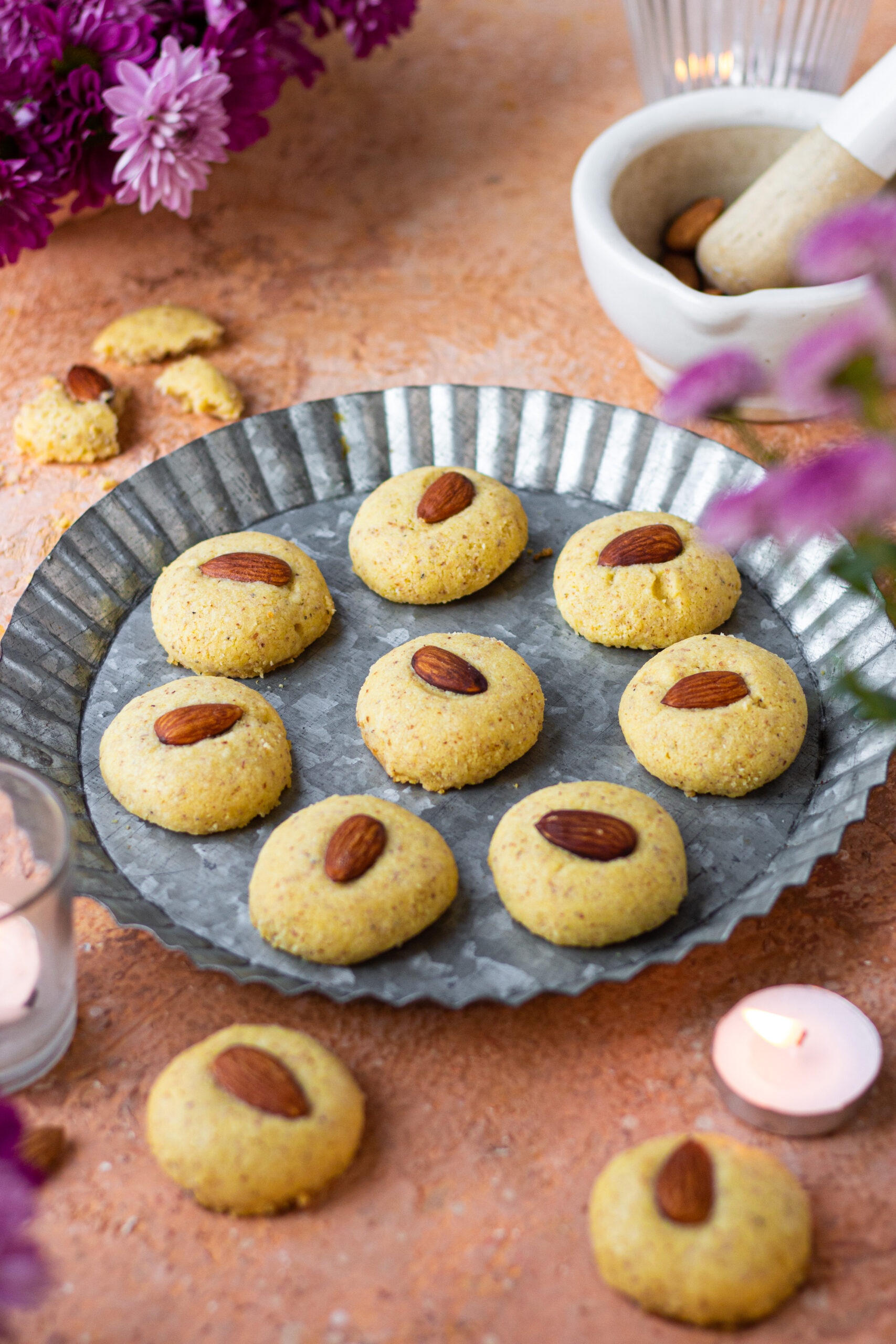 EQUIPMENTS USED IN MAKING THESE BADAM NANKHATAI
The kind of equipment you use in the kitchen makes a huge difference to the end result! I would always recommend you to use quality gadgets and other equipment to make your cooking and baking game strong
Not a single day goes in my kitchen when I don't use a Silicon Spatula, this is the one I recommend. Same goes for my set of Measuring Cups and Measuring Spoons.
SIMILAR RECIPES ON BLOG
BADAM NANKHATAI
Ingredients
6 tbsp ghee
½ cup icing sugar
¼ tsp cardamom
¼ tsp saffron strands
¼ cup all purpose flour
¼ cup besan
¼ cup almond flour
1 tbsp suji
Badam to top
Instructions
In a pan add ghee, icing sugar, cardamom, saffron strands and cream all these really well.
Add in the dry ingredients and combine everything to form a dough.
Chill the dough for 30 mins. Shape them in roundels and cook them on a pan for 30 mins on low flame. ENJOY!
If you end up making this Badam nankhatai, don't forget to tag me on
Instagram
 and use #BakewithShivesh.