Recently, I have been obsessed with frozen yogurt aka froyo bites. And since Diwali is around the corner, I decided to give it a festive twist! Frozen Shrikhand Bites are dollops of shrikhand topped with sliced almond and freezed for a few hours or overnight to turn them into bite sized dessert. You are going to love them for its such a fuss-free recipe and so quick to put together. Growing up I remember how much I loved having kesar shrikhand, mango shrikhand and so many other flavours. My version of frozen shrikhand bites have a lovely kesar flavour with a hint of cardamom. It's all things yum, creamy and indulgent. Let's get to the ingredients.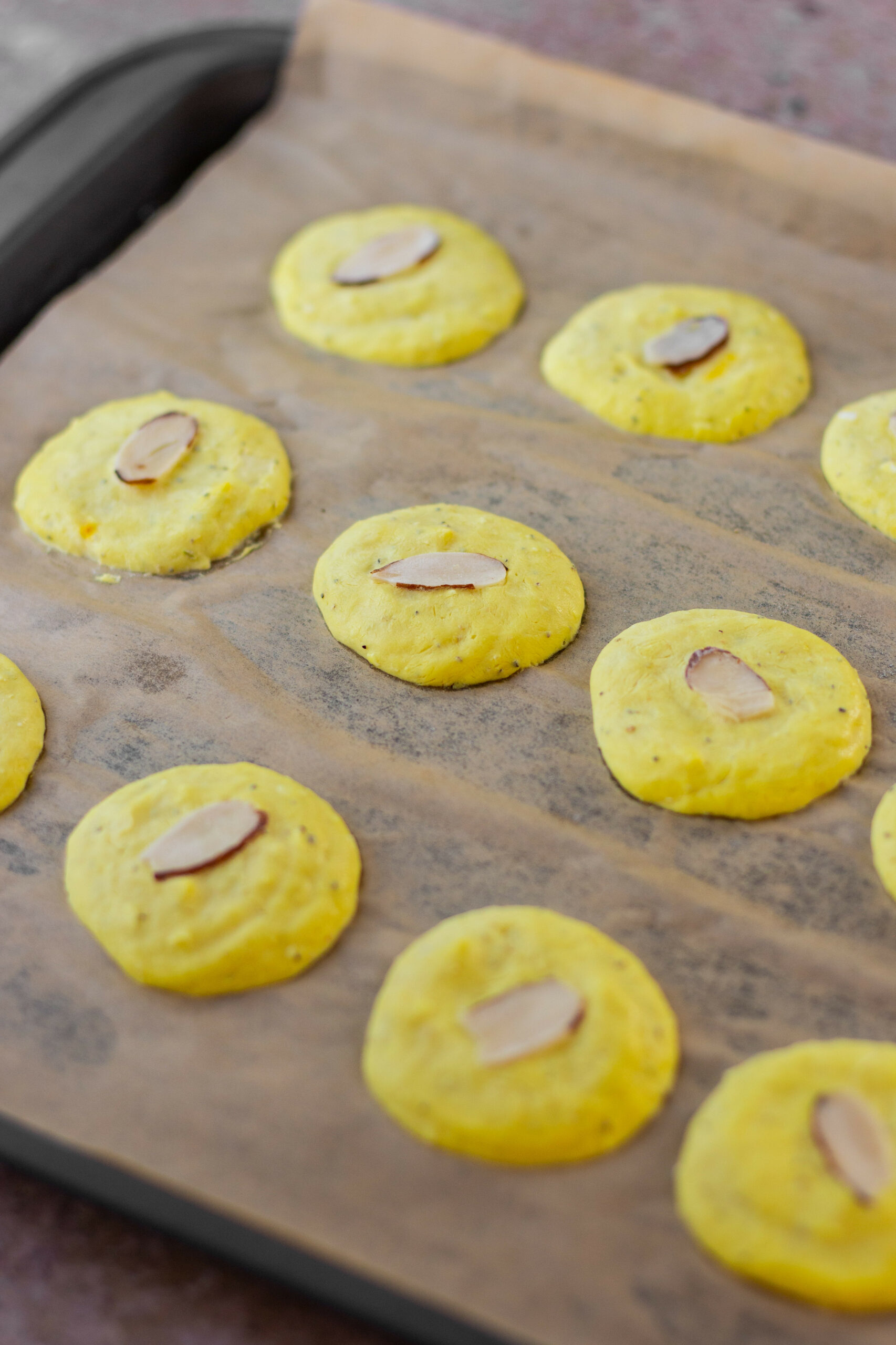 INGREDIENTS NEEDED FOR FROZEN SHRIKHAND BITES
HUNG CURD
To start with, you need one and a half or two cups of homemade dahi or store bought, any works. In a muslin cloth, add the dahi and strain the excess water. This can be done overnight in the refrigerator or a minimum of 2 hours outside. What you now have would be a cup of hung curd which is absolutely thick and creamy needed for frozen shrikhand bites. A pro tip here is to not throw away the excess water that has drained out. Instead, you can give it to your mother for binding any kind of dough for chappatis and other rotis.
SAFFRON STRANDS
Saffron is one of the main flavour elements in this frozen shrikhand bites recipe so make sure you do not skip it. A good quality of saffron is all that you need. I used the one I got from Kashmir this year. It gives such a beautiful colour and flavour to my hung curd.
MILK
To infuse my saffron strands, I used just a tea spoon of milk, preferably warm or room temperature. Let your saffron stay in it for a couple of minutes until the colour of the milk changes to yellow for our frozen shrikhand bites.
CARDAMOM POWDER
I love cardamom as a flavour. Especially during festive, it's used very often in my recipes and brings out such a wonderful flavour when paired with goods made from ghee or dahi or mawa and so on. And that's exactly what it does in this recipe of frozen shrikhand bites.
POWDERED SUGAR
To sweeten my shrikhand bites, I have used powdered sugar. Make sure you do not use castor or granulated sugar as they take time to dissolve. And you don't want to over mix your hung curd to loosen the creamy texture needed for our frozen shrikhand bites.
SLICED ALMONDS
To give my frozen shrikhand bites a beautiful festive look, I have topped it with a thin slice of almond. You can use any other dry fruit of your choice. Or you can absolutely skip it too.
EQUIPMENT USED FOR MAKING FROZEN SHRIKHAND BITES
The kind of equipment you use when you're baking makes a huge difference to the end result! I would recommend you to use good quality mixing bowls and other equipment so that your frozen shrikhand bites come out delicious!
To mix all my ingredients together in, I'm using Borosil's 100% Borosilicate Glass Bowl which is microwave and oven safe, plus the bowls are super easy to clean and handle, which makes my baking process totally hassle free!
Not a single day goes in my kitchen when I don't use a Silicon Spatula, this is the one I recommend. Same goes for my set of Measuring Cups and Measuring Spoons.
If you try this recipe and like it, do try other froyo butes recipes from the blog. I am sure you are going to love them too!
OTHER FROYO BITES RECIPES FROM THE BLOG
FROZEN SHRIKHAND BITES
Ingredients
1 cup hung curd
5-6 saffron strands
1 tsp milk
½ tsp cardamom powder
¼ cup powdered sugar
few sliced almonds
Instructions
Start by hanging 1.5-2 cups of homemade dahi in a muslin cloth for 2 hours atleast or overnight.
In a separate small bowl mix milk with saffron strands and let it give away its colour and flavour to the milk.
In a medium sized mixing bowl, add the hung curd, saffron infused milk, cardamom powder and powdered sugar. Mix well.
Add the mixture in a piping bag and pipe small discs.
Top each with a slice of almond and freeze it for atleast 2 hours or overnight.
If you like my frozen shrikhand bites recipe and happen to make it in your kitchen, do tag me on 
Instagram
 and share pictures with me using #Bakewithshivesh. Happy Baking!