This Diwali I decided to make all sweets at home with my twist. Every year there's a flood of sweets in home and resisting eating them is not so easy. But with these laddus you don't have resist eating because these are so yummy and super healthy. They come together in no time and the good part is they are made with easy ingredients available at home. With sweets there are plenty of dry fruits also at home during Diwali and guess what! They are the main ingredient of these healthy laddus which makes it super healthy ,tasty and comforting during this winter season.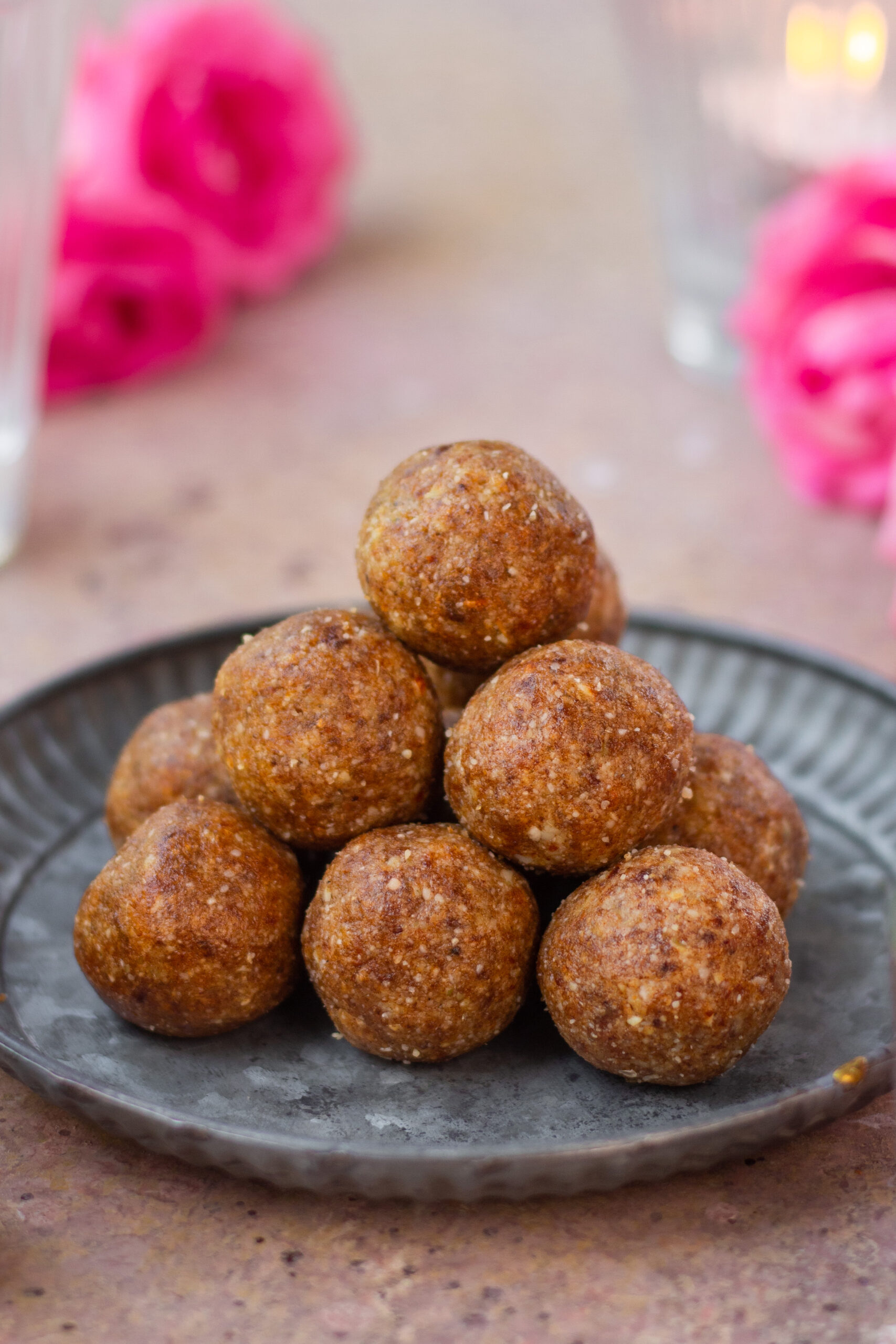 INGREDEINTS USED IN THESE HEALTHY LADDUS
DRY FRUITS
I have used a blend of walnuts, cashews, almond, pumpkin seeds , watermelon seeds and sesame. You can use any of the dry fruits available at your home. These healthy laddus are super versatile and any blend of dry fruits will taste absolutely amazing. If you feel to add some sweetness in your laddus you can use raisins also.
DESSICATED COCONUT
I have added dessicated coconut to give a rich coconutty flavour to these laddus and it also helps with binding of these laddus. You can skip adding this to your laddus if you don't like the flavour of coconut. If its not available near your shops you can easily make it also by grinding dry coconut without the skin.
DATES
I personally love eating dates and I just love how naturally sweet they are. I added them to my healthy chocolate cake also and it didn't need any sugar as they added desired sweetness to the cake. They taste amazing in these laddus and act as a biding agent.
TIPS AND TRICKS FOR MAKING THESE HEALTHY LADDUS.
Make sure you are roasting your nuts properly on a low heat. It gives immensely good flavour.
Add coconut, pumpkin seeds, watermelon seeds and sesame at the end only and roast them for 2 mins as they'll get burnt very quickly.
Make sure you pulp your dates nicely so that there are no big chunks of it.
Dates can feel sticky while rolling so you can put some ghee on your palms while rolling.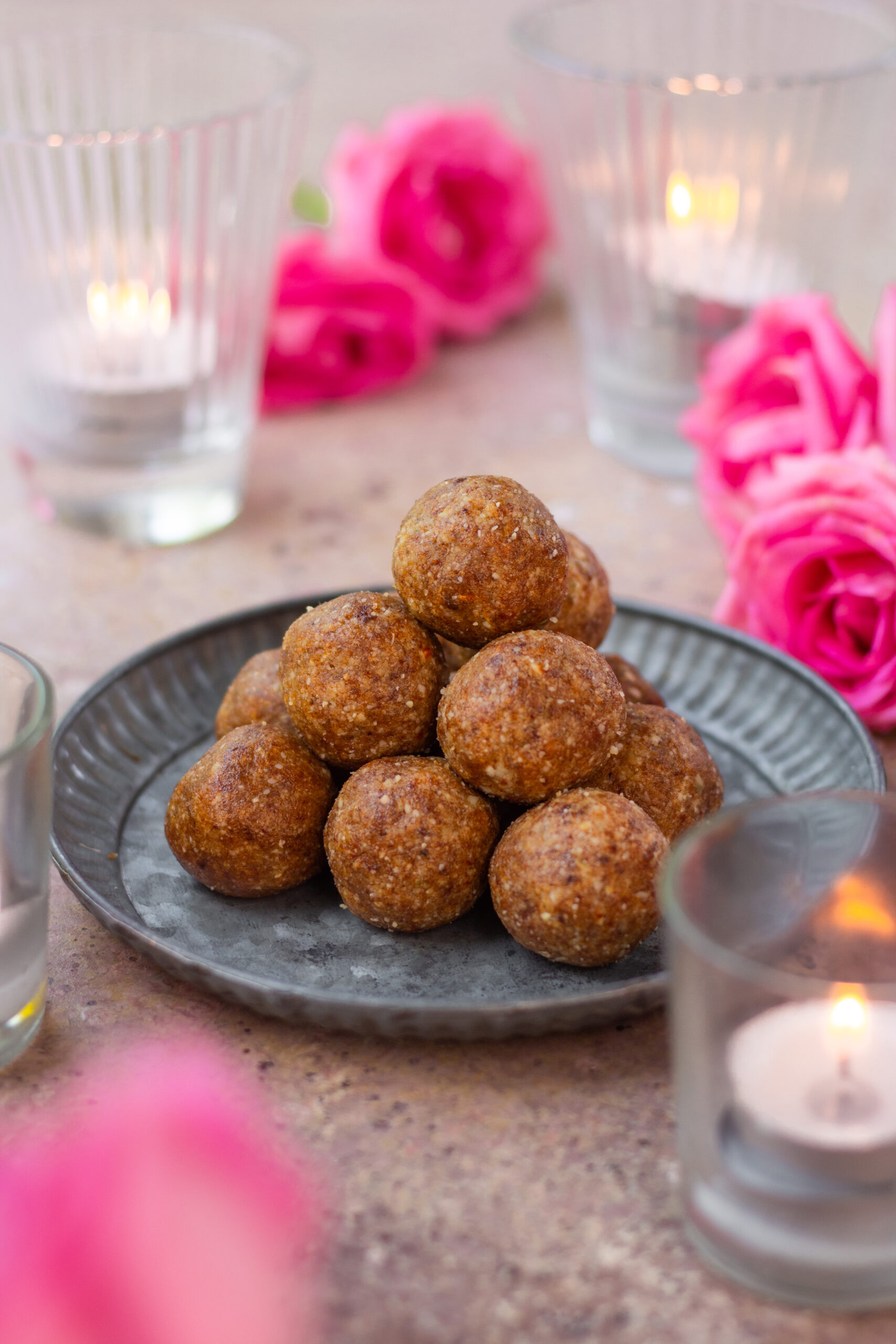 STORING THESE HEALTHY LADDUS
You wont stop after taking one but here are some storing tips-
If gifting someone you can easily put them in a box and put silver or gold leaf on top for decoration.
You can put them in an air tight container and they I'll remain good for months.
EQUIPMENTS USED IN MAKING THESE HEALTHY LADDUS
The kind of equipment you use in the kitchen makes a huge difference to the end result! I would always recommend you to use quality gadgets and other equipment to make your cooking and baking game strong.
To make date puree I'm using Borosil's nutrifresh portable mini mixer and grinder. Which eases the work for me and makes blending and grinding hassle free.
HEALTHY LADDUS
Ingredients
¼ cup walnuts
¼ cup cashew
¼ cup almond
2 tbsp pumpkin seeds
2 tsp sesame
¼ cup desiccated coconut
¾ cup dates
¼ tsp cardamom
Instructions
In a pan roast cashews, almonds and walnuts for 3-4 mins.
Add other seeds and desiccated coconut and roast for another 2 mins.
Grind them until fine powder.
Now take your dates cut them in half and put it in blender.
Blend until it becomes smooth and pasty.
Mix the dry ingredients and form laddus. ENJOY!
If you like my HEALTHY LADDUS recipe and happen to make it in your kitchen, do tag me on
Instagram
 and share pictures with me using #Bakewithshivesh. Happy Baking!