KOREAN STRAWBERRY MILK
I love strawberries and I love strawberry flavored milk. However, adding a twist to my food is what I live for. This Korean Strawberry Milk is something I love drinking throughout the strawberry season. It's so refreshing and full of flavor. Korean Strawberry Milk contains sago pearls and that is what makes it so special. I love the chewy texture of sago pearls that soaks up some of the milk and tastes amazing overall. All you need is grab a handful of ingredients and try this recipe in your kitchen TODAY!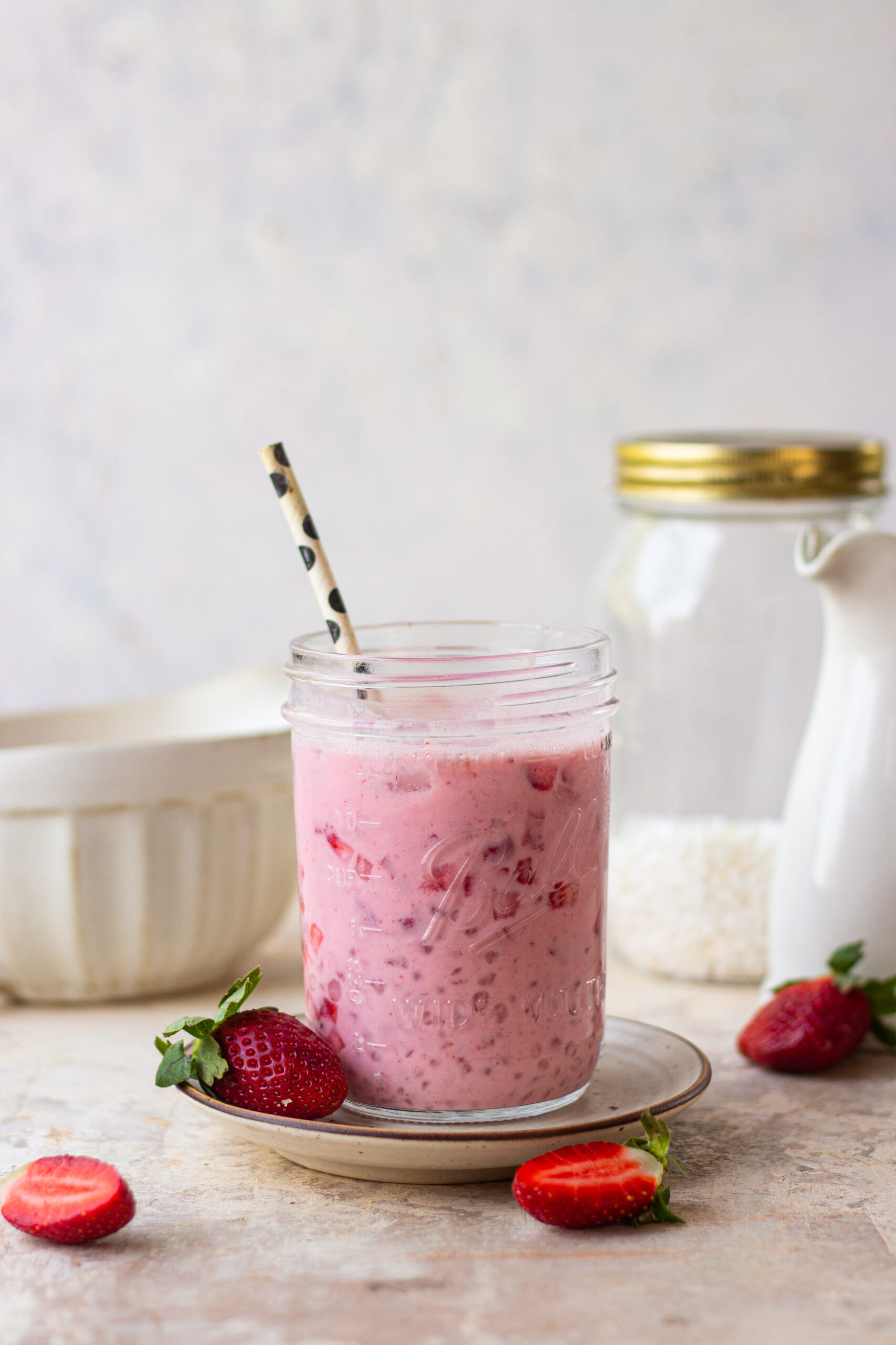 INGREDIENTS USED IN KOREAN STRAWBERRY MILK
Korean Strawberry Milk contains a heap full of sago pearls. I boil them and cook them till they are soft and glutinous. They give a jelly like texture to the drink and I absolutely love it.
Strawberries are in season right now, so, fresh strawberries work the best for this drink. Strawberry puree as well as finely diced strawberries, both go into the drink and contribute to the burst of flavor which is oh-so-irresistible. You can use frozen strawberries as well.
A full cream milk will obviously make it more delicious but you can just use any milk that you use regularly. I have used Nestle milk for this recipe. You can opt for non-dairy and healthier options also, like, oat milk or almond milk.
EQUIPMENTS USED FOR MAKING KOREAN STRAWBERRY MILK
One blender and 5 ingredients is all you need to make this recipe.
I have used my Nutrifresh blender in this recipe.
A correct proportion of all the ingredients will guarantee the best taste, so you will need measuring spoons and measuring cups to measure quantities of sugar, strawberry puree and milk.
I use my metal boba straws for this drink so that I can enjoy those strawberry chunks thoroughly.
TIPS TO MAKE KOREAN STRAWBERRY MILK
Make sure the sago pearls are not undercooked as they will not taste good with the milk then.
Puree the strawberries well so that they mix with the milk and give it that nice pink colour.
Add ice to make it more presentable and make a nice summer drink.
You can change the amount of sugar depending on how tart the strawberries are and the level of sweetness you prefer.
OTHER RELATED RECIPES FROM THE BLOG
KOREAN STRAWBERRY MILK
Ingredients
8-10 strawberries
1 tbsp sugar
¼ cup sago pearls
¼ cup strawberry chunks
2-3 Ice cubes
¾ cup milk
Instructions
Prepare the sago pearls by cooking them in boiling water till they are soft and translucent. Sieve them and cool them before adding to the drink.
Chop 8-10 strawberries and blend it in a blender along with sugar. Make sure there are no lumps in the puree.
Take your serving glass and pour the strawberry puree into it.
Top it off with sago pearls.
Add ice cubes and then the finely chopped strawberries.
Finish it off by adding chilled milk and stir it using a straw.
Serve and enjoy chilled!
If you like my easy Korean Strawberry Milk recipe and happen to make them in your kitchen, , do tag me on Instagram and share pictures with me using #Bakewithshivesh. Happy Baking!