ATTA JAGGERY PANCAKES
Don't you just love eating all things sweet for breakfast? Because I do. But at the same time, I can't stop thinking about all the calories I'm intaking. So, for a change, I've come up with this Atta Jaggery Pancakes recipe that I can enjoy guilt free for sure! These Atta Jaggery Pancakes are made with the healthy ingredients that are nutritious and at the same time soo delicious. These Atta Jaggery Pancakes are EGGLESS and a great option for vegans too!
INGREDIENTS USED IN ATTA JAGGERY PANCAKES
Vinegar is added to the milk to form buttermilk. The main reason for adding vinegar is that it reacts with baking soda and gives the perfect fluff to the pancakes. It is that ingredient which makes the atta jaggery pancakes so light and airy. If you don't have vinegar, you can also use equal quantities of lemon juice or simply use store bought buttermilk.
The healthy sweetener that I'm using for this recipe is jaggery. It is highly nutritious and any day a better substitute to white refined sugar. It also adds a nice brown color to the batter and pancakes. It also adds in to the moisture of the pancakes. I have used this jaggery powder but you can use any.
I have substituted all purpose flour with whole wheat flour here. It is a little more dense in structure but definitely a healthier alternative. Since all flours absorb liquid differently, the wet ingredients need to be calculated accordingly. Whole wheat flour absorbs more moisture which is why the quantity of liquid ingredients is more. You can decrease the quantity in case you wish to make these pancakes with all-purpose flour.
Beverage whiteners act as an egg replacement in many recipes and adds structure to the pancakes. In addition to that, they also add richness and sweetness to the pancakes and taste amazing. I have used STORIA beverage whitener to make these pancakes but you can use any milk powder.
Baking soda reacts with vinegar (acidic ingredients) to make the pancakes fluffy and also contribute to the even browning of the pancakes. You can buy the baking soda from here.
Another wet ingredient used in the recipe is oil. It adds moisture to the pancakes and makes the batter silky smooth. It also slows down gluten formation, thus, keeping the pancakes tender and soft.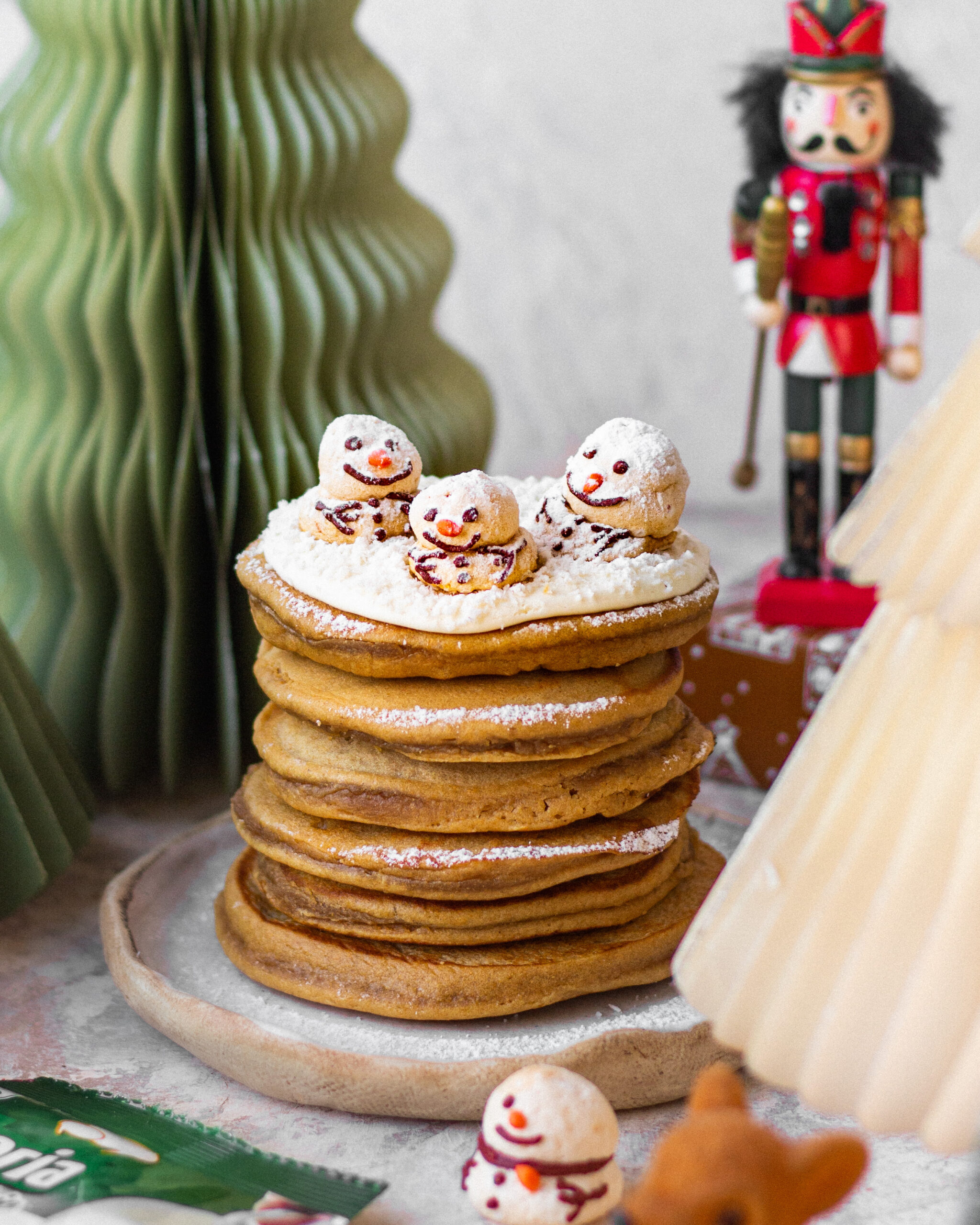 EQUIPMENTS USED FOR MAKING ATTA JAGGERY PANCAKES
The recipe doesn't call for elaborate equipment and can be prepared with basic equipment.
I have used mixing bowls to make my buttermilk and pancake batter.
These measuring spoons and measuring cups are a staple in my kitchen and I use them to measure all of my recipes.
I have used a wooden spoon to combine all the ingredients but you can use a silicon spatula too.
I have used this non-stick pan to cook my pancakes.
TIPS TO MAKE ATTA JAGGERY PANCAKES
Do not overmix the pancake batter to avoid flat pancakes.
Give time for the milk to curdle and rest the buttermilk for at least 5 minutes.
Ensure that the batter has no lumps and everything is well combined.
Rest the complete batter to make fluffy pancakes.
Make sure that your pan is non-stick otherwise the pancakes won't flip properly.
OTHER RELATED RECIPES FROM THE BLOG
ATTA JAGGERY PANCAKES
Ingredients
½ cup+ 2 tbsp milk
1 tsp vinegar
¾ cup wholewheat flour (atta)
4 tbsp beverage whitener
2 tbsp jaggery powder
½ tsp baking soda
2 tbsp oil
1 tsp vanilla extract
Instructions
In a bowl, make buttermilk by adding the milk and vinegar and setting it aside for 5 mins.
In another bowl, add the flour, jaggery, beverage whitener and baking soda.
Whisk to combine all the dry ingredients.
Then add the milk, vanilla and oil and give a final whisk till a smooth batter is formed.
Heat some butter or oil on a pan and scoop the desired amount of pancake batter onto the pan.
Wait a few seconds after the bubbles start to form and then flip the pancake to cook on the other side.
Serve warm along with any toppings of your choice. I have added whipped cream, shredded coconut and mini snowman meringues to give a Christmassy look to my pancakes.
If you like my easy Atta Jaggery Pancakes recipe and happen to make them in your kitchen, do tag me on Instagram and share pictures with me using #Bakewithshivesh. Happy Baking!