This year, I've decided to eat more healthy and well, share my healthy recipes with you guys too. So, for my first recipe, I made these really yumm Double Chocolate Baked Oats which turned out be beyond my expectations. I have never been fond of oats so to try it out for the first time, I decided to add in the chocolates (because they make everything better!). The rest of the ingredients used in this Double Chocolate Baked Oats are equally healthy and can be made vegan too by simply switching a few ingredients.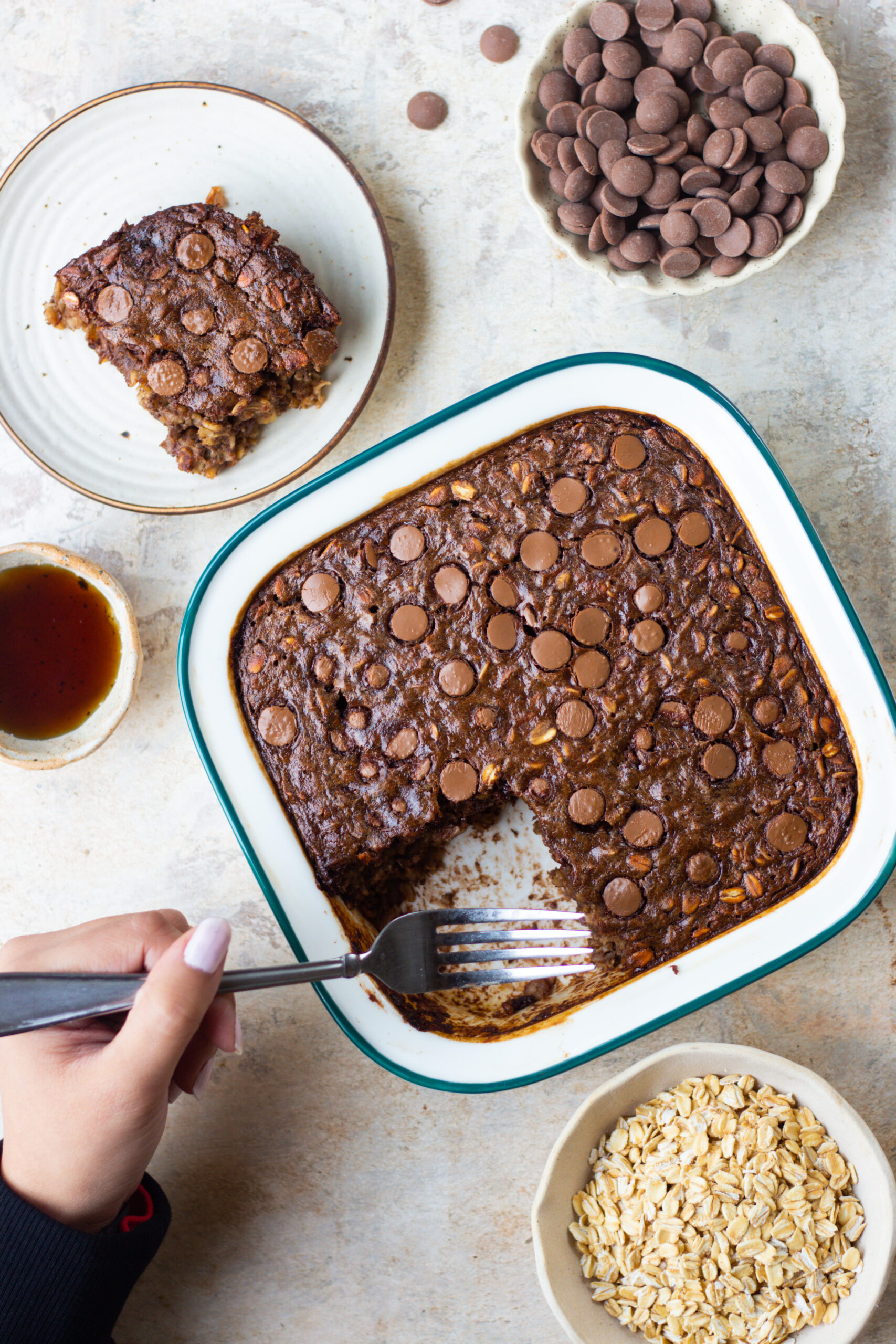 INGREDIENTS USED IN DOUBLE CHOCOLATE BAKED OATS
This is the base of our recipe. Oats are full of fiber and protein and even a small quantity can fill up your stomach nicely. They soak in a lot of liquid and hence, are full of flavour when combined with the right ingredients. I have used rolled oats from Jewel but you can use any, that you like.
Milk, in this recipe is the main wet ingredient. It adds as a great egg replacer and still adds protein to the dish. You can replace it with any nut milk and make it vegan too. The milk is what gets absorbed by the oats and adds keeps the whole thing moist. I have used Nestle toned milk for this recipe.
Bananas, again, are a great egg substitute and give stability to the product. Good, ripe bananas are the sweetest and best to use in any kind of baking.
I am using maple syrup as a sweetener in this recipe. Apart from being a healthier choice, it also imparts a great flavor and I, personally prefer it over honey. But if you want to switch it with honey, you easily can with the same quantity. I have used this maple syrup.
Flax seeds are a great source of good fats but I don't like to eat them as is. I can't taste them at all in these baked oats hence they work perfectly for being a nutritious ingredient and also adding, some structure to the dish, since they also absorb liquid.
Cocoa powder and Coffee powder
Since it's a double chocolate oats recipe, one of the main ingredients to impart chocolate flavor is cocoa powder and coffee powder enhances the flavor of chocolate so I have used this coffee powder as well.
Another important ingredient is chocolate chips which not only are sweet and delicious but also has anti-oxidants. A little dark chocolate never hurt nobody, agree? I have used Callebaut chocolate here.
EQUIPMENTS USED FOR MAKING DOUBLE CHOCOLATE BAKED OATS
This recipe comes together quickly and hardly needs any equipment.
One blender is all that is required to make the Double Chocolate Baked Oats batter.
I have used a square baking dish for baking this recipe. This helps to portion the baked oats better.
Measuring Cups and Measuring Spoons. are an integral part of any baker's kitchen and its very important to measure ingredients with precision.
Finally, I baked this delicious Double Chocolate Baked Oats in my Borosil 60L oven.
OTHER RELATED RECIPES FROM THE BLOG
TIPS TO MAKE DOUBLE CHOCOLATE BAKED OATS
Good, ripe bananas work the best for this recipe.
Make sure there are no lumps in the mixture after blending.
You can add some dried fruits or fresh fruits instead of chocolate chips to make it as per your liking.
Once baked, check with a skewer if it comes out dry.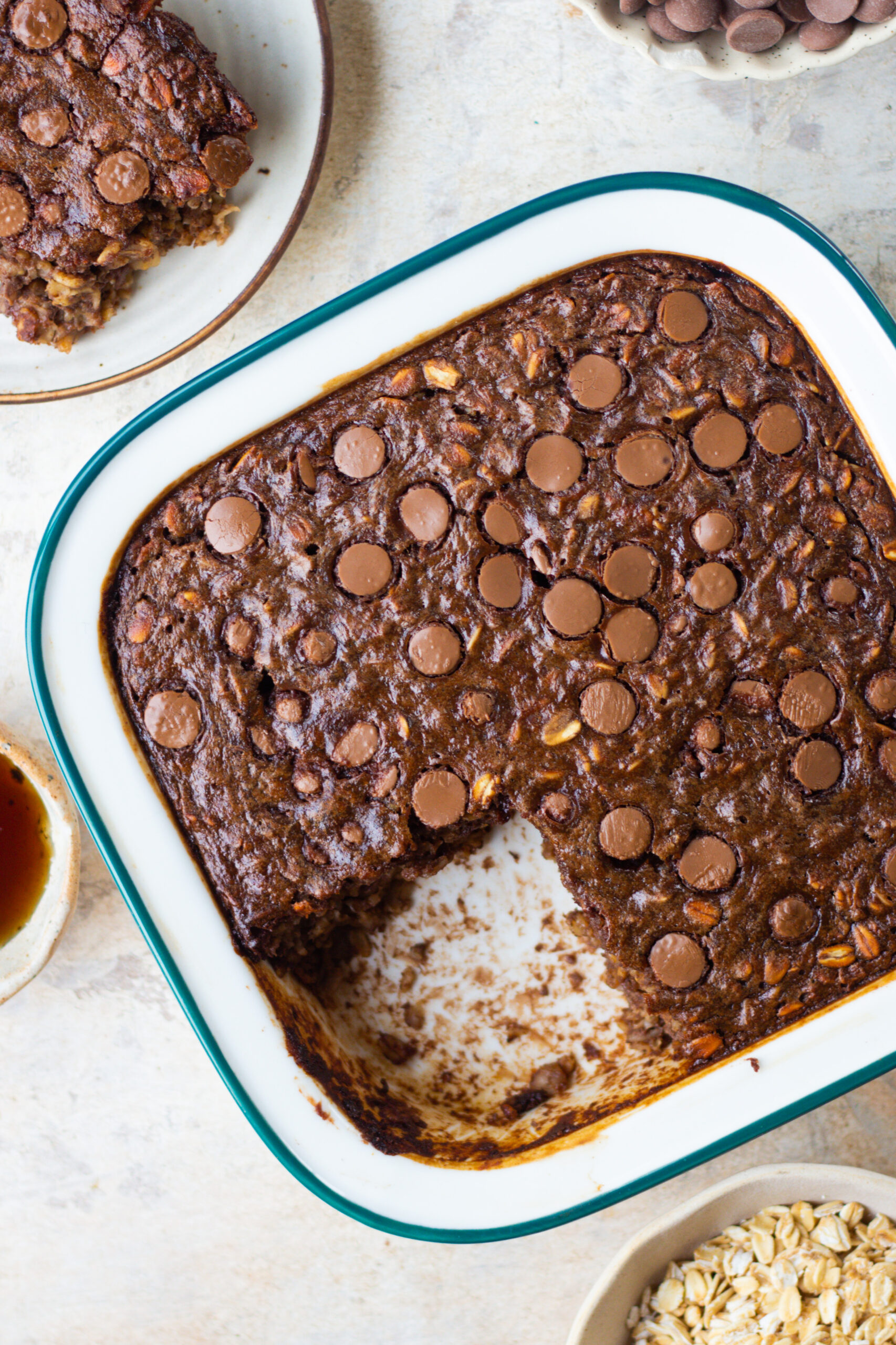 DOUBLE CHOCOLATE BAKED OATS
Ingredients
1 + ½ cups milk
¼ cup maple syrup
2 bananas
¼ cup cocoa powder
½ tsp coffee powder
1 tbsp ground flax seeds
1 tsp baking powder
2 cups rolled oats
Chocolate chips (for topping)
Instructions
Add all the ingredients except oats and chocolate chips in a blender jar.
Close the lid carefully and blend till everything is mixed completely.
Spread 2 cups of oats evenly in a baking dish.
Pour the liquid batter all over it and mix well.
Top with chocolate chips and bake at 180 degrees Celsius for about 40 mins.
Serve and enjoy warm!
If you like my Double Chocolate Baked Oats recipe and happen to make them in your kitchen, do tag me on Instagram and share pictures with me using #Bakewithshivesh. Happy Baking!