Indulge in the ultimate guilt-free pleasure with these decadent eggless chocolate cupcakes with condensed milk! Rich, moist, and irresistibly chocolaty, this foolproof recipe ensures that no eggs are needed to create a batch of heavenly treats. Paired with a intense dual chocolate frosting or enjoyed on their own, these cupcakes redefine the essence of pure chocolate bliss. Perfect for every occasion, these eggless chocolate cupcakes with condensed milk promise to satisfy your sweet tooth and leave you craving for just one more bite. Dive into the world of luscious cocoa goodness with these delightful eggless chocolate cupcakes—because who needs eggs when you can have this much flavor!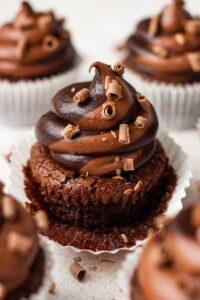 INGREDIENTS USED IN MAKING EGGLESS CHOCOLATE CUPCAKES WITH CONDENSED MILK
To make my eggless chocolate cupcake moist, soft and light, I have regular milk in this recipe. Make sure it is a little warm and not cold straight from the fridge. Since every flour is different, you might need a tablespoon less or a tablespoon more of milk to adjust the consistency of the batter.
I usually prefer castor sugar in all my recipe until mentioned otherwise. Castor sugar melts evenly unlike granulated sugar. If you don't have castor sugar in hand, feel free to substitute it with powdered sugar in this recipe.
I have used regular maida in this eggless chocolate cupcake. Feel free to swap half of it for whole wheat flour or oat flour. Make sure you increase the quantity of milk in that case as these flour absorb more liquid in a recipe.
BAKING POWDER AND BAKING SODA
I have used both baking powder and soda in this eggless chocolate bar cake. Baking soda and baking powder would react to the liquid in the recipe. I use this baking powder and this baking soda.
To make this cake chocolatey I'm using this unsweetened cocoa powder by Cadbury. It gives that immense chocolate flavour to any baked good. You can use any good quality cocoa powder which is easily available to you in nearby grocery stores.
Condensed milk is thick and contains a high concentration of water. This helps add moisture to the batter, resulting in a soft and tender crumb in the cupcakes. The sticky, dense nature of condensed milk helps bind the ingredients together. It serves as the primary sweetener in the recipe.
SIMILAR RECIPES ON BLOG
HOW TO MAKE THE BEST EGGLESS CHOCOLATE CUPCAKE w
Cupcakes are a very popular bakery item and I think they are also one of the easiest things to make at home. But with baking, even the most simple recipes require some kind of directions and a few rules that one should always follow.
A chocolate cupcake will of course always have some cocoa powder. There are two kinds of cocoa powder: natural and dutch processed. The two are actually very simple to identify. Natural cocoa powder is always lighter in shade whereas dutch processed is dark brown in color. If you want a deeper chocolate flavor, dutch processed cocoa powder is the one you should use. But if you want a decent amount of chocolate flavor, natural cocoa powder is perfect.
I have used butter instead of oil as the source of fat in this recipe. You can use equal amounts of oil if you want to not use Butter .
When you know which ingredient does what, you can very easily make your own recipes and tweak them as per your liking and make them perfect in your own way.
CAN I MAKE THESE EGGLESS CHOCOLATE CUPCAKES IN THE MICROWAVE?
YES! Everyone loves it when they can use their microwave to make desserts. I know how quick and easy it is to make desserts in a microwave and I have a special chocolate cupcake recipe for you that you can check out. Microwave cupcakes: ready in 40 seconds! 
These cupcakes can also be made in the microwave on the convection setting. Preheat your microwave for 10 minutes at 180 degree celsius and meanwhile prepare your microwave-safe cupcake tray and line it with cupcakes liners. Pour the batter 2/3rds of the way in each liner.
TIPS TO MAKE PERFECT CHOCOLATE CUPCAKES
If you want to make perfect cupcakes, you need to keep these tips in mind:
Do not overmix your batter. This will always lead to cupcakes that are harder to chew and not as soft.
Be very careful to not over bake the chocolate cupcakes. Because of the already brown color, judging by looking whether a chocolate cupcake is fully baked or not is tough. The best way to know if the cupcake is ready is by inserting a skewer or a toothpick in the centre. If the toothpick comes out clean, it means your cupcake is ready.
A lot of time cupcake tops get overly crispy. This can happen if your oven is not giving out even heat and the top cooks before the rest of the cupcake. In such a case, simply turn on just the bottom rod so that all parts of the cupcake can get baked evenly and the top doesn't get crisp.
Always only fill your cupcake liners 2/3rds of the way. Overfilling a cupcake batter is a complete disaster at the last step and there is no going back from it.
CHOCOLATE CUPCAKES
Ingredients
6 tbsp cocoa powder
1 tsp coffee powder (optional)
½ cup hot water
6 tbsp melted butter
¾ can MILKMAID
1 cup + 2 tbsp all-purpose flour
1 tsp baking powder
½ tsp baking soda
Dark chocolate ganache-
1 cup dark chocolate
½ cup cream
Milk chocolate ganache-
1 cup milk chocolate
¾ cup cream
Instructions
In a bowl, add cocoa powder, hot water, melted butter and condensed milk. Mix it well.
Sift flour, baking powder and baking soda into this.
Mix everything until no large flour pockets are present in the batter.
Transfer the batter in cupcake liners and bake them for 15-20 minutes.
For the ganache frosting-In 2 seperate bowls, add melted dark & milk chocolate.
Now pour warm cream in it and mix untill it combines.
Transfer both the ganache in 2 different piping bags. Now in a large piping bag fitted with round nozzle add both the ganache piping bags.
Frost the cupcakes once they are baked and are at room temperature.
If you like my eggless chocolate cupcakes with condensed milk and happen to make them in your kitchen, do tag me on Instagram and share pictures with me using #Bakewithshivesh. Happy Baking!