As the festive lights begin to twinkle and the fragrant breeze carries the whispers of approaching celebrations, there's no better time than now to dive into the world of delectable treats. what better way to sweeten your festivities than by crafting a Mithai Cake in a microwave that to with the comfort of your home? Mithai Cake – a heavenly blend of rich, aromatic mithai and the moist, spongy texture of a cake, all whipped up effortlessly in your microwave. Mithai, deeply rooted in Indian culture, represents celebrations, festivals, and the sweetness of life itself. Let's transform your kitchen into a sweet haven where tradition meets modernity, one Mithai Cake at a time.
INGREDIENTS USED IN MITHAI CAKE IN MICROWAVE
The most obvious reason is that sugar adds sweetness to the cake, making it enjoyable and satisfying to eat. In a microwave cake, sugar helps keep the cake moist, preventing it from becoming dry and crumbly during the cooking process.
Oil adds tenderness to the cake's crumb. It coats the flour particles and interferes with gluten formation, resulting in a more delicate and less chewy texture. It is often easier to mix into cake batters compared to solid fats like butter. It can be blended more uniformly with other ingredients, ensuring an even distribution of fats throughout the batter.
Milk helps dilute the batter to achieve the desired consistency. This makes the batter easier to work with and results in a smoother texture. In recipes that use baking powder as a leavening agent, milk can react with it to produce carbon dioxide gas. This gas creates air bubbles within the batter, causing the cake to rise and become fluffy.
Flour helps absorb the moisture from other ingredients in the batter, which contributes to the cake's texture and prevents it from being overly wet. Flour interacts with leavening agents like baking powder and baking soda to create gas (usually carbon dioxide) that causes the cake to rise. Flour is a primary structural ingredient in cakes. It provides the framework for the cake's crumb and gives it a cohesive texture. It also produces a tender crumb in the cake.
Baking powder and baking soda are used in this cake recipe as raising agents. Leavening agents introduce gas bubbles into the cake batter. When heated in the microwave, these bubbles expand, causing the cake to rise and become airy. The rise from leavening agents helps the cake cook more evenly in the microwave, ensuring that the center and edges of the cake cook at a similar rate.
Mawa, also known as khoya, plays a pivotal role in elevating the Mithai Cake to a level of unparalleled richness and authenticity. This condensed form of milk, created by simmering milk until most of its moisture evaporates, adds a creamy, caramelized flavor to the cake. In the context of our Mithai Cake, mawa acts as a binding agent, enhancing the texture and ensuring a moist, tender crumb.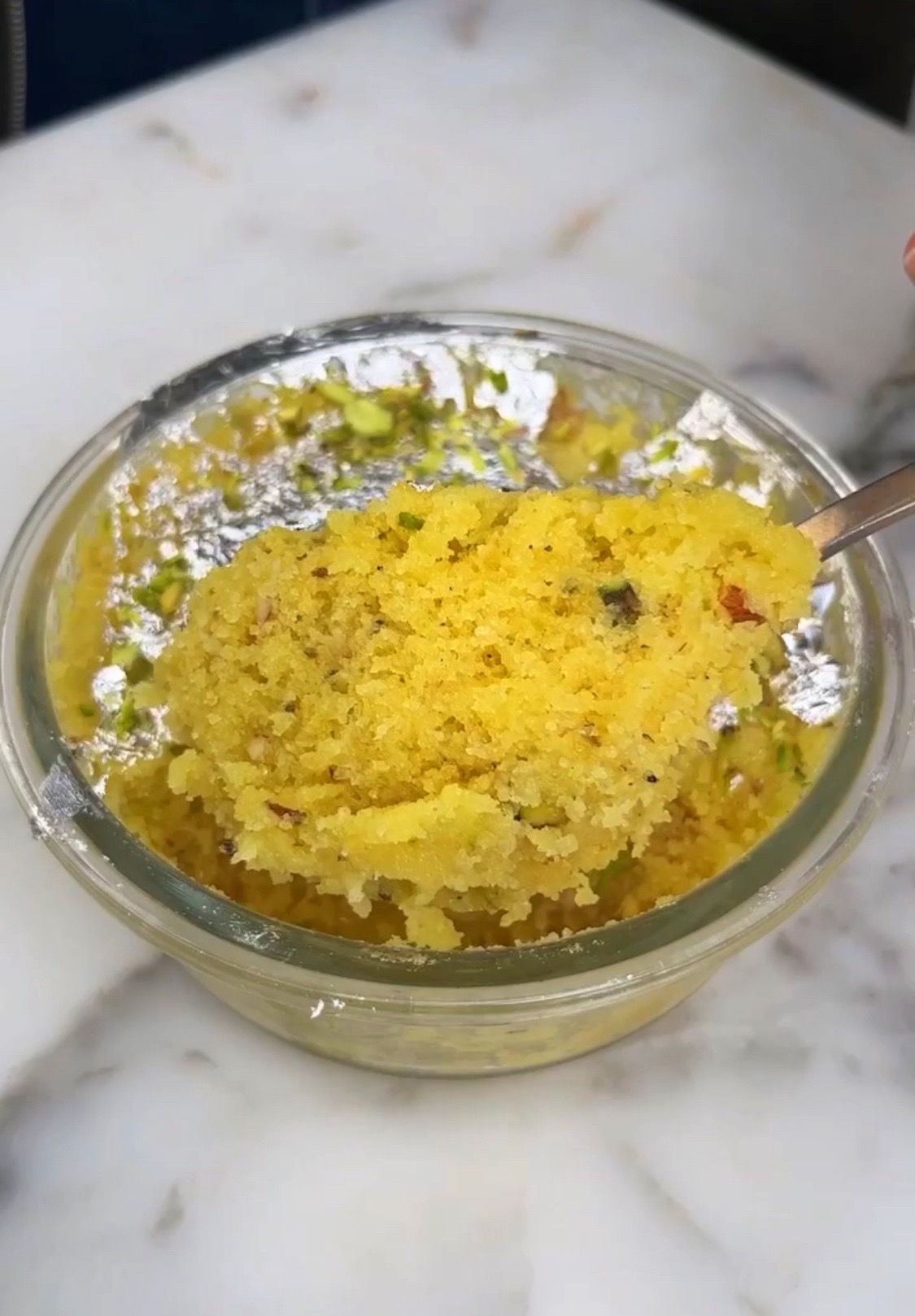 EQUIPMENT USED FOR MITHAI CAKE IN MICROWAVE
The kind of equipment you use when you're baking makes a huge difference to the end result! I would recommend you to use good quality mixing bowls and other equipment so that your mithai cake comes out delicious! 
To mix all my ingredients together in, I'm using Borosil's 100% Borosilicate Glass Bowl which is microwave and oven safe, plus the bowls are super easy to clean and handle, which makes my baking process totally hassle free! 
Not a single day goes in my kitchen when I don't use a Silicon Spatula, this is the one I recommend. Same goes for my set of Measuring Cups and Measuring Spoons. 
TIPS FOR MITHAI CAKE IN MICROWAVE
We are making this cake in the heating mode and not the convection mode of the microwave. Here, it becomes important to note that you can only use microwave safe cookware. This includes a microwave safe glass cake dish or a silicon baking item.

Sometimes baking in heating mode can lead to dry cakes. To fix that, you can soak it in a sugar syrup and turn it into a moist cake.

Always press the 'echo/stop' button before baking in a microwave. This ensures that all previous microwave functions have been stopped and you can start fresh. 

After your cake is cooked, the microwave will go under a cooling down process and you will hear some sounds coming from the microwave. Let the microwave cool down completely before turning it off from the back. 
Mithai cake in microwave
Ingredients
40g butter, melted
30ml saffron milk
60g condensed milk
50g mawa
60g maida
¼ tsp baking soda
A pinch of baking powder
40g castor sugar
30g pista & almonds, slivered
½ tsp cardamom powder
Instructions
In a bowl, pour butter, saffron milk, condensed milk, and mawa. Whisk everything together.
Sift in maida, baking soda, baking powder, and castor sugar.
Next, add pista & almonds, and cardamom powder in the same bowl. Combine everything together and give it a good mix.
Microwave this batter for 2 minutes.
Garnish the cake with silver varq and chopped pista for that original mithai flavor!
If you like my mithai cake in a microwave and happen to make them in your kitchen, do tag me on Instagram and share pictures with me using #Bakewithshivesh. Happy Baking!