Custard apples are in season right now and I've been dying to try out something dessert-y with them. And also, I recently visited Kolkata and it re-ignited my love for Bhappa Doi. And voila! I thought why not try and make a Custard Apple Bhappa Doi. I modified my normal Bhappa Doi recipe to create this and its definitely a 10/10. This delightful dessert brings together the velvety goodness of Bhappa Doi, a Bengali favourite, and the sweet, aromatic essence of custard apples. The result? A heavenly creation that will leave you craving for more.
Get ready to savour spoonful of luscious Custard Apple Bhappa Doi that are sure to leave a lasting impression on your palate.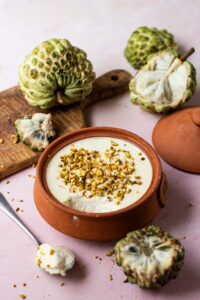 INGREDIENTS USED IN CUSTARD APPLE BHAPPA DOI
Custard Apple the base flavour in this recipe. These fruits are seasonal which makes it even more special and unique. Custard apples have a unique, sweet, and aromatic flavour that is both creamy and tropical. This flavour profile becomes a central element in the Bhappa Doi, providing a delicious and memorable taste. he creamy nature of custard apple pulp helps in thickening the Bhappa Doi naturally, reducing the need for additional thickeners.
The reason we need hung curd for this recipe is because it acts as a starter and catalyst in setting the milk and converting it into curd. Curd already contains lactic acid bacteria which multiplies and ferments the milk, finally giving us curd. Home made or store bought, both works. It just shouldn't have water in it.
Condensed milk acts as a binding agent, helping to unify the ingredients and create a cohesive mixture. This is crucial for achieving a smooth and consistent texture. It helps the dessert set properly during the steaming process. It eliminates the need to measure and add sugar separately. Condensed milk is thick, creamy, and full-bodied. When mixed with yogurt, it contributes to a lusciously creamy texture in the Bhappa Doi, resulting in a smooth and velvety mouthfeel.
Fresh cream imparts a glossy finish to the Bhappa Doi, enhancing its visual appeal. It adds a touch of elegance to the dessert. Fresh cream is rich in fat content, which contributes to a smooth and velvety texture in the Bhappa Doi.
The natural dairy flavour of fresh cream complements the custard apple and other ingredients, creating a well-rounded and delicious dessert.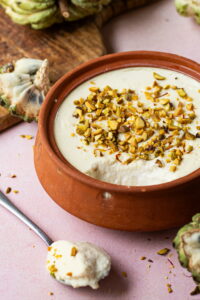 EQUIPMENT USED IN MAKING CUSTARD APPLE BHAPPA DOI
As I said, it's an easy recipe so it doesn't require a lot of equipment as well.
Measuring Cups and Measuring Spoons are the first thing that anybody who in cooking or baking needs. The right quantities will help in the desired outcome so these two things are a must.
You will need a large strainer and muslin cloth to hang the curd and remove excess water.
A few sturdy mixing bowls are a must to make the mixture. And also a good balloon whisk.
An earthen pot, is optional, but preferable since it imparts a good flavour and is presentable too. You can use any pot or utensil that you use to set your curd.
I have used a Stahl cooker to steam my Custard Apple Bhappa Doi.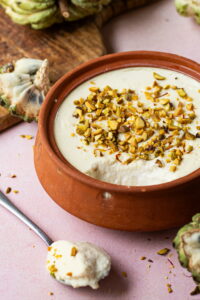 RELATED RECIPES FROM THE BLOG
TIPS TO MAKE THIS CUSTARD APPLE BHAPPA DOI
Choose custard apples that are ripe, fragrant, and slightly soft to the touch. They should give off a sweet aroma.
Blend the custard apple pulp thoroughly to ensure it's smooth and free of any fibrous bits. This will contribute to a uniform texture in the dessert.
Ensure that the water is at a gentle simmer, and steam the Custard Apple Bhappa Doi slowly to prevent overcooking.
Insert a toothpick or a knife into the centre of the Bhappa Doi to check for doneness. It should come out clean, indicating that the dessert is fully cooked.
If the mixture looks lumpy after adding the hung curd, you can sieve it and carefully add to the earthen pot.
Ensure that the utensil is also lined with some hung curd before pouring the entire mixture.
Refrigerate the Custard Apple Bhappa Doi for a few hours or overnight to let it firm up and allow the flavours to meld together.
CUSTARD APPLE BHAPPA DOI
Ingredients
3 cups curd
6 tbsp condensed milk
1+ ½ cup fresh cream
½ cup custard apple puree
¼ cardamom powder
Garnish
Chopped pistachios
Saffron strands
Instructions
Start by wrapping 3 cups of curd/yogurt in a muslin cloth and hang it for a few hours till all the water is drained and you are left with 1+1/2 cups of thick hung curd.
Take the hung curd in a bowl and add condensed milk, fresh cream, custard apple pulp and cardamom powder.
Whisk nicely till no lumps are left.
Transfer the custard apple curd into an earthen pot and cover it with aluminium foil.
Place a cooker on the lowest heat, put a stand in the middle and add water up to 3 inches. Close the lid and let it steam for 5-10 minutes. Open the cooker and carefully place the earthen pot inside it. Close the lid again and let it steam for about 25-30 minutes.
After that, refrigerate the curd for about 2 hours to get the best flavours of Custard Apple Doi. Garnish the top with chopped pistachios and saffron.
If you like my Custard Apple Bhappa Doi recipe and happen to make them in your kitchen, do tag me on Instagram and share pictures with me using #Bakewithshivesh. Happy Baking!