Another day, another healthy creation !
Here's my new recipe blog, where simplicity meets health and taste with this One-Bowl Jowar Cake! If you're on the lookout for a delicious treat that's not just delightful to the palate but also mindful of your health, you're in for a treat. This easy and fuss-free recipe requires just one bowl, minimal ingredients, and the star of the show – jowar (sorghum) flour.
Jowar, also known as sorghum, is a versatile and nutritious whole grain. Its gluten-free nature and numerous health benefits make it a fantastic ingredient for various recipes. In this blog post, we're going to explore an easy and time-efficient way to create a delicious one bowl Jowar Cake in the microwave. Whether you're looking for a wholesome dessert or a healthy snack, this microwave one bowl Jowar cake recipe will satisfy your cravings without compromising on nutrition.
I have of course added my all time favourite ingredients – Chocolate, to make this healthy dessert taste indulgent too.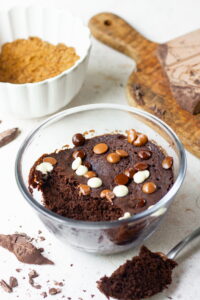 INGREDIENTS USED IN ONE BOWL JOWAR CAKE
Jowar flour is naturally gluten-free, making it an excellent choice for those with gluten sensitivities or those seeking gluten-free alternatives. Jowar is a whole grain that is rich in essential nutrients such as fiber, vitamins, and minerals. The flour has the ability to absorb moisture, contributing to the cake's texture. This is particularly important when baking in a microwave, as the flour helps maintain the cake's moisture and prevents it from drying out.
Cocoa powder is responsible for providing the rich, chocolatey flavour. It is the primary source of chocolate flavour in the recipe. Cocoa powder helps to provide structure and thickness to the batter. It absorbs moisture and contributes to the overall texture of the cake.
Cocoa powder can be used in various ways, allowing for customization in the recipe. For example, you can use natural or Dutch-processed cocoa powder, or even experiment with different types of chocolate powders for different flavour profiles. I have used Hersheys Cocoa Powder for this recipe
Butter adds a rich and savory flavor to the cake. Its natural richness enhances the nutty and earthy notes of jowar flour, creating a well-rounded and satisfying taste. The fat coats the flour particles, inhibiting gluten formation and resulting in a softer and more tender crumb. I have used Amul salted butter for this recipe.
The healthy sweetener that I'm using for this recipe is jaggery powder. It is highly nutritious and any day a better substitute to white refined sugar. It also adds a nice brown color to the batter and cakes. Jaggery also provides moisture to the cake.
I have used this jaggery powder but you can use any that is available near you..
Yogurt adds moisture to the cake, helping to prevent it from becoming dry, which is particularly important when baking in a microwave. The additional moisture contributes to a softer and more tender crumb. The acidity in yogurt can help tenderize the structure of the cake. This is beneficial, especially when working with alternative flours like jowar, which can result in a denser texture without proper moisture and tenderizing agents.
Milk helps dilute the batter to achieve the desired consistency. This makes the batter easier to work with and results in a smoother texture. In recipes that use baking powder as a leavening agent, milk can react with it to produce carbon dioxide gas. This gas creates air bubbles within the batter, causing the cake to rise and become fluffy.
Baking powder and baking soda are used in this cake recipe as raising agents. Leavening agents introduce gas bubbles into the cake batter. When heated in the microwave, these bubbles expand, causing the cake to rise and become airy. The rise from leavening agents helps the cake cook more evenly in the microwave, ensuring that the center and edges of the cake cook at a similar rate.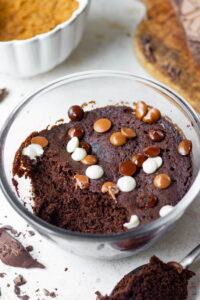 EQUIPMENT USED FOR MAKING ONE BOWL JOWAR CAKE
This one-bowl jowar cake comes together in minutes and needs just one bowl and a few measuring cups and measuring spoons to make.
You also require a microwave to make this cake in 2 minutes.
Or you can bake it too.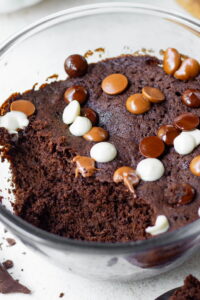 TIPS TO MAKE ONE BOWL CHOCOLATE CAKE
Use jaggery powder to blend properly in the batter and whisk really well.
You can use low-fat dairy or dairy alternatives like almond milk or oat milk for a healthier cake.
You can swap butter for healthier fats like olive oil, and coconut oil as well.
Make sure to sift the dry ingredients to incorporate some air.
All microwaves work differently so heat the cake on normal settings for 1.5 mins first and check with a skewer if it is done. Cook more in 30-second intervals if required.
ONE BOWL JOWAR CAKE
Ingredients
3 tbsp melted butter
¼ cup jaggery powder
2 tbsp yogurt
2+1/2 tbsp milk
½ tsp vanilla extract
6 tbsp jowar flour
2 tbsp cocoa powder
¼ tsp baking powder
⅛ tsp baking soda
Chocolate chips, for topping (optional)
Instructions
In a bowl, whisk together melted butter, jaggery powder, yoghurt, milk and vanilla extract.
To this add jowar flour, cocoa powder, baking powder and baking soda.
Gently fold the dry ingredients in without over mixing
Microwave on normal settings for 1.5-2 mins or till a skewer comes out clean.
Top with chocolate chips and serve immediately.
If you like my One Bowl Jowar Cake recipe and happen to make them in your kitchen, do tag me on Instagram and share pictures with me using #Bakewithshivesh. Happy Baking!