There's something undeniably comforting about coffee chocolate pudding bites. Its silky texture, rich flavour, and nostalgic charm make it a favorite treat for many. In the realm of desserts, few things rival the satisfaction of plunging a spoon into a perfectly crafted chocolate pudding. These Coffee Chocolate Pudding Bites promise an adventure that tantalizes the taste buds and leaves you with a newfound appreciation for the wonders of homemade desserts. Let's venture into the heart of chocolatey decadence and learn the art of crafting the perfect Coffee Chocolate Pudding Bites – a delightful symphony of flavor, texture, and pure indulgence.
These bite-sized treats are not only a delightful way to satisfy your sweet cravings but also a heavenly fusion of two beloved flavors. Perfect for entertaining, gifting, or just a personal sweet escape, this Coffee Chocolate Pudding Bites are bound to become your new favorite dessert.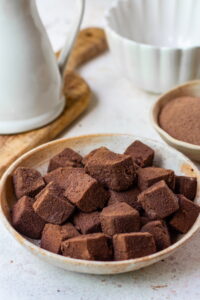 EQUIPMENT USED FOR MAKING COFFEE CHOCOLATE PUDDING BITES
This recipe doesn't require a lot of equipment. Measuring Cups and Measuring Spoons are an integral part of any baker's kitchen and it's very important to measure ingredients with precision.
A heavy bottom saucepan and a whisk is required to combine everything together. A spatula is my favourite kitchen equipment.
You also need an induction or a heat source to heat the mixture.
For the mould to set the pudding, I have used a square pan, you can use any shape of baking pan to set the pudding.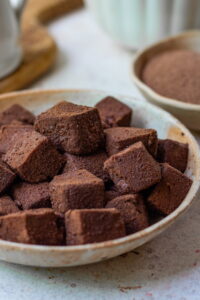 INGREDIENTS USED IN MAKING COFFEE CHOCOLATE PUDDING BITES
1. MILK
Milk is the primary ingredient and the star of milk pudding bites. It provides the base and the creamy texture to the dessert. The fat content in the milk contributes to the richness of the pudding. Whole milk or full-fat milk is often preferred for a creamier result, although variations can be made with low-fat milk for a lighter version too.
2. CORNFLOUR
This is the setting agent in this recipe. They help thicken the mixture when heated and brings all the other ingredients together. They absorb water and gives the final texture to the dessert. It also makes the pudding bites wobbly and jiggly.
3. COCOA POWDER
Another element of chocolate to this Pudding Bites recipe is cocoa powder. It gives a richer colour to the dessert and a richer flavour too. Cocoa powder is also a thickening agent and helps give texture to the pudding, I use Hersheys cocoa powder but you can use any cocoa powder that is easily available to you.
4. Sugar
Castor sugar is added to the Pudding Bites to impart the right amount of sweetness to this dessert. Sugar contributes to the texture of the pudding. When combined with liquid ingredients and heated, it helps to dissolve and create a smooth, creamy consistency.
5. Coffee Powder
The main flavour for this dessert is coffee. Coffee powder when heated with milk, makes it taste better and also gives colour to the pudding bites. I use Nescafe coffee powder to make this recipe.
TIPS TO MAKE COFFEE CHOCOLATE PUDDING BITES
A full fat milk will give better texture and flavour so prefer using that.

Remove the mixture as soon as it starts to thicken or else it will become lumpy.

Make sure you are continuously whisking the mixture to ensure there are no lumps.

Taste the pudding mixture before setting it to ensure the right balance of sweetness. Adjust the sugar further accordingly.
Allow the pudding to set in the refrigerator for at least 60 minutes before serving. This ensures a firm exterior and prevents the bites from becoming overly sticky.
Use a sharp clean knife to cut the cubes equally.
Coffee chocolate pudding bites
Ingredients
2 cups milk
5 tbsp cornflour
2 tbsp cocoa powder
5 tbsp sugar
1 tbsp coffee powder
½ cup drinking chocolate powder, for coating
Instructions
Take 1 cup of milk in a bowl and add cornflour and cocoa powder to it. Whisk to make a slurry and until no lumps remain. Keep it aside.
In a saucepan set on medium heat, add the remaining 1 cup of milk 🥛 along with sugar and coffee powder. Mix till sugar and coffee completely dissolves.
Add the cornflour slurry and keep on whisking on low-medium heat till is starts to thicken.
Once the mixture bubbles up and becomes thick, take it off the heat and pour in a 6X6 mould.
Set it in the refrigerator for 1 hr or till it sets completely. It should have a jiggly texture but not break.
Demould and cut equal cubes of the pudding and coat it in the drinking chocolate powder.
If you like this coffee chocolate pudding bites and happen to make it in your kitchen, do tag me on Instagram and share pictures with me using #Bakewithshivesh. Happy Baking!