Bursting with vibrant citrus flavour and a tender, moist crumb, this Eggless Lemon Loaf Cake is a testament to the magic that happens when simple ingredients come together. Each bite is a harmonious blend of tart lemon zest and tangy juice, perfectly balanced with just the right amount of sweetness. The result? A cake that's light, luscious, and utterly irresistible. The absence of eggs doesn't compromise the taste or texture, making this recipe a versatile option for all to enjoy. Join me as we combine fresh lemon zest, juice, and a medley of other wholesome ingredients to create a loaf that's not only mouthwatering but also delightfully guilt-free. From the first whiff of citrus in the batter to the final, golden slice, you'll be transported to a sunny haven of flavour.

INGREDIENTS USED IN EGGLESS LEMON LOAF CAKE
A small amount of sugar is added to the recipe as well. When zest is mixed with sugar, it releases the oils into the sugar which absorbs it and intensifies the overall flavour of the Eggless Lemon Loaf Cake. During baking, sugar caramelizes, creating a golden-brown crust on the surface of the cake. This adds visual appeal and a subtle caramel flavour. It aids in the leavening process. When creamed with butter, it incorporates air into the batter, contributing to a light and airy texture.
Both zest and juice of the lemons are utilized in this recipe for maximum flavour. Lemon zest adds a subtle texture to the cake, providing a contrast to the smooth crumb. It offers a slight pop of zestiness in each bite. The flecks of lemon zest scattered throughout the cake batter enhance its visual appeal, giving it a bright and lively appearance.
Lemon juice is the primary source of the tangy and zesty lemon flavour in the cake. It imparts a bright and refreshing taste that is characteristic of lemon-flavored desserts. The acidic nature of lemon juice reacts with baking soda or baking powder in the batter, creating carbon dioxide gas. This gas helps the cake rise, resulting in a lighter, fluffier texture. The zest of a lemon contains potent aromatic oils that carry a concentrated lemon fragrance. This adds depth and intensity to the lemon flavour profile of the cake.
The liquid content of the milk contributes to the overall texture of the cake. It helps create a tender, moist crumb, making the cake more enjoyable to eat. It also helps dissolve and distribute ingredients like sugar, ensuring even mixing and a smooth batter. The liquid content of the milk also contributes in gluten development. Proper gluten development is important for the structure and texture of the cake.
Condensed milk is thick and contains a high concentration of water. This helps add moisture to the batter, resulting in a soft and tender crumb in the finished cake. The sticky, dense nature of condensed milk helps bind the ingredients together, contributing to the overall structure of the cake. This is especially important in eggless recipes where there are no eggs to provide this function. It serves as the primary sweetener in the recipe.
When creamed with sugar, butter incorporates air into the batter, resulting in a light and fluffy texture. Butter aids in browning the surface of the cake, creating an appealing colour and flavour. It carries and enhances the flavour of other ingredients. This includes the lemon zest and juice, providing a harmonious balance of flavours.
Flour acts as a binding agent, helping to hold the other ingredients together. This is especially important in eggless recipes where there are no eggs to provide this function. All-purpose flour has a neutral flavour, allowing the lemon flavour to shine through without interference. It also gives stability to the Lemon Loaf Cake.
Baking powder and baking soda are used in this cake recipe as raising agents. There are no other ingredients, as such, in this recipe that contributes to the rising of the cake and giving it a lighter crumb and texture. Hence, both of these leavening agents are added to the batter.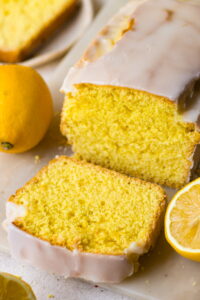 EQUIPMENT USED FOR MAKING EGGLESS LEMON LOAF CAKE
This recipe needs staples and basic equipment that are easily available in the kitchens or in nearby stores.
One hand blender is required to make the Eggless Lemon Loaf
You will also need a sharp zester to take out the lemon zest nicely.
I have used a 7 inch loaf pan to bake this cake.
Measuring Cups and Measuring Spoons. are an integral part of any baker's kitchen and it's very important to measure ingredients with precision.
A spatula and a whisk help to bring this batter together.
OTHER RELATED RECIPES FROM THE BLOG
TIPS TO MAKE EGGLESS LEMON LOAF CAKE
Use fresh lemon zest and juice for the best flavor. Avoid bottled lemon juice or zest, as they can lack the vibrant, fresh taste of freshly squeezed lemons.
Ensure that ingredients are at room temperature. This promotes even mixing and a smoother batter.
Baking powder and baking soda are essential for giving the loaf its rise. Make sure they are fresh and not expired for optimal results.
Allow the batter to rest for a few minutes after mixing. This allows the leavening agents to activate properly.
To keep your lemon loaf cake fresh and moist, wrap it in plastic wrap or store it in an airtight container.
EGGLESS LEMON LOAF CAKE
Ingredients
3 tbsp caster sugar
1 lemon zest
¾ cup butter, softened
¾ cup milkmaid
¾ cup warm milk
3 tbsp lemon juice
2 cups all-purpose flour
1+1/2 tsp baking powder
1 teaspoon baking soda
For the glaze
1 cup icing sugar
1 tbsp milk
1 tbsp lemon juice
Instructions
Preheat the oven to 180°C. Grease an 8x4 loaf pan with butter and set aside.
In a bowl, add sugar and lemon zest and mix it together. 3. Add butter to it and beat until pale and fluffy.
Now mix condensed milk, warm milk and lemon juice and whisk again.
Sift in the all-purpose flour, baking powder and baking soda into the bowl, using a spatula to bring the batter together.
Transfer the batter into the greased loaf pan and bake for 45-50 minutes or until a skewer inserted in the centre of the cake comes out clean.
For the glaze, in another bowl whisk icing sugar, milk and lemon juice together and keep it aside.
Let the cake cool completely and then pour the glaze over it and enjoy.
If you like my Eggless Lemon Loaf Cake recipe and happen to make them in your kitchen, do tag me on Instagram and share pictures with me using #Bakewithshivesh. Happy Baking!