While coffee cake comes in various flavors and styles, we're here to introduce you to a special twist on this classic treat – Atta Coffee Cake. Made with whole wheat flour, this coffee cake not only preserves the essence of traditional coffee cake but also adds a nutritious touch.
Atta, or whole wheat flour, adds a new dimension to the classic coffee cake. It brings a nutty, earthy flavor and a subtle texture that enhances the cake's overall experience. More importantly, it introduces a dose of whole grain goodness, making this cake a healthier option for those who appreciate a touch of wholesomeness in their indulgence.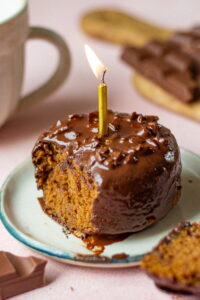 INGREDIENTS NEEDED FOR ATTA COFFEE CAKE
The ingredients that you need for this cake are very basic which you might already have on hand. For the dry ingredients, you need whole wheat flour, that is atta, baking soda, baking powder, and jaggery. Just four dry ingredients and you are good to go. For the wet ingredients, you need homemade curd or Greek yogurt, vegetable oil, and milk.  
WHOLE WHEAT FLOUR I.E. ATTA 
This flour is heavier than the commonly used, all-purpose flour. This is why, all around the world, people widely use all-purpose flour to make baked goods. All-purpose flour being a lighter flour means that it gives fluffier desserts that are not heavy or dense.  
While using whole wheat flour, it becomes important to incorporate air into the other elements of the dessert. One definite way to do that is by making sure you sift your dry ingredients instead of just adding them in the bowl with the wet ingredients.  
BAKING POWDER AND BAKING SODA 
I used both baking powder and baking soda for this recipe. Both are leavening agents and play their roles in different ways. Baking soda is mixed in with the yogurt for this recipe which creates a super foamy and airy mixture. This is another element that will add air to the batter. Baking powder is added in with the rest of the dry ingredients and reacts only once the cake pan has been put in the oven.  
JAGGERY 
We are making this cake with jaggery and not with any refined sugar. I bet your parents and grandparents will be very happy to know this fact once you serve this cake in front of them! The flavour of jaggery goes well with whole wheat flour too. However, if you want, you can also use plain caster sugar here instead or do a mix of both and add 50% of jaggery and 50% of caster sugar here.  
YOGURT 
For simple cakes like this, I love to use homemade Dahi. Make sure it is thick and not watery. If you want, you can also use Greek yogurt. Both works perfectly well.  
MILK 
While adding ingredients like milk, I like to warm them up before adding them into the batter. This ensures that it is well incorporated with the rest of the ingredients. If you add cold milk, it might make the batter slightly lumpy at first and get incorporated slower than warm milk.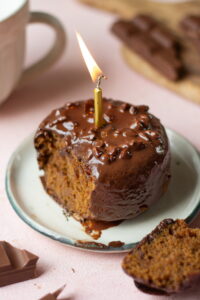 EQUIPMENT USED FOR MAKING ATTA COFFEE CAKE
This recipe comes together quickly and hardly needs any equipment. 
I have used a Stahl micro saucepan to bake this cake since it's a small serve recipe. 
Measuring Cups and Measuring Spoons. are an integral part of any baker's kitchen and it's very important to measure ingredients with precision. 
TIPS FOR SMALL SERVE ATTA COFFEE CAKE
Opt for a small baking pan or even individual ramekins for a single-serving or small-batch coffee cake. This ensures even baking and the right texture for a smaller portion.
Gently fold the dry ingredients into the wet ones until just combined. Overmixing can result in a dense and tough cake.
Allow the atta coffee cake to cool in the pan for a bit before transferring it to a wire rack. This helps the cake set and avoids it from falling apart.
Keep a close eye on the baking time, as smaller cakes will cook faster than larger ones. Use a toothpick to check for doneness. If it comes out with a few moist crumbs, it's ready.
Ensure that ingredients are at room temperature before incorporating them into the batter. Room temperature ingredients blend more easily, resulting in a smoother batter.
OTHER RELATED RECIPES FROM THE BLOG
SMALL SERVE CHOCOLATE OATS CAKE 
HEALTHY CHOCOLATE CHIP COOKIES 
ATTA COFFEE CAKE
Ingredients
2 tbsp milk
1 tsp coffee
2 tbsp yoghurt
⅛ tsp baking soda
2 tbsp oil
3 tbsp jaggery powder
½ tsp vanilla extract
6 tbsp whole wheat flour
¼ tsp baking powder
Chocolate glaze
½ cup dark chocolate chips
2 tbsp oil
8-10 chopped walnuts
Instructions
Grease a 3 inch saucepan and keep aside.
In a bowl whisk together milk and coffee.
Into this add yoghurt, baking soda, jaggery, oil and vanilla essence and give it a mix.
Sift in atta and baking powder and combine it with wet ingredients gently.
Pour the batter in the saucepan and put it on the induction on lowest heat possible. Cover it with the plate and bake it for 20-25 minutes till a skewer comes clean.
For the glaze- melt the chocolate and combine oil in it. Add chopped walnuts and your glaze is ready.
Wait for the cake to come at the room temperature and then decorate it with the nut glaze.
I hope you like this recipe and that you will make it for your family. Do not forget to share photos with me on my Instagram @shivesh17 when you do. I love seeing your recreations!