There's something undeniably comforting about a recipe that promises to deliver a heavenly treat with minimal effort and dishes to clean up. Enter the One-Bowl Nutella Cake, a delightful creation that will make your taste buds dance with joy while leaving your kitchen pristine. If you're a Nutella enthusiast or simply crave a quick and satisfying dessert fix, you're in for a treat!
One-Bowl Nutella Cake stands as a testament to the beauty of simplicity. With just a handful of ingredients and a single bowl, you can create a dessert that's both luxurious and approachable. Whether you're in need of a quick dessert fix or want to impress guests with minimal effort, this Nutella cake is sure to satisfy your cravings and bring smiles all around. So, go ahead and treat yourself to the magic of one-bowl baking – you won't be disappointed!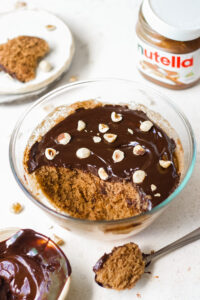 INGREDIENTS USED IN ONE BOWL NUTELLA CAKE
Milk:
Milk is a common ingredient in baking that adds moisture to the cake batter. It also helps to create a tender crumb texture in the cake. In this recipe, milk is not listed among the primary ingredients, but you can often find it in cake recipes.
Nutella:

Nutella is the star of the show in this cake recipe. It's a popular hazelnut-chocolate spread with a creamy, indulgent texture and a rich, sweet flavor. Nutella not only provides the chocolatey flavor but also contributes to the moistness and fudgy texture of the cake.

Sugar:

The most obvious reason is that sugar adds sweetness to the cake, making it enjoyable and satisfying to eat. In a microwave cake, sugar helps keep the cake moist, preventing it from becoming dry and crumbly during the cooking process.

Oil:

Oil adds tenderness to the cake's crumb. It coats the flour particles and interferes with gluten formation, resulting in a more delicate and less chewy texture. It is often easier to mix into cake batters compared to solid fats like butter. It can be blended more uniformly with other ingredients, ensuring an even distribution of fats throughout the batter.

All purpose flour:
Flour helps absorb the moisture from other ingredients in the batter, which contributes to the cake's texture and prevents it from being overly wet. Flour interacts with leavening agents like baking powder and baking soda to create gas (usually carbon dioxide) that causes the cake to rise. Flour is a primary structural ingredient in cakes. It provides the framework for the cake's crumb and gives it a cohesive texture. It also produces a tender crumb in the cake.
Leavening agents:
Baking powder and baking soda are used in this cake recipe as raising agents. Leavening agents introduce gas bubbles into the cake batter. When heated in the microwave, these bubbles expand, causing the cake to rise and become airy. The rise from leavening agents helps the cake cook more evenly in the microwave, ensuring that the center and edges of the cake cook at a similar rate.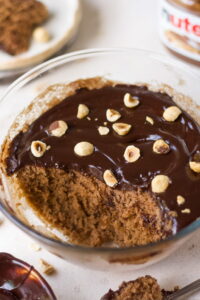 EQUIPMENT YOU NEED FOR THE ONE BOWL NUTELLA CAKE
Measuring Cups and Measuring Spoons. are an integral part of any baker's kitchen and it's very important to measure ingredients with precision.
I have used glass bowl to make this Nutella cake But, you can use any glass dish.
The kind of equipment you use can hugely impact the final product. So, make sure to always use the best of the equipment that is available.
TIPS TO KEEP IN MIND WHILE BAKING ONE BOWL NUTELLA CAKE:
Use superfine sugar to blend properly in the batter and whisk really well.
Make sure the ingredients are at room temperature and not too cold.
You can use low-fat dairy or dairy alternatives like almond milk or oat milk for a healthier cake.
Include healthier fats like olive oil, coconut oil to keep the cake moist.
Make sure to sift the dry ingredients to incorporate some air.
All microwaves work differently so heat the cake on normal settings for 3 mins first and check with a skewer if it is done.
OTHER RELATED RECIPES FROM THE BLOG
One bowl nutella cake
Ingredients
Ingredients:
🍫1/2 cup milk
🍫1/2 tbsp vinegar
🍫2 tbsp nutella
🍫1/4 cup vegetable oil
🍫1/4 cup castor sugar
🍫3/4 cup all purpose flour
🍫1/2 baking soda
🍫1/2 baking powder
Nutella ganache-
🍫1/4 cup dark chocolate
🍫3 tbsp cream
🍫2 tbsp nutella
Instructions
Pour milk and white vinegar into a bowl, mix and let it sit for 5 mins.
To this, add nutella, oil and sugar and give it a good mix.
Sift in the all purpose flour, baking powder and baking soda. Gently fold the dry ingredients in without over mixing
Microwave on normal settings for 3 mins or till a skewer comes out clean.
For the nutella ganache, in a bowl take melted dark chocolate and pour warm cream over it. Now add nutella and mix it well to achieve a smooth ganache.
Top it up with nutella chocolate ganache and hazelnuts and serve immediately.
If you like my One bowl nutella cake recipe and happen to make them in your kitchen, do tag me on Instagram and share pictures with me using #Bakewithshivesh. Happy Baking!