The most simple dessert I've eaten as a kid is some chocolate spread on a good old biscuit, I thought of making things a little more fancy and visually appealing by creating a recipe that takes me back to my childhood right away. Indulge your senses in a symphony of rich, velvety chocolate and delightful biscuit crunch with our irresistible Chocolate Biscuit Cake recipe. This dessert is a testament to the beauty of simplicity, marrying the timeless allure of cocoa with the comforting familiarity of biscuits. With every decadent bite, you'll experience the perfect harmony of creamy, melt-in-your-mouth goodness and the satisfying crunch of biscuits. These flavours are close to my heart and I would love for you to give it a try!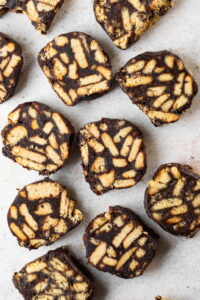 INGREDIENTS USED IN CHOCOLATE BISCUIT CAKE
Butter contributes a rich, creamy, and buttery flavor to the log. It enhances the overall taste and provides a satisfying mouthfeel. Butter adds moisture to the mixture, resulting in a smooth and pliable dough.
Cocoa powder is the primary source of chocolate flavour in the log. Its rich, deep taste creates the characteristic chocolatey goodness that defines the dessert. Cocoa powder adds dry matter to the mixture, helping to create a thick, dough-like consistency. Cocoa powder imparts a dark, brown color to the log, providing visual appeal and indicating its chocolate content.
Coffee powder introduces an additional layer of flavour complexity, creating a more nuanced and sophisticated taste profile. This can be especially appealing to those who enjoy the combination of chocolate and coffee. Depending on personal preferences, you can adjust the amount of coffee powder to control the intensity of the coffee flavour. Coffee has a slightly bitter undertone, which can help balance the sweetness of the chocolate biscuit log.
Sugar is a primary sweetening agent in the recipe. It provides a pleasing sweetness that balances the richness of the chocolate and the natural flavors of the other ingredients. During the cooking process, sugar can caramelize, creating a pleasant depth of flavour. When the chocolate mixture cools and solidifies, the sugar plays a role in helping the log maintain its shape and structure.
Biscuits act as the main structural component of the log. Their dry, crumbly texture provides a sturdy foundation for the dessert. Biscuits absorb the moisture from other ingredients like melted chocolate, butter, and any additional liquids. This helps bind the ingredients together and create a cohesive mixture. The biscuits, when crushed, provide a slightly crunchy texture that contrasts with the creaminess of the melted chocolate mixture. This textural contrast is a key feature of the dessert.
EQUIPMENT USED FOR MAKING CHOCOLATE BISCUIT CAKE
This recipe doesn't require a lot of equipment. Measuring Cups and Measuring Spoons are an integral part of any baker's kitchen and it's very important to measure ingredients with precision.
A few mixing bowls and a saucepan is what you need to prepare the mixture in. A spatula and a whisk are my favourite kitchen equipment.
You would require a parchment paper or cling wrap to lock the log shape.
OTHER RELATED RECIPES FROM THE BLOG
TIPS TO MAKE CHOCOLATE BISCUIT CAKE
Use plain, dry biscuits like digestive biscuits or tea biscuits. They absorb moisture well without becoming overly soggy.
Adjust the sweetness of the mixture to your preference. You can add more or less sugar or use different types of sweeteners.
Experiment with flavorings like vanilla extract, coffee, or liqueurs for added depth and complexity.
Crush the biscuits evenly to ensure a consistent texture throughout the log.
Mix thoroughly to ensure all the biscuits are well coated and ingredients are evenly distributed.
When shaping the log, use a clean kitchen towel or plastic wrap to help form a tight, even cylinder. This ensures a smooth finish.
Allow the log to chill in the refrigerator for the recommended time. This sets the mixture and makes it easier to slice.
Use a sharp knife to ensure clean, even slices. Wiping the knife between cuts helps create neat edges.
Wrap the log tightly in plastic wrap and store it in the refrigerator. This helps maintain freshness and texture.
CHOCOLATE BISCUIT CAKE
Ingredients
¼ cup water
2+1/2 tbsp melted butter
2 tbsp cocoa powder
1 tsp coffee powder
6 tbsp sugar
20-25 biscuits
Instructions
In a saucepan, combine sugar, butter, cocoa powder, coffee and water.
Place the saucepan over medium heat and bring to a boil. Cook for 5-6 minutes, stirring constantly.
Break the biscuits into small pieces. Place them in a large bowl.
Pour chocolate syrup over the biscuits and stir until well coated.
Transfer the mixture onto a parchment paper. Roll the parchment paper with mixture and press firmly to create a log.
Freeze it overnight or atleast 5-6 hours before serving.
If you like my Chocolate Biscuit Cake recipe and happen to make them in your kitchen, do tag me on Instagram and share pictures with me using #Bakewithshivesh. Happy Baking!