KitKat bars are one of the world's most iconic chocolate treats. With their unmistakable crunch, layers of crisp wafers, and a thick coating of smooth chocolate, they've been satisfying sweet cravings for generations.
Kit Kat has to be one of my favourite chocolates and I thought why not make them at home from scratch. This recipe has to be the easiest and foolproof way to make these crispy homemade kitkat. Try them and see it become your new favourite instantly.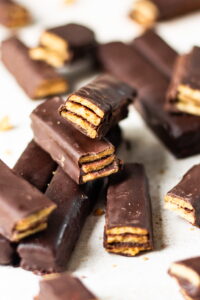 INGREDIENTS NEEDED FOR HOMEMADE KITKAT
To make these wafers, you need minimal in), some ingredients that you probably already have on hand. You will need some all purpose flour (maida), some whole wheat flour (atta), icing sugar, cocoa powder, vegetable oil, and milk.
WHOLE WHEAT FLOUR
Whole wheat flour is much more absorbent than all purpose. This means that when we add wet ingredients like butter and water in the Dough, whole wheat flour will absorb them more and make the dough tight. Whole wheat flour is a great source of fiber and is a whole grain which makes for consumption.
MELTED BUTTER
Butter contributes a rich, creamy, and buttery flavor to the log. It enhances the overall taste and provides a satisfying mouthfeel. Butter adds moisture to the mixture, resulting in a smooth and pliable dough.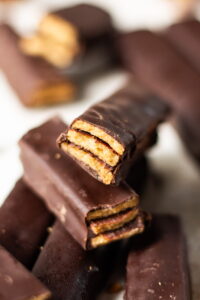 EQUIPMENT USED FOR MAKING KITKAT
This recipe doesn't require a lot of equipment. Measuring Cups and Measuring Spoons are an integral part of any baker's kitchen and it's very important to measure ingredients with precision.
A few mixing bowls and a knife/pizza cutter  and a rolling pin is what you need to prepare the mixture in. A spatula and a whisk are my favourite kitchen equipment.
You would require a parchment paper or silicon mat to roll out the dough and then used for baking.
ROLLING OUT AND SHAPING KITKAT WAFER
It is very important to be able to roll the dough flat equally from all sides. The best way to do this is between two parchment or silicone mats. This will not only ensure a smooth surface for our wafer but also help prevent it from sticking to the rolling pins.
Once evenly rolled out, you can use any cutter or knife of your choice and cut out thin individual rectangles .Remember, you can easily re use the scraps from the first round of cutting out the wafers. So get re rolling and reduce your kitchen wastage.
OTHER RELATED RECIPES FROM THE BLOG
KITKAT
Ingredients
Wafers
🍫1/4 cup melted butter
🍫1/4 cup castor sugar
🍫1/4 cup warm water
🍫1 cup whole wheat flour
Ganache
🍫1/2 cup dark chocolate
🍫1/4 cup fresh cream, warm
🍫3/4 cup chocolate for dipping
Instructions
For the wafers- in a bowl add melted butter, castor sugar, warm water and whole wheat flour. Mix everything together till you form a smooth dough.
Take this dough and roll it very thin between two parchment papers. Now, chill this dough in fridge for 15-20 minutes.
Once the dough chilled make equal strips using a knife. Bake it at 180 degree
celsius for 20-25 minutes or until golden brown.
For the ganache- in a bowl take dark chocolate and pour warm cream over it. Let it sit for a while till the chocolate is completely melted. Mix it well to achieve a smooth ganache.
Let the wafers cool down completely
apply ganache on the baked strips and sandwich 3 strips together. Let it set in fridge for 15-20 minutes.
Once set dip these in dark chocolate and stick 2 kit-kat's together.
know you all will love this recipe and I cannot wait to see your recreations! Tag me on Instagram using
@shivesh17
so that I can see you all makes these beauties. Happy baking!