It all started with a simple experiment in my kitchen. One day, inspired by the delightful success of my homemade corn cereal, I decided to venture into the realm of breakfast creativity once again. This time, my mission was to recreate the beloved cinnamon cereal at home. A perfect balance of sweetness and spice, a crunch that could rival any store-bought variety, and the satisfaction of knowing every ingredient that went into it.
Say hello to mornings filled with the irresistible aroma of homemade cinnamon cereal and the delightful crunch. Get ready to fall in love with breakfast all over again, one spoonful of homemade goodness. From the satisfying crunch to the warm undertones of cinnamon, this cereal is not just a breakfast staple – it's a homemade delight that brings joy to every spoonful.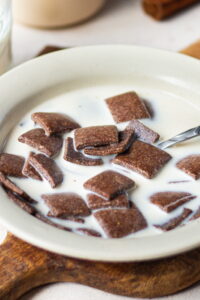 INGREDIENTS USED IN CINNAMON CEREAL AT HOME
Milk
Milk is the major wet ingredient in this Chocolate Cereal recipe. It acts as the binding agent for this recipe. When the rest of the ingredients are combined with milk, they absorb some it it and stick together. You can choose different types of milk, such as whole milk, skim milk, almond milk, or oat milk, based on your preferences. Each type of milk brings its own unique flavor profile, influencing the overall taste of the cereal. I have used Nestle milk for this recipe.
Oats
Oats add a pleasant texture and crunch to Cinnamon Cereal. They provide a hearty and nutritious base, adding substance and texture to the Chocolate Cereal. Oats are a nutritious grain, rich in dietary fiber, vitamins, minerals, and antioxidants. When included in cereal, they contribute to a more satiating breakfast, helping you feel fuller for longer and providing sustained energy throughout the day.
Jaggery powder
It is a natural sweetener and has been used as a healthier alternative to refined sugars for ages. They are healthy and nutritious as well since they retain many of the minerals and vitamins. When added to Homemade Cinnamon Cereal, it imparts a unique and pleasant taste that adds depth and complexity to the overall flavor profile.
Cinnamon Powder
Cinnamon powder is the hero ingredient in this recipe contributing to both its flavor and aroma. Cinnamon is renowned for its warm, sweet, and slightly spicy flavor profile. It is often regarded for its potential health benefits. It contains antioxidants and has anti-inflammatory properties.
Peanut butter
Peanut butter adds a rich, nutty, and creamy flavour to Cinnamon Cereal. It also acts as a binding agent creating a cohesive dough. It boosts the nutritional value, providing a good source of protein and essential nutrients. This can help keep you satiated and energized throughout the day.
EQUIPMENT YOU NEED FOR THE CINNAMON CEREAL AT HOME
This recipe doesn't require a lot of equipment. Measuring Cups and Measuring Spoons are an integral part of any baker's kitchen and it's very important to measure ingredients with precision.
A few mixing bowls and a spatula are what you need to prepare the batter. A spatula is my favorite kitchen equipment.
You would require a silicon mat to bake the cereal on.
Finally, I baked this delicious Cinnamon Cereal at Home in my Borosil 60L oven.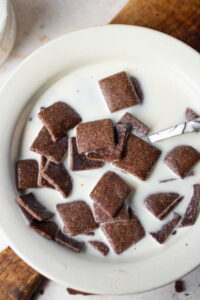 TIPS TO KEEP IN MIND WHILE BAKING CINNAMON CEREAL AT HOME
Opt for fresh ingredients to ensure the best flavor and texture in your Cinnamon Cereal.
Depending on your preference, you can use either smooth or crunch peanut butter.
You can swap the peanut butter altogether if certain allergies are concerned and can use any other nut butter.
Bind the dough properly and flatten it evenly.
Feel free to experiment with different types of milk for a different flavor profile.
Cut the cereal evenly into squares using either a pizza cutter or a sharp knife.
CINNAMON CEREAL AT HOME
Ingredients
½ cup oats
2 tbsp jaggery powder
2 tbsp cinnamon powder
2 tbsp peanut butter
3 tbsp milk
Instructions
Preheat the oven at 180 degrees celsius and line a tray with silicon mat.
In a mixer, add the oats and grind it into fine powder.
In a bowl, add the oats powder, jaggery powder, cinnamon powder, peanut butter and milk.
Combine everything together and form a dough. Roll out the dough between two parchment paper.
Cut them in equal squares using a pizza cutter or knife.
Bake then for 20-25 minutes at 180 degrees celsius.
Let them cool for sometime until its crunchy. Pour the milk and enjoy!
Also, you can double this recipe for making a bigger batch and store it in an airtight container for upto one month.
If you like my Cinnamon Cereal at home recipe and happen to make them in your kitchen, do tag me on Instagram and share pictures with me using #Bakewithshivesh. Happy Baking!