Who says indulgence can't be guilt-free? In my latest recipe, I will share this delectable creation of Chocolate Protein Cookie that marries the irresistible allure of chocolate with the power of protein. Get ready to embark on a journey that combines rich cocoa, wholesome ingredients, and a generous dose of high-quality protein. This Healthy Chocolate Protein Cookie is more than just a treat—they're a delicious way to fuel your body with the nutrients it craves.
Whether you're looking for a post-workout refuel, a satisfying midday snack, or a guilt-free sweet treat, these cookies have got you covered. Packed with the goodness of natural ingredients and fortified with protein, these Chocolate Protein cookies offer a mouthwatering solution to cravings without sacrificing nutrition.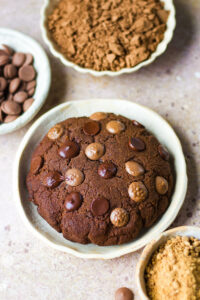 INGREDIENTS USED IN CHOCOLATE PROTEIN COOKIE
Ghee contains essential nutrients like vitamins A, D, E, and K, as well as healthy fats, which can add nutritional value to the cookies. If you're lactose intolerant or have a dairy allergy, using ghee instead of regular butter can provide a dairy-free alternative while still retaining the buttery flavour. It imparts a rich, nutty flavor to the cookies, enhancing their overall taste. Ghee also contributes to a soft, tender texture in baked goods like these chocolate protein cookies.
Milk helps distribute the dry and wet ingredients evenly throughout the batter, ensuring a uniform consistency and flavour.  If the recipe includes ingredients like cocoa powder or sweeteners, milk can assist in dissolving them, ensuring they mix thoroughly with the other ingredients. In a healthy cookie recipe, you might choose a lower-fat milk or a non-dairy alternative like almond or oat milk to reduce overall fat content.
Jaggery powder serves as a natural alternative to refined sugars. It imparts a rich, caramel-like sweetness to the cookie without the overly processed nature of white sugar. Jaggery powder contains trace minerals like iron, potassium, and calcium, which are often absent in refined sugars.
Whole wheat flour retains the bran and germ components of the wheat kernel, which are rich in dietary fiber, vitamins and minerals. This enhances the nutritional content of cakes. The bran in whole wheat flour absorbs more liquid than refined flour, resulting in a dough or batter that may require additional moisture.
Cocoa powder is responsible for providing the rich, chocolatey flavour that is characteristic of brownies. It is the primary source of chocolate flavour in the recipe. Cocoa powder helps to provide structure and thickness to the cookie dough. It absorbs moisture and contributes to the overall texture of the cookie.
Protein powder is a concentrated source of protein, which is essential for muscle repair and growth. It significantly increases the protein content of the cookies, making them a more nutritious snack. It helps promote feelings of fullness and satiety. Including protein powder in these cookies makes them a convenient post-workout snack option, providing a source of protein to aid in muscle recovery.
Baking soda is a leavening agent that helps the cookies rise and become light and airy. It reacts with acidic ingredients (like yogurt, buttermilk, or natural cocoa powder) in the dough, producing carbon dioxide gas. This gas expands the dough, resulting in a softer texture.
 EQUIPMENT USED FOR MAKING CHOCOLATE PROTEIN COOKIE
This recipe comes together quickly and hardly needs any equipment.
Measuring Cups and Measuring Spoons come in very useful while baking because its all about the precision here.
A spatula and a whisk help to bring in the batter together.
A silicon mat or parchment paper is required to line the baking tray and then place the cookie over it before baking. This ensures even heating and the cookie to not stick to the baking tray.
OTHER RELATED RECIPES FROM THE BLOG
TIPS TO MAKE CHOCOLATE PROTEIN COOKIE
Look for whole grain flour, natural sweeteners, and minimally processed protein sources.
Opt for unsweetened cocoa powder for a rich chocolate flavour without added sugars.
You can use low-fat dairy or dairy alternatives like almond milk or oat milk for a healthier cookie
Try using alternative flours like almond flour, coconut flour, or chickpea flour to increase the protein and nutrient content.
Allow the cookie dough to chill in the refrigerator for at least 15 minutes. This helps prevent the cookies from spreading too much during baking and creates a chewier texture.
Allow the cookie to cool for a few minutes before digging in. This helps it set and improves the texture.
CHOCOLATE PROTEIN COOKIE
Ingredients
2 tbsp ghee
2 tbsp jaggery powder
1 tbsp milk
3 tbsp wholewheat flour
2 tbsp protein powder (chocolate flavoured)
1 tbsp cocoa powder
⅛ tsp baking soda
Chocolate chips, for topping
Instructions
In a glass bowl add ghee and jaggery powder and mix them well until they are nicely combined.
To this add whole wheat flour, protein powder, cocoa powder and baking soda. Mix this well and your cookie dough will reach a coarse consistency.
To this, add the milk. Give it one final mix and bring the dough together. Once the cookie dough is ready, let it rest in the refrigerator for 15-20 minutes.
Pre-heat your oven to 180 degrees Celsius. Once rested, flatten your cookie dough onto a baking tray lined with a silicon mat and top it with chocolate chips.
Bake the cookies for 12-15 minutes. Once the cookie is out of the oven, let it cool completely.
If you like my Chocolate Protein Cookie recipe and happen to make them in your kitchen, do tag me on Instagram and share pictures with me using #Bakewithshivesh. Happy Baking!