Having cookies as a snack is always a great idea specially when you have a sweet tooth. But making them can be a little time taking , but not with these delicious and mouth melting 4 ingredient chocolate cookies which are ready in no time. Now you don't have to wait for your cookie dough to rest in the freezer for long time. They won't disappoint you as they are so chocolatey and sea salt sprinkle at the end makes them even more heavenly.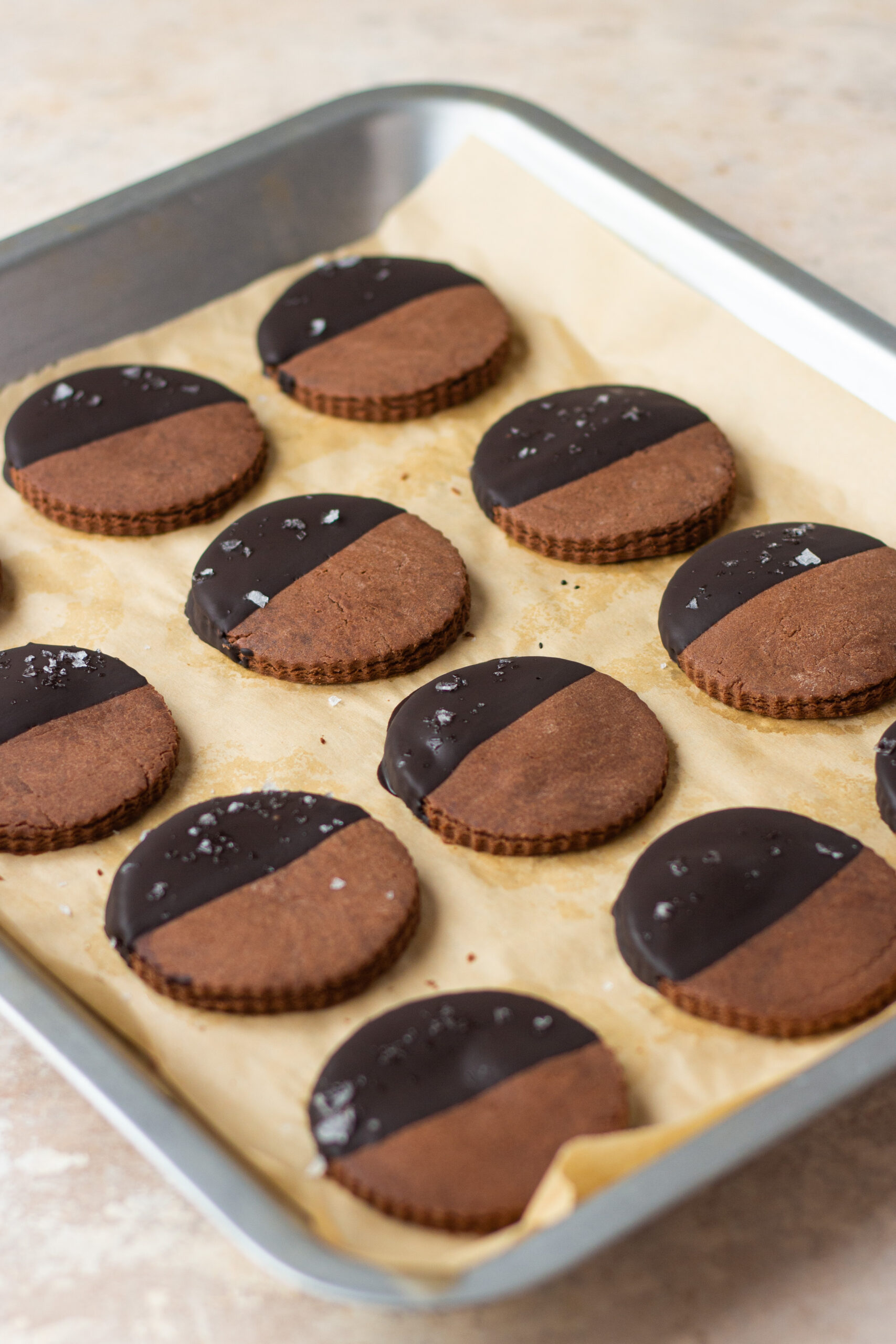 INGREDIENTS USED IN CHOCOLATE COOKIES
ALL PURPOSE FLOUR
I am using all- purpose flour to make my easy chocolate cookies. It gives that nice crisp and structure to the cookies. You can use whole wheat flour also in same proportion for a healthier version of these easy chocolate cookies.
COCOA POWDER
To make these cookies chocolatey I'm using this unsweetened cocoa powder by Cadbury. It gives that immense chocolate flavour to any baked good. You can use any good quality cocoa powder which is easily available to you in nearby grocery stores.
BUTTER
Butter is the main ingredient in making cookies as it gives richness and tenderness to the cookies. We alter the way butter works in a recipe by changing its temperature and for these easy chocolate cookies I have used this salted butter which will give a crispy structure to the cookie.
CONDENSED MILK
It is the prime ingredient in my easy chocolate cookies. It adds sweetness and richness to the cookies. Here I'm using this condensed milk. You can use Amul mithai mate also, or any condensed milk.
EQUIPMENT USED FOR MAKING THESE EASY CHOCOALTE COOKIES
The kind of equipment you use when you're baking makes a huge difference to the end result! I would recommend you to use good quality mixing bowls and other equipment so that your chocolate cookies come out delicious!
To mix all my ingredients together in, I'm using Borosil's 100% Borosilicate Glass Bowl which is microwave and oven safe, plus the bowls are super easy to clean and handle, which makes my baking process totally hassle free!
Not a single day goes in my kitchen when I don't use a Silicon Spatula, this is the one I recommend. Same goes for my set of Measuring Cups and Measuring Spoons.
And they are ready in less than 20 mins in my oven.
TIPS TO MAKE THESE CHOCOLATE COOKIES
Make sure the butter is very cold. To check this, touch the butter with your finger and if it doesn't stick to it it's good to go.
Mix flour, cocoa powder and butter with Rubbing method until you get a nice Sandy texture. If making in a stand mixer, use the paddle attachment.
There shouldn't be chunks of butter in the batter.
Freeze cookies for 10-15 mins before baking.
And if you try this recipe and like it, do try other cookie recipes from the blog. I am sure you are going to love them too.
OTHER COOKIE RECIPE FROM THE BLOG
4 ingredient chocolate cookies
Ingredients
1¼ All purpose flour
¼ cup cocoa powder
5 tbsp Cold butter
½ cup condensed milk
Instructions
Add in the flour , cocoa powder and Cold butter in a bowl and with rub them together using your fingers until you achieve a good Sandy texture where there are no lumps of butter.
Add in the condensed milk and give it a good mix until everything is combined. Don't overmix.
Roll the dough evenly between two parchment papers. Ideally the thickness should be 1 cm.
Cut them in any shape of your preference with a cookies cutter.
Keep them on a baking tray and freeze for atleast 10 mins.
Bake at 180c for about 15 mins ( depending upon the size of the cookie)
Take them out of the oven and transfer them to another tray or a wire wrack and let them cool.
You can garnish them with anything of your choice. Here I have used Dark chocolate and sea salt as it's my favourite combination and your easy chocolate cookies are ready.
If you like my 4 ingredient chocolate Cookies recipe and happen to make them in your kitchen, , do tag me on Instagram and share pictures with me using #Bakewithshivesh. Happy Baking!