Is an ingredient missing? Check out these simple ingredient replacements to see if you can make do with other ingredients in your kitchen. Your finished dish may change somewhat from the original cuisine in flavour, texture, and appearance, but it will still be acceptable.
Fortunately, there are plenty of ingenious workarounds and replacements to make up for what you lack in a pinch and keep those salted caramel brownies coming. Baking is a precise skill, but let's be honest: if you go to the bother of baking a cake or cookies, anyone who is lucky enough to get them will not complain, even if you had to make a few substitutions here and there.
But first, a word about substitutions: Using what you have requires you to manage your expectations. Making a cake with bread flour because that's all you have on hand will work, but it won't look or taste the same as if you used the stated ingredients. That's fine! If you're concerned about that and have a specific need, it could be worth gently shifting your plan to a recipe for which you have the majority of the ingredients, rather than being disappointed when, instance, your tahini brownies don't taste fantastic because you didn't have tahini or sugar. However, in a pinch, a small trade here and there can be beneficial.
Another idea is to think about something's weight as well as its volume. When making replacements, a scale comes in handy because the weights of components change, and substituting out a cup of granulated sugar for a cup of powdered sugar actually implies significantly different quantities by weight. If you don't have a scale, that's fine; just do your best and keep that in mind while making exchanges. Here is a list of all the alternatives you may make for your pantry baking needs in case you run out of ingredients.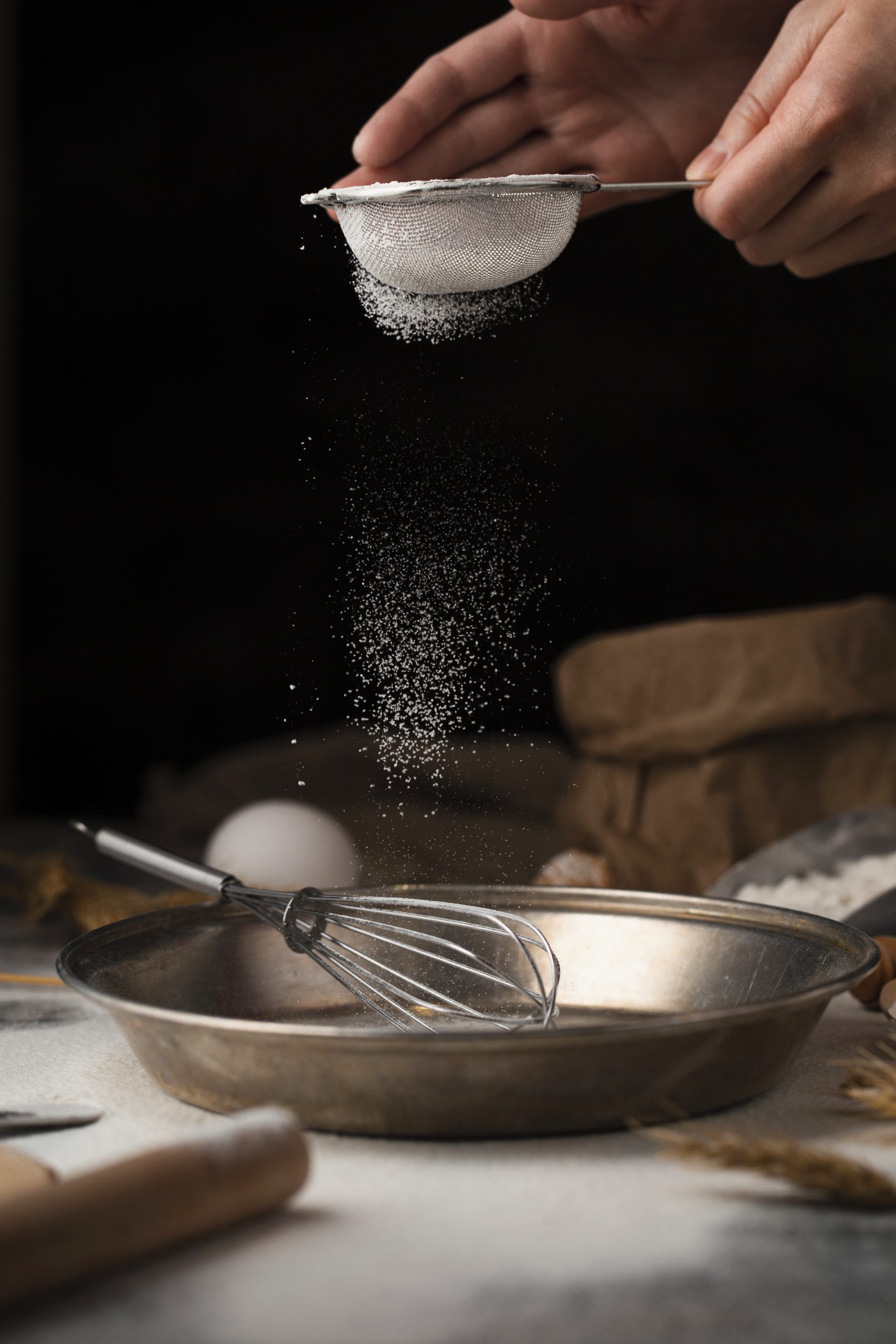 FLOURS
Cake Flour Substitute
The simplest technique to substitute cake flour is a straightforward recipe. Take a cup of all-purpose flour for every cup of cake flour you require. Take out two teaspoons of flour and replace them with two tablespoons of cornstarch or arrowroot powder. The cornstarch will aid in the inhibition of gluten development, allowing for the delicate cake crumb that cake flour lends to your baking job.
Bread Flour Substitute
When considering substitutions, it helps to understand why particular items are used in various recipes. Bread flour has a greater protein content than all-purpose flour. That which strengthens dough, promotes gluten development, and aids in the rise of bread. But it's not a tremendous percentage difference—King Arthur bread flour contains 12.7 percent protein, while their all-purpose flour contains 11.7 percent protein. That implies that if you have bread flour but not all-purpose flour, or vice versa, you can simply make a one-to-one substitution. The one restriction is that bread flour isn't ideal for recipes that don't require a lot of gluten production, such as biscuits or pie crust. But in most cases it works fine.
LEAVENERS
Baking Soda Substitute
As baking powder is created from baking soda, if you run out of baking powder but have baking soda on hand, you may switch baking powder for baking soda. However, you must change the proportions—use three times the amount of baking powder as a replacement for baking soda. So, if a recipe calls for 1 teaspoon of baking soda and you only have baking powder, use 3three teaspoons ((= 1 tablespoon) of baking powder instead. Because baking powder contains some salt, use this method with caution.
Baking Powder Substitute
Combine 1/2 teaspoon cream of tartar and 1/4 teaspoon baking soda for every teaspoon of baking powder required. If you don't have cream of tartar, you may use another acid, such as lemon juice or vinegar. In that scenario, mix 1/4 teaspoon baking soda and 1 teaspoon vinegar or lemon juice.
SWEETENERS
Brown Sugar Substitute
Granulated sugar is the simplest brown sugar replacement. If you have molasses on hand, you may make an even better replacement by combining the dark syrup with ordinary sugar. To make 1 cup of brown sugar, combine 2 tablespoons molasses (or maple syrup or agave nectar) with 1 cup granulated sugar in a food processor. That's all!
Powdered Sugar Substitute
  What if you don't have any powdered sugar on hand? You may get close by crushing up granulated sugar in a food processor. Add a spoonful of cornstarch to each cup of granulated sugar and pulse until very finely crushed.
Honey Substitute
If you don't have honey, you may use maple syrup, agave syrup, molasses (as long as it's not blackstrap molasses), or corn syrup for it.
COOKING FATS
Butter Substitute
If you need butter in your baking but don't have any on hand, there are several butter replacements you may use. That works if you have margarine on hand! If you don't have any, vegetable oil or coconut oil work well as butter alternatives. If you only need a little bit more to supplement what you currently have, a dollop of Greek yoghurt will make it stretch. You may also follow the vegan cooking rulebook and substitute half a cup of applesauce for each cup of butter required.
Vegetable Oil Substitute
If you have vegetable oil, you may use it for the butter in a one-to-one ratio. If you don't have vegetable oil but have another neutral-tasting oil on hand, such as avocado oil, coconut oil, or a milder olive oil, simply substitute the vegetable oil with the oil you have. You may also use mayonnaise for the oil (after all, it's simply oil with an egg yolk!). or even yoghurt
DAIRY AND EGGS 
Milk Substitute
When you don't have milk but need it for baking, you have a few choices. If you have another dairy product in your fridge, such as yoghurt or sour cream, you may use it as a one-to-one replacement. If you don't have any, but have a can of evaporated milk on hand, thin down a half cup of evaporated milk with a half cup of water to resemble milk. In a pinch, simply use water.
Heavy Cream Substitute, Half-and-Half Substitute
If you require heavy cream, there are a few alternatives. You can use a fourth cup of melted butter and three-fourths of a cup of full milk, or you can use an equal quantity of coconut milk. If you have half-and-half but no cream, use it in place of the cream (and vice versa).
Buttermilk Substitute
If you don't have buttermilk or buttermilk powder and need it for baking, replace it with a cup of milk soured with a tablespoon of lemon or white vinegar. If you don't have milk, you may use yoghurt or sour cream that has been diluted with water until it's pourable.
Sour Cream Substitute
If you don't have sour cream, you may substitute yoghurt, mayonnaise, or pureed cottage cheese in its place.
CHOCOLATE
Unsweetened Chocolate Substitute 
If you don't have any unsweetened baking chocolate on hand, you may use cocoa powder. To make one ounce of unsweetened chocolate, use three tablespoons cocoa powder and one tablespoon vegetable oil. If you don't have unsweetened chocolate but have semisweet chocolate, use it instead, in a ratio of 1 12 ounce bittersweet or semisweet to every ounce unsweetened chocolate, and leave out one tablespoon of sugar per ounce.
Semisweet Chocolate Substitute
You may substitute unsweetened chocolate with a little sugar for the semisweet chocolate. Substitute 2/3 ounce unsweetened chocolate and 1 tablespoon sugar for each ounce of chocolate required. You may also substitute three teaspoons cocoa powder, one tablespoon vegetable oil, and three tablespoons sugar.
Chocolate Chips Substitute
If you don't have chocolate chips but do have chocolate bars, simply cut them up and use them as a one-to-one substitution. If you don't have either but do have unsweetened chocolate, use the same chocolate-to-sugar ratio per ounce as you would for semisweet chocolate.
More Such Articles On The Blog:
1. 10 Oven Tips For Better Baking
3. 10 Pie Baking Tips You Should Know!
Follow me on Instagram for baking tips, tricks, and new recipes everyday!