Looking for a classic yet indulgent dessert recipe? then this sizzling brownie with ice-cream is a total winner. Heavenly combo of decadent chocolate brownie and yummy vanilla ice-cream, this is definitely the dessert of your dreams.
When I made eggless brownies, I wanted them to be super fudgy, moist, and chocolaty, with crispy edges and crackly tops, just like the ones I ate as a kid. So I wanted to share this recipe for sizzling brownie that you can make with just a few ingredients.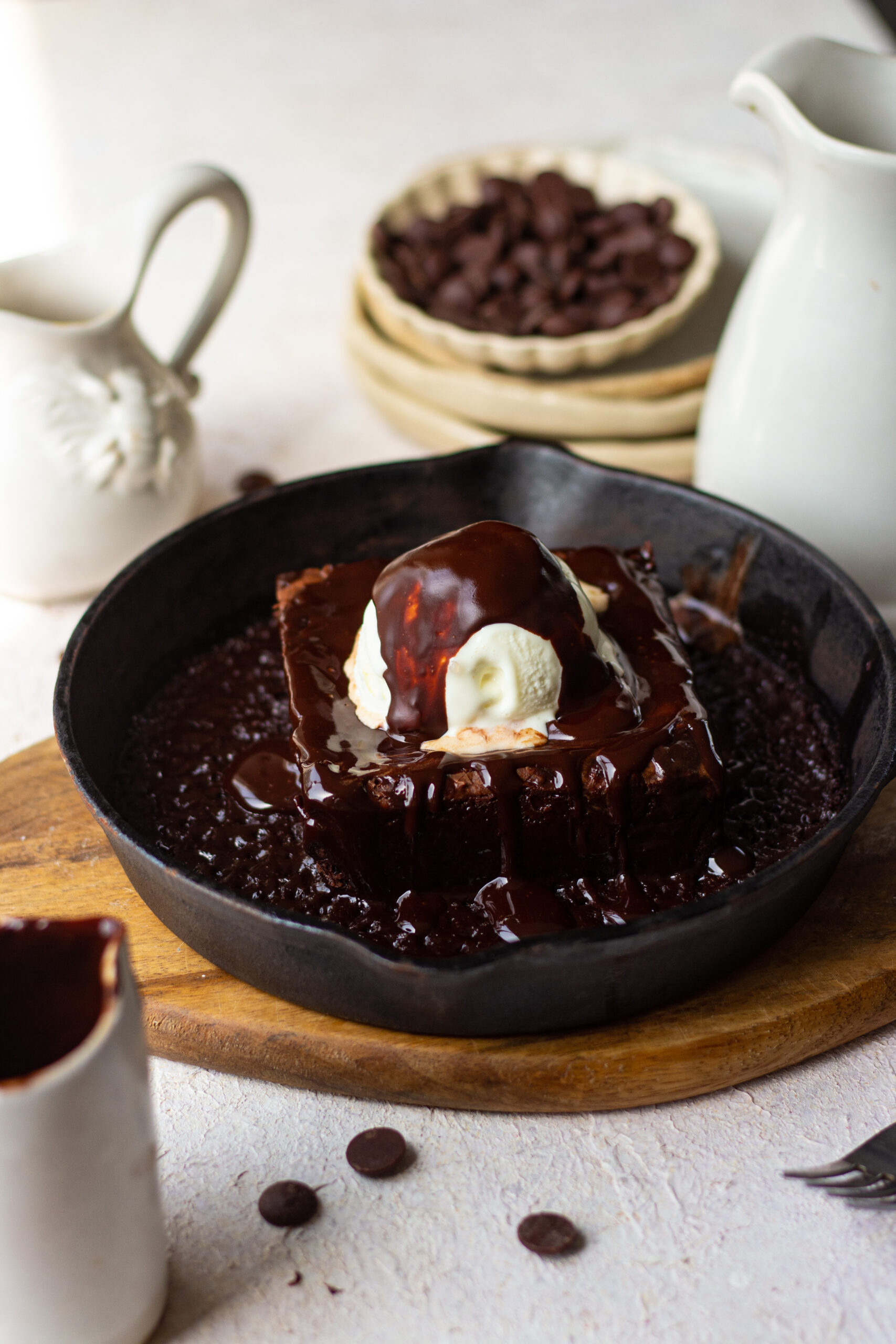 INGREDIENTS USED IN SIZZLING BROWNIE
·         Dark chocolate-
Use the best quality chocolate that you can get your hands on. That makes all the difference in the brownie. I have used Callebaut Dark Couverture Chocolate chips
·         Condensed milk-
Condensed milk makes these brownies extra moist and delicious! I have used milkmaid condensed milk can.
·         Cocoa powder-
I love using the Weikfield cocoa powder for my brownie. It is natural cocoa powder which means it is not so overpowering and also gives me the beautiful brown color that I love in my brownies.
·         Baking powder-
I like my brownies to have a bit of a lift and some height. I have used this in my recipe.
EQUIPMENTS USED FOR MAKING SIZZLING BROWNIE
The kind of equipment you use when you're baking makes a huge difference to the end result! I would recommend you to use good quality mixing bowls and and electric beater .
Measuring Cups and Measuring Spoons. are an integral part of any baker's kitchen and its very important to measure ingredients with precision.
For the mould, I have used 5" square tin and baked it in my Borosil 60L oven. and used 8" skillet to assemble my eggless sizzling brownie.
OTHER RELATED RECIPES FROM THE BLOG
TIPS TO MAKE SIZZLING BROWNIE
Make sure you don't overmix the batter. Also keep a check on the baking time of the brownies as it won't be fudgy and goey then.
You can add Dark, milk and white chocolate chips on top before baking.
For the sizzling effect-
Heat your skillet in an oven for 20-25minutes at 200*c till it becomes super-hot. Make sure you don't burn your hands.
You can also heat your skillet on stove.
Place a piece of brownie on the plate, top it up with a scoop of vanilla ice cream & pour over the silky smooth chocolate fudge sauce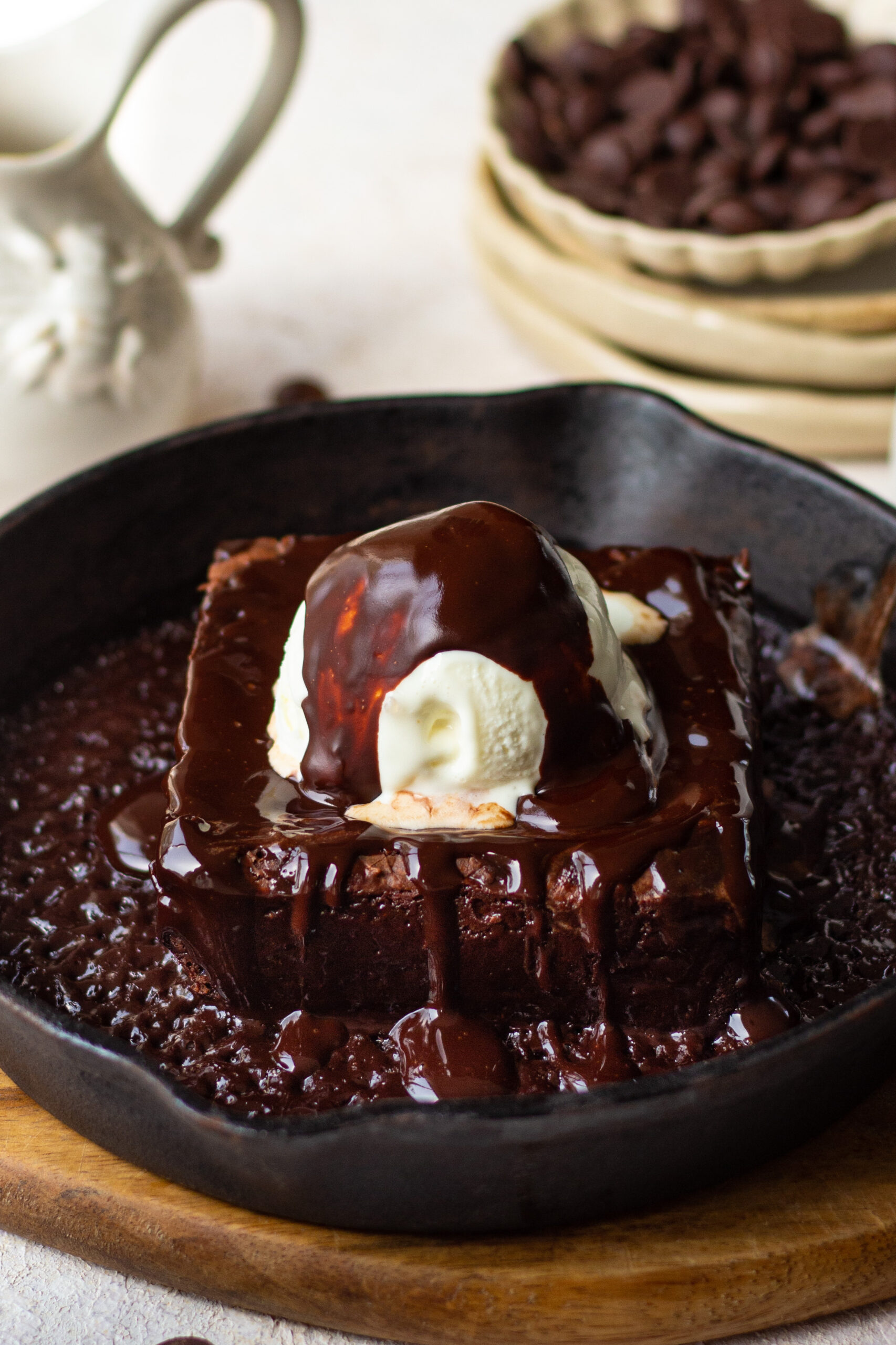 sizzling brownie
Ingredients
Brownie:
½ cup dark chocolate
2 tbsp butter
½ cup condensed milk
4 tbsp all purpose flour
2 tbsp cocoa powder
¼ tsp baking powder
Chocolate Sauce:
Chocolate - 1 Cup
Cocoa Powder - 1 Tbsp
Water - ½ Cup
Castor Sugar - 4 Tbsp
Salt - A Pinch
Instructions
Melt butter and chocolate over a double boiler or in a microwave.
Sift dry ingredients in a separate bowl and set aside.
Add the milkmaid to the melted chocolate mixture.
Fold in the dry ingredients and make a smooth brownie batter.
Pour the prepared batter into a 4 inch square pan lined with parchment paper.
Bake at 170 degree Celsius for 30 mins.
For the Chocolate Fudge Sauce - to a bowl add in the chopped chocolate, along with the cocoa powder & a pinch of salt
Heat water along with sugar in a saucepan until it dissolves & pour over the chocolate - cover the bowl & let it rest for 5 minutes
Add in cube of butter & whisk the chocolate mixture until smooth & lump-free - keep aside for later.
To Assemble the Sizzling Brownie - heat the sizzler plate until its smoking hot.
Place a piece of brownie on the plate, top it up with a scoop of vanilla ice cream & pour over the silky smooth chocolate fudge sauce
Serve, Garnish with chocolate chips or nuts of your choice & Enjoy.
If you like my sizzling brownie and happen to make them in your kitchen, do tag me on Instagram and share pictures with me using #Bakewithshivesh. Happy Baking!