What if I tell you that you can bake a mouthwatering cake in just less than an hour and that too a healthy version of your regular cake? Seems unpromising but let me tell you, here I am sharing my favourite wholewheat coffee cake which is eggless and is in small serve quantity. You can prepare it with your normal ingredients available at home and make it healthier by adding nuts of your choice. I have topped the cake with loads of walnuts and a coffee glaze.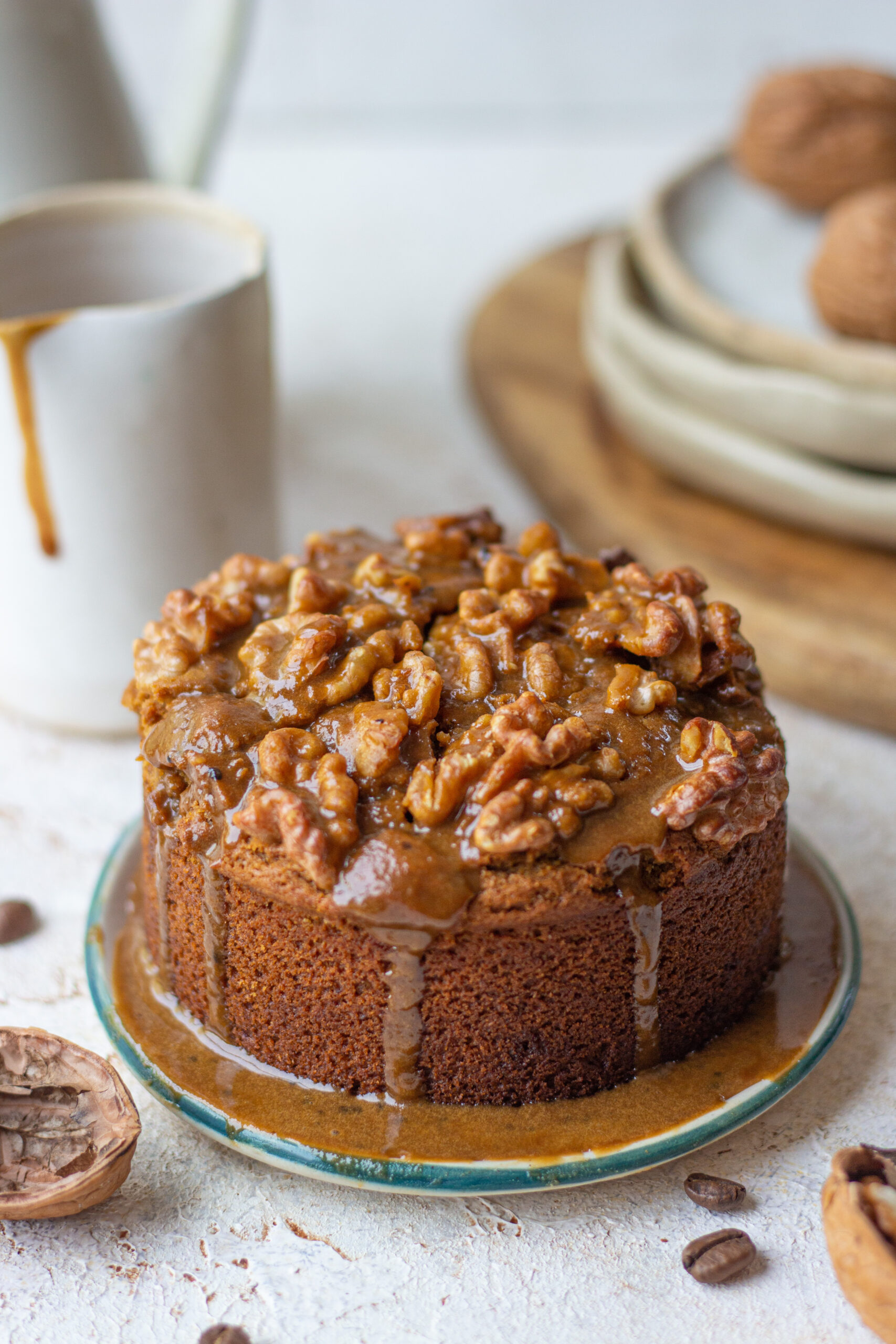 INGREDIENTS NEEDED FOR ATTA JAGGERY CAKE 
The ingredients that you need for this cake are very basic which you might already have on hand. For the dry ingredients, you need whole wheat flour, that is atta, baking soda, baking powder, and jaggery. Just four dry ingredients and you are good to go. For the wet ingredients, you need homemade curd or Greek yogurt, vegetable oil, and milk.  
WHOLE WHEAT FLOUR I.E. ATTA 
This flour is heavier than the commonly used, all-purpose flour. This is why, all around the world, people widely use all-purpose flour to make baked goods. All-purpose flour being a lighter flour means that it gives fluffier desserts that are not heavy or dense.  
While using whole wheat flour, it becomes important to incorporate air into the other elements of the dessert. One definite way to do that is by making sure you sift your dry ingredients instead of just adding them in the bowl with the wet ingredients.  
BAKING POWDER AND BAKING SODA 
I used both baking powder and baking soda for this recipe. Both are leavening agents and play their roles in different ways. Baking soda is mixed in with the yogurt for this recipe which creates a super foamy and airy mixture. This is another element that will add air to the batter. Baking powder is added in with the rest of the dry ingredients and reacts only once the cake pan has been put in the oven.  
JAGGERY 
We are making this cake with jaggery and not with any refined sugar. I bet your parents and grandparents will be very happy to know this fact once you serve this cake in front of them! The flavour of jaggery goes well with whole wheat flour too. However, if you want, you can also use plain caster sugar here instead or do a mix of both and add 50% of jaggery and 50% of caster sugar here.  
YOGURT 
For simple cakes like this, I love to use homemade Dahi. Make sure it is thick and not watery. If you want, you can also use Greek yogurt. Both works perfectly well.  
MILK 
While adding ingredients like milk, I like to warm them up before adding them into the batter. This ensures that it is well incorporated with the rest of the ingredients. If you add cold milk, it might make the batter slightly lumpy at first and get incorporated slower than warm milk.  
EQUIPMENT USED FOR MAKING SMALL SERVE CHOCOLATE WHOLEWHEAT COFFEE CAKE
This recipe comes together quickly and hardly needs any equipment. 
One blender is all that is required to make the wholewheat coffee cake batter. 
I have used a 4-inch springform pan to bake this cake since it's a small serve recipe. 
Measuring Cups and Measuring Spoons. are an integral part of any baker's kitchen and it's very important to measure ingredients with precision. 
OTHER RELATED RECIPES FROM THE BLOG
SMALL SERVE CHOCOLATE OATS CAKE 
HEALTHY CHOCOLATE CHIP COOKIES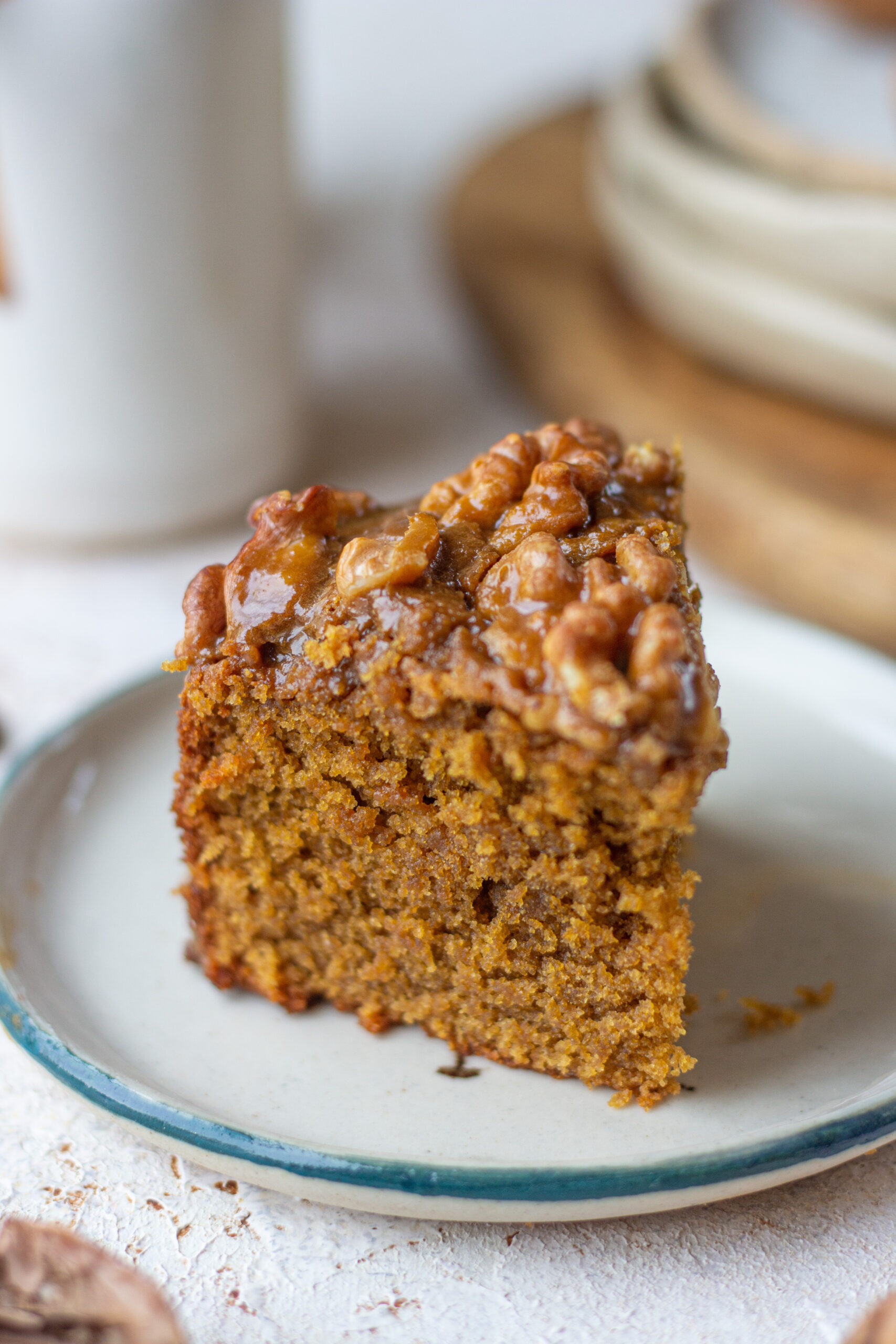 EGGLESS WHOLEWHEAT CHOCOLATE CAKE
Ingredients
3 tbsp milk
½ tsp coffee powder
¼ cup yogurt
¼ tsp baking soda
¾ cup atta
½ tsp baking powder
6 tbsp jaggery powder
¼ cup oil
¼ cup walnuts
Coffee glaze
¼ cup icing sugar
1 tsp coffee
1.5 tbsp milk
Instructions
Grease a 4-inch springform pan with oil and line it with parchment paper.
In a large bowl add in milk and coffee powder together. Then add in yogurt and baking soda. Give this a good mix and set it aside for 5 minutes. The mixture will foam up and almost double up in size.
For the wet ingredients, combine jaggery, vegetable oil, and whisk them with the yogurt and baking soda mixture.
Sieve whole wheat flour and baking powder with the wet ingredients and bring the batter together.
Transfer batter in the prepared baking pan and sprinkle chopped walnuts all over the top.
Bake at 180C for 30-35 minutes or until a skewer inserted comes out clean.
For the glaze- add icing sugar, coffee and milk together and give it a good mix. Your glaze is ready.
When the cake cools down, pour the glaze over it and serve!
I hope you like this recipe and that you will make it for your family. Do not forget to share photos with me on my Instagram 
@shivesh17
 when you do. I love seeing your recreations!