There's something undeniably captivating about a classic Red Velvet Cake. Its vibrant red hue, subtle cocoa flavor, and velvety texture make it a dessert worthy of celebrations, special occasions, or any day you're craving a slice of pure indulgence. In this blog post, we're excited to introduce you to a hassle-free recipe for One Bowl Red Velvet Cake. One bowl recipes have taken the baking world by storm, and for a good reason. They simplify the process, reduce cleanup time, and make baking accessible. The beauty of a one bowl red velvet cake lies not only in its simplicity but also in the promise of a moist and flavorful result. Whether it's for a special occasion or a spontaneous dessert craving, this one bowl red velvet cake is a game-changer in the world of hassle-free baking. So go ahead, grab that mixing bowl, and treat yourself to a slice of homemade heaven!
In this blog post, we're diving into the world of convenience and deliciousness with a recipe for a One Bowl Red Velvet Cake. Say goodbye to multiple bowls and hello to a hassle-free baking experience!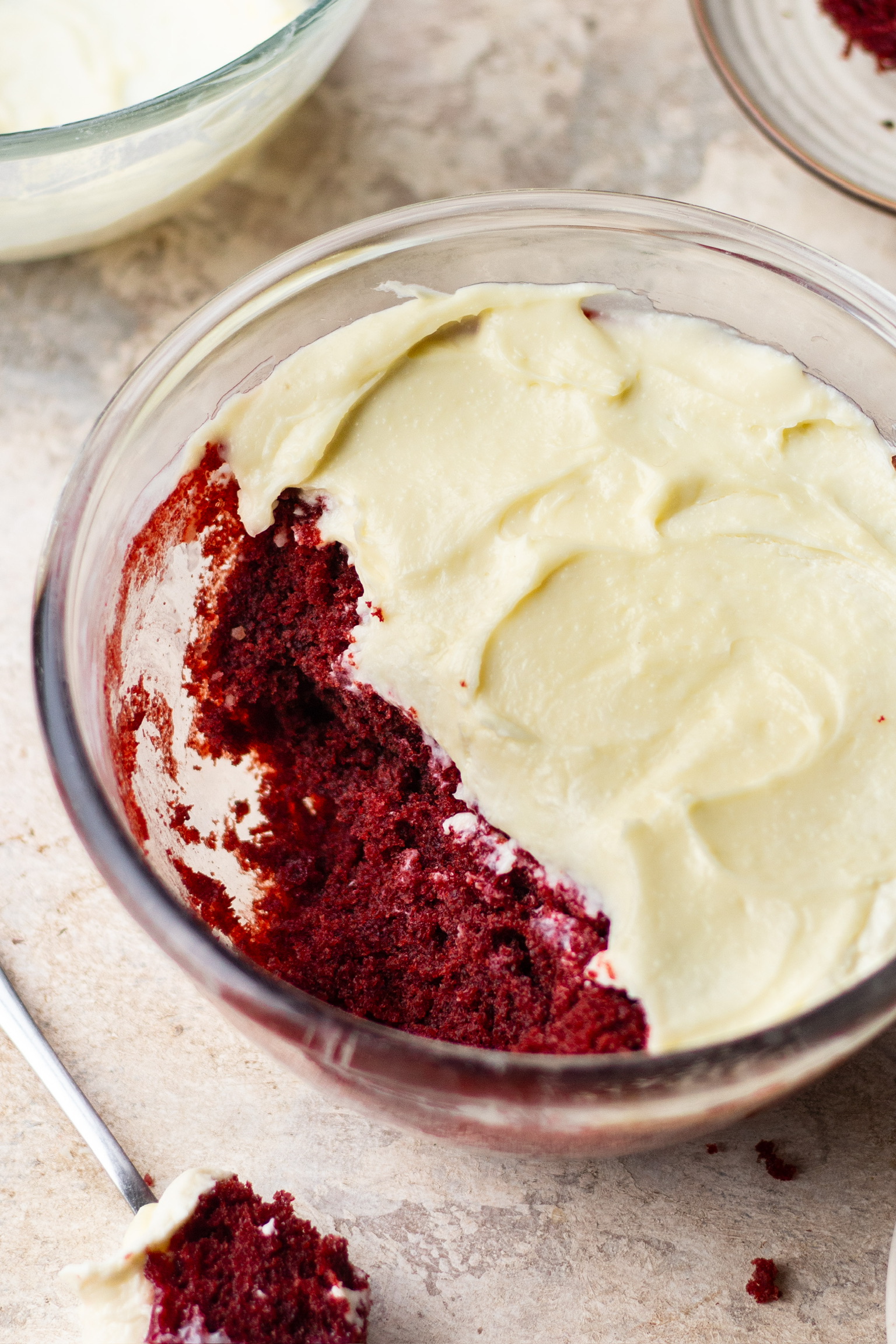 INGREDIENTS USED IN ONE BOWL RED VELVET CAKE
While you can use store-bought buttermilk as a substitute for eggs in this red velvet cake recipe, I have seen how cakes come out better with home-made buttermilk. In this recipe, I've used ½ cup milk + ½ tbsp. vinegar. Buttermilk is something that makes or breaks your red velvet cake!
Liquid color is super-duper important for this red velvet cake. Take care that you are using a good quality gel color or liquid color. The thing about liquid color is that if it is of a good brand, it is highly pigmented and very less quantity has to be used. There are endless low quality colors available in the market. Make sure you don't get them as not only are they practically useless in dispensing colors, they are also harmful to the health.
Cocoa powder is a very important ingredient in this small serve Red Velvet Cake. A lot of professional bakeries use dark, rich cocoa powder and that does not work here. The red color- if it's not of an extremely good company, your dark cocoa powder will turn this Red Velvet Cake into a chocolate velvet cake. Hehe.
Baking soda, or sodium bicarbonate, is an alkaline chemical leavener that reacts with acid and heat to leaven food. In this recipe, buttermilk and cocoa powder are the examples of acidic components that activate baking soda.
Flour helps absorb the moisture from other ingredients in the batter, which contributes to the cake's texture and prevents it from being overly wet. Flour interacts with leavening agents like baking powder and baking soda to create gas (usually carbon dioxide) that causes the cake to rise. Flour is a primary structural ingredient in cakes. It provides the framework for the cake's crumb and gives it a cohesive texture. It also produces a tender crumb in the cake.
EQUIPMENT USED FOR MAKING ONE BOWL RED VELVET CAKE
This one-bowl vanilla cake comes together in minutes and needs just one bowl and a few measuring cups and measuring spoons to make.
A whisk or spatula is essential for combining the dry and wet ingredients efficiently. Ensure that the utensil you choose is capable of thoroughly mixing the batter without overdoing it.
You also require a microwave to make this cake in 4 minutes.
Or you can bake it too.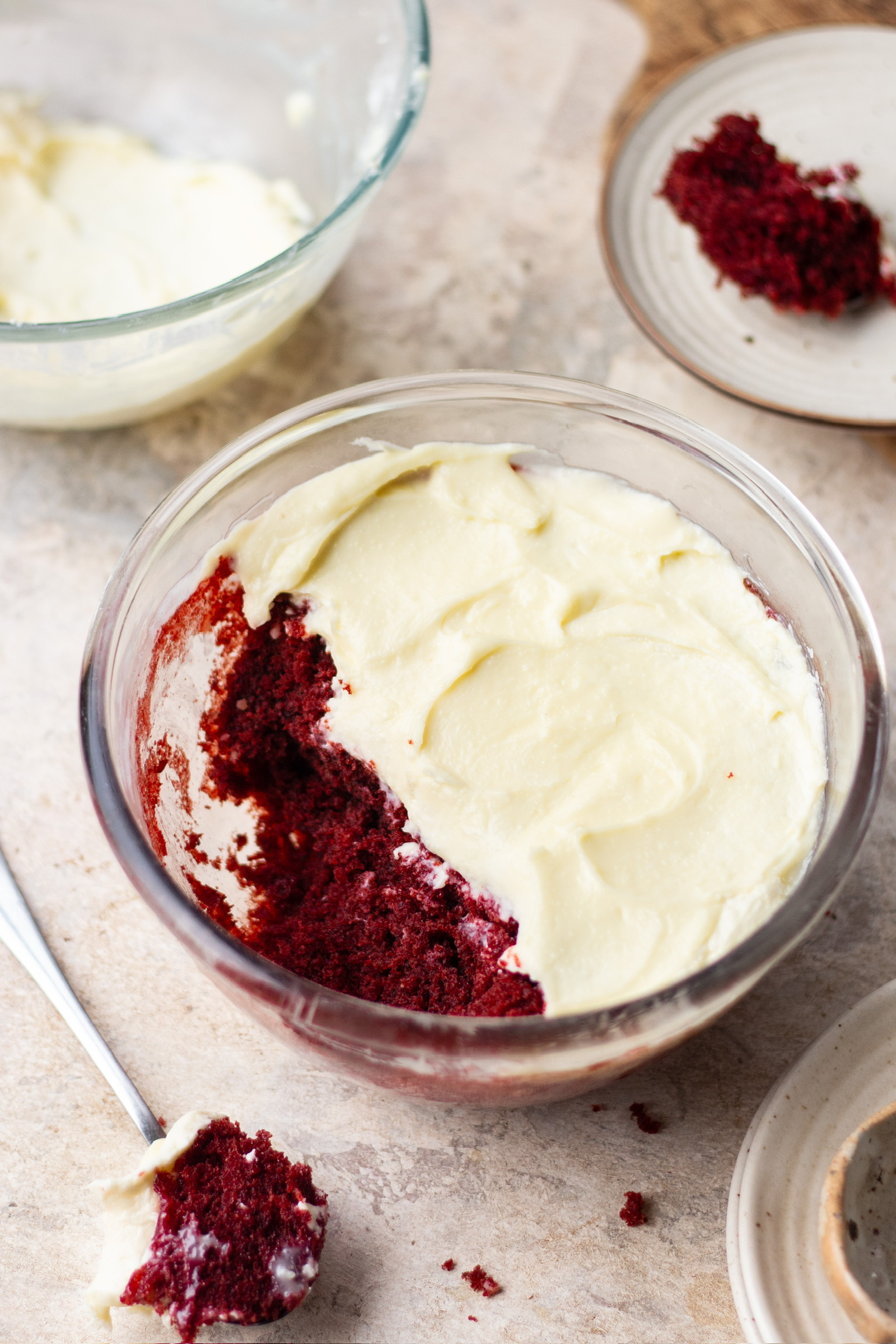 TIPS TO MAKE ONE BOWL RED VELVET CAKE
Use superfine sugar to blend properly in the batter, and whisk really well.
Ensure that the bowl you're using is microwave-safe. Use a bowl that is not too large to allow for even cooking. You may need to adjust the cooking time if you're using a different size or type of bowl.
Instead of microwaving for the entire time at once, microwave the batter in short intervals. This helps control the cooking process and prevents the cake from overcooking in certain spots.
Include healthier fats like olive oil and coconut oil to keep the cake moist.
Make sure to sift the dry ingredients to incorporate some air.
While frosting the cake, make sure it's completely cooled before adding frosting.
All microwaves work differently so heat the cake on normal settings for 3 mins first and check with a skewer if it is done. Cook more in 30-second intervals if required.
OTHER RELATED RECIPES FROM THE BLOG
ONE BOWL RED VELVET CAKE
Ingredients
½ cup milk
½ tbsp vinegar
½ cup sugar
¼ cup oil
2 tbsp yogurt
1 tsp vanilla extract
1-2 drops red food colour
¾ cup all purpose flour
1 tbsp cocoa powder
½ tsp baking soda
Instructions
Pour milk and vinegar in a bowl and let it sit for 5 mins. It will curdle and form buttermilk.
To this, add sugar, oil and yogurt and give it a good mix.
Add vanilla extract and red food colour and whisk again to combine everything.
Add in the sifted dry ingredients, that are all purpose flour, cocoa powder and baking soda.
Mix again to form a smooth batter with no lumps.
Microwave on normal settings for 4 mins or till a skewer comes out clean.
Glaze the top with some cream cheese frosting.