When it comes to desserts that can transport your taste buds to a world of pure bliss, few can rival the sheer indulgence of a Chocolate Tres Leches cake. Originating from Latin America, this dessert is a delightful twist on the classic Tres Leches, combining the rich flavors of chocolate with the moist, milky goodness of the traditional cake. If you're a chocolate lover or simply someone with a sweet tooth, this heavenly creation is bound to become a favorite in your dessert repertoire.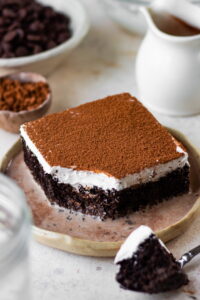 COMPONENTS OF CHOCOLATE TRES LECHES
1.     THE SPONGE
My take on chocolate tres leches which has an eggless chocolate sponge though; the traditional recipe has an airy and fluffy sponge which is made with eggs! But I know you all love eggless recipes and we know they are equally good as egg ones. This eggless chocolate sponge is my favorite recipe and is so versatile that I had to use it ! It is soft, airy and even after getting soaked in the milk mixture, holds structure and doesn't get soggy at all.
2.     THE MILK MIXTURE
This chocolate milk mixture is the essence for this chocolate tres leches as it is full of flavor and texture. We infuse our chocolate sponge with this chocolate milk mixture, which has cream, condensed milk, milk and cocoa powder.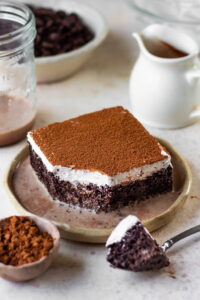 TIPS FOR MAKING THIS CHOCOLATE TRES LECHES
Before making the sponge, do not forget to line your square baking pan generously with oil and parchment paper; as we will soak the sponge so lining with parchment paper from both the sides is very important.
The milk mixture needs to be added in the cake while it is still hot, then only all of it will be absorbed in. do not forget to prick the sponge properly, from all the sides.
Do not pour the chocolate milk mixture over the chocolate sponge in one go, pour it in 3 intervals as to let the milk mixture soak in completely. Tilt the pan if the milk mixture is taking time to seep in.
Do not soak the entire milk mixture but leave some for afterwards, while serving the final slice.
The chocolate tres leches needs to be refrigerated overnight or for 8 hours. I know it might be difficult to wait that long but it will enhance the flavor of your tres leches.
OTHER RECIPES ON THE BLOG
CHOCOLATE TRES LECHES
Ingredients
¼ cup milk
1 tsp vinegar
2 tbsp vegetable oil
¼ cup castor sugar
½ tsp vanilla
4 tbsp flour
2 tbsp cocoa powder
¼ tsp baking powder
¼ tsp baking soda
For the Soak
¼ cup milk
1 tbsp condensed milk
1 tbsp cream
½ tbsp cocoa Powder
To top
¼ cup whipped cream
Instructions
Preheat the oven at 180 degree Celsius and line a 4 inch square pan with parchment paper.
Pour milk and vinegar in a bowl, mix and let it sit for 5 minutes.
To this , add oil, sugar and vanilla extract and give it a good mix.
Sift and gently fold in the dry ingredients-all-purpose flour, cocoa powder, baking powder and baking soda.
Transfer the batter in the lined pan and bake it for 20 minutes or until skewer comes out clean.
For the soak- In a glass, add milk, condensed milk, cream and cocoa Powder. Give this a good mix and then pour this over the cake.
Use a fork or a skewer to prick the cake while it's hot and pour the soak on top.
Allow the cake to rest in the fridge for 3-4 hours, letting it absorb the moisture from the liquid added.
Top the cake with whipped cream, dust some cocoa powder on it, and serve it with an additional soak of milk, condensed milk, and cream if desired.
If you like this recipe and happen to make it for your holiday celebrations, then share pictures with me by tagging me on
Instagram
using #bakewithshivesh.