Dates and dry fruit laddoo is a delightful and nutritious Indian sweet treat that combines the natural sweetness of dates with the rich flavours of assorted dry fruits. This indulgent dessert is not only a healthy alternative to traditional sweets but also a great source of energy and essential nutrients. By incorporating ingredients like cocoa powder and milk chocolate, you can elevate the taste to a whole new level.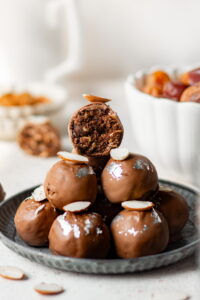 INGREDIENTS USED IN DATES AND DRY FRUITS LADDOO
DATES:


Dates serve as the primary sweetening agent in this recipe. They are a natural source of sweetness and are packed with essential nutrients such as fibre, vitamins, and minerals. They not only provide a delicious caramel-like flavour but also help bind the mixture together.

Assorted Dry Fruits:


The assortment of dry fruits, roasted cashews, almonds and oats. You can use and replace dry fruits of your choice. It adds a variety of flavours, textures, and nutrients to the laddoo.

Cocoa Powder:

Cocoa powder is used to add a rich chocolate flavour to the laddoos. It contributes a delightful bitterness and enhances the overall taste.

Milk Chocolate

Milk chocolate is used to coat the laddoo. Melted milk chocolate is used to further enhance the chocolatey flavour and provide sweetness. It adds creaminess and a velvety texture to the laddoo.
EQUIPMENT YOU NEED FOR THE DATES AND DRY FRUIT LADDOO
To mix and blend everything together nicely you'll need a good quality mixer or grinder. I have used Hamilton beach juicer, mixer and grinder to blend everything perfectly.
Measuring Cups and Measuring Spoons. are an integral part of any baker's kitchen and it's very important to measure ingredients with precision.
The kind of equipment you use can hugely impact the final product. So, make sure to always use the best of the equipment that is available.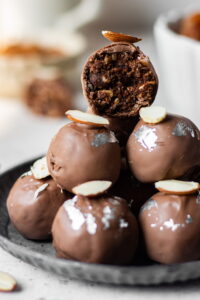 Tips to make dates and dry fruit laddoo
Roast the Dry fruits- Roasting dry fruits enhances their natural flavours and makes them more enjoyable. So make sure you roast your dry fruits before blending them in the grinder.
Melt the Chocolate: In a microwave or using a double boiler, gently melt the milk chocolate until it becomes smooth and creamy. Be cautious not to overheat it; chocolate can burn easily. Stir it occasionally while melting.
Mix Thoroughly: Use a spatula or your hands to mix everything together. Ensure that the cocoa powder is evenly distributed, and the mixture starts to come together.
You'll use your palms or hands to shape the mixture into round laddoos. Ensure your hands are clean and slightly greased with ghee to prevent sticking.
To mix and blend everything together nicely you'll need a good quality mixer or grinder.
Dates and Dry fruits Laddoo
Ingredients
1 cup dates
1 cup roasted Oats
½ cup roasted almonds
½ cup roasted Cashews
3 tbsp Cocoa Powder
½ cup melted milk chocolate (for coating)
Instructions
In a bowl, add deseeded dates and soak them in hot water for 15-20 minutes.
Now add soaked dates(without water), roasted oats , roasted almonds , roasted cashews in Hamilton Beach juicer mixer grinder and blend everything together.
If the mixture feels too dry add 1-2 tbsp water.
Take out the mixture on a plate and make small balls out of it.
Dip these balls in melted milk chocolate and garnish them with almonds and silver leaf.
If you like this recipe and happen to make it for your holiday celebrations, then share pictures with me by tagging me on 
Instagram
 using #bakewithshivesh.