Creating an eggless rasmalai cake involves combining the flavors of the traditional Indian dessert, Rasmalai, with a classic cake. Start by preparing a basic eggless sponge cake. Once baked and cooled, soak it with a mixture of condensed milk, cream and milk and saffron strands.
Each bite is a journey through the rich heritage of Indian desserts and the timeless allure of cake. A celebration of traditions and indulgence, this eggless rasmalai milk cake is more than just a dessert; it's a culinary masterpiece that transcends boundaries.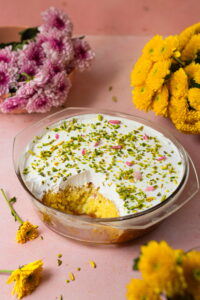 INGREDIENTS USED IN EGGLESS RASMALAI MILK CAKE 
The most obvious reason is that sugar adds sweetness to the cake, making it enjoyable and satisfying to eat. In a microwave cake, sugar helps keep the cake moist, preventing it from becoming dry and crumbly during the cooking process.
Oil adds tenderness to the cake's crumb. It coats the flour particles and interferes with gluten formation, resulting in a more delicate and less chewy texture. It is often easier to mix into cake batters compared to solid fats like butter. It can be blended more uniformly with other ingredients, ensuring an even distribution of fats throughout the batter.
Milk helps dilute the batter to achieve the desired consistency. This makes the batter easier to work with and results in a smoother texture. In recipes that use baking powder as a leavening agent, milk can react with it to produce carbon dioxide gas. This gas creates air bubbles within the batter, causing the cake to rise and become fluffy.
Flour helps absorb the moisture from other ingredients in the batter, which contributes to the cake's texture and prevents it from being overly wet. It interacts with leavening agents like baking powder and baking soda to create gas (usually carbon dioxide) that causes the cake to rise. Flour is a primary structural ingredient in cakes. It provides the framework for the cake's crumb and gives it a cohesive texture. It also produces a tender crumb in the cake.
Baking powder and baking soda are used in this cake recipe as raising agents. Leavening agents introduce gas bubbles into the cake batter. When heated in the microwave, these bubbles expand, causing the cake to rise and become airy. The rise from leavening agents helps the cake cook more evenly in the microwave, ensuring that the center and edges of the cake cook at a similar rate.
Our cake is infused with three kinds of milk as well as the beneficial properties of saffron. Whole milk, condensed milk, and heavy cream are the three kinds of milk used to make the Rasmalai liquid. This provides the cake a tonne of flavour and the necessary texture. To give the three milks the celebratory atmosphere and flavours of rasmalai, I mix saffron strands into them. When preparing this liquid, warm milk is crucial. This milk is then combined with premium heavy cream and sweetened condensed milk, and thoroughly stirred. Now, now! You'll notice that the dish contains a LOT of liquid. 
TIPS FOR EGGLESS RASMALAI MILK CAKE
Before making the sponge

, make sure you line your baking tin with parchment paper.

 

Make sure all your ingredients, are at room temperature when making the sponge.

 

The milk mixture needs to be added to the cake while it is still hot and don't forget to prick the cake before adding the liquid!

 

Don't be afraid of using all the milk mentioned in the recipe, that's what makes the cake taste divine!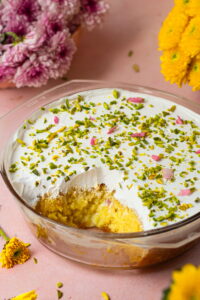 POSSIBLE SUBSTITUTES OF INGREDIENTS
If you don't have condensed milk at home, you can skip it and use milk and heavy cream.

 

For the essence, you can totally skip it. Also, you can some edible rose water.

 

You can use a pinch of turmeric in place of food colour.

 
EQUIPMENTS USED FOR EGGLESS RASMALAI MILK CAKE
The kind of equipment you use when you're baking makes a huge difference to the end result! I would recommend you to use good quality mixing bowls and other equipment so that your eggless marble cake comes out delicious! 
To mix all my ingredients together in, I'm using Borosil's 100% Borosilicate Glass Bowl which is microwave and oven safe, plus the bowls are super easy to clean and handle, which makes my baking process totally hassle free! 
Not a single day goes in my kitchen when I don't use a Silicon Spatula, this is the one I recommend. Same goes for my set of Measuring Cups and Measuring Spoons. 
I have baked this rasmalai milk cake in my Borosil 60L oven. 
OTHER FESTIVE RECIPES ON THE BLOG
RASMALAI MILK CAKE
Ingredients
1 cup milk
A few saffron strands
2 tsp vinegar
2 tbsp rose water
2-3 drops yellow food gel colour
1 cup sugar
½ cup oil
1 + ½ cup flour
1 tsp baking powder
1 tsp baking soda
½ tsp cardamom powder
For the milk soak-
¾ cup milk
6 tbsp heavy cream
¼ cup condensed milk
Saffron strands
For Cream layer-
1 cup whipping cream
½ tsp kewra extract
½ tsp rose extract
Chopped pistachios
A few rose petals
Instructions
Preheat oven at 180 degree Celsius.
Add warm milk in a bowl along with some saffron strands to infuse the milk.
Add vinegar and rose water to the milk and give it a good mix. You can add yellow gel colour at this stage of you feel the colour is not vibrant enough.
Add sugar and oil to the above mixture and whisk till everything is well combined.
Lastly, add the dry ingredients - flour, baking powder, baking soda and cardamom powder and whisk to form a smooth cake batter.
Pour the batter in an oven safe greased dish and bake for about 30-40 mins or till a skewer inserted comes out clean.
Meanwhile, make the cake soak by combining warm milk, cream, condensed milk and saffron strands.
Once the cake is baked and out of the oven, poke holes in it using a skewer.
Pour the soak over the cake and let it soak the liquid completely. Refrigerate for some time.
Meanwhile, whip some cream till stiff peaks and add kewra extract and rose extract while whipping.
Take the cake out of the refrigerator and add the whipped cream on top of it. Garnish with chopped pistachios and a few rose petals.
If you like my rasmalai milk cake recipe and happen to make them in your kitchen, do tag me on Instagram and share pictures with me using #Bakewithshivesh. Happy Baking!