Jaggery, or gud, is a natural sweetener made from concentrated sugarcane juice. Unlike refined sugar, jaggery retains its natural minerals and vitamins, making it a healthier choice. The deep, caramel-like flavor of jaggery adds a unique dimension to the traditional Kaju Katli, creating a sweet that's both indulgent and wholesome.
This traditional Indian sweet is not only a treat for the taste buds but also a healthier alternative to the conventional sugar-laden version. In this blog post, we'll guide you through the process of creating Gud Kaju Katli at home, infusing this timeless delicacy with the goodness of jaggery and the nuttiness of cashews.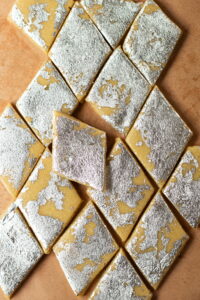 INGREDIENTS USED IN MAKING GUD KAJU KATLI
Cashews play a pivotal role in Kaju Katli, providing a creamy texture, nutty flavor, and acting as a binding agent. Their inclusion not only defines the sweet's essence but also contributes to its traditional authenticity and delightful mouthfeel.
Gud (jaggery) in Gud Kaju Katli adds natural sweetness, a distinct flavor, and cultural authenticity. It serves as a healthier alternative to sugar, contributing to both the taste and nutritional appeal of this traditional Indian sweet.
TIPS TO KEEP IN MIND FOR 3 INGREDIENT GUD KAJU KATLI
 Use fine and premium whole cashews for this premium sweet for optimal results. Basically, the taste, flavor, and texture of the sweet are greatly influenced by the cashews' quality.
The texture and hardness of the sweet are mostly determined by the gud/ jaggery syrup. A single string consistency is more than enough, and the sweetness gets tougher as the sugar syrup thickness grows.
This dessert works best in a nonstick pan. Stirring and mixing occur continuously, thus it is essential.
For added richness, you can include a few tablespoons of khoya (reduced milk solids) in the mixture.
Store Gud Kaju Katli in an airtight container at room temperature. They stay fresh for up to two weeks.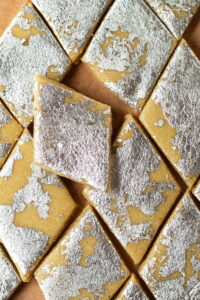 EQUIPMENT USED FOR KAJU KATLI
This kaju katli comes together in minutes and needs just one pan and a few measuring cups and measuring spoons to make.
To prepare this mithai, you'll also need parchment paper or a silicon mat.
To cut into the correct form, you can use any cookie cutter, pizza cutter, or knife.

KAJU KATLI
Ingredients
2 cups cashews
½ cup jaggery
¼ cup water
3-4 silver leaf
Instructions
Start by blending cashews in a processor until they turn into fine powder.
Sieve the cashew powder to ensure there are no big chunks of cashews.
Roughly chop the jaggery into small pieces.
In a saucepan, add jaggery and water. Cook it on low medium heat, stir continuously until the jaggery dissolves completely.
Cook the syrup till it reached one string consistency.
Once the jaggery syrup reaches the desired consistency, add the sieved cashew powder to the syrup.
Mix the cashew powder and syrup thoroughly to form a smooth, lump-free dough.
Place the prepared dough between 2 parchment papers and roll it out evenly.
Garnish the kaju katli with silver leaf and use a sharp knife to cut the rolled dough into diamond-shape.
If you like my 3 ingredient gud kaju katli and happen to make them in your kitchen, do tag me on Instagram and share pictures with me using #Bakewithshivesh. Happy Baking!