When it comes to baking, there are no limits to creativity. Experimenting with new recipes and techniques is an art form for dessert experts and dedicated bakers alike. You're in for a treat if you enjoy the sweet symphony of chocolate and have aspirations of making rich treats. The texture and flavor of these no oven mini chocolate cakes made in an appa pan are just amazing. Imagine the inside of it melting in your mouth—soft and moist. These no oven mini chocolate cakes in an appa pan provide a hassle-free baking experience that anybody can enjoy, whether they're baking for a special event or just satisfying their sweet tooth on a lazy afternoon.
ABOUT APPAM PAN
An appam pan is a specialized pan used to cook appams. Here are some potential benefits or advantages associated with using an appam pan:
Shape and Size: Appam pans typically have a unique shape with a thicker center and thin, crispy edges. The design helps in achieving the characteristic bowl shape of appams, with a soft and fluffy center.
Non-Stick Coating: Many appam pans come with a non-stick coating, making it easier to release the appams without sticking to the pan. This feature promotes healthier cooking as it may reduce the need for excessive oil or ghee.
Uniform Cooking: The design of the appam pan ensures an even distribution of heat, leading to uniform cooking of the appams. This helps in achieving the desired texture and taste.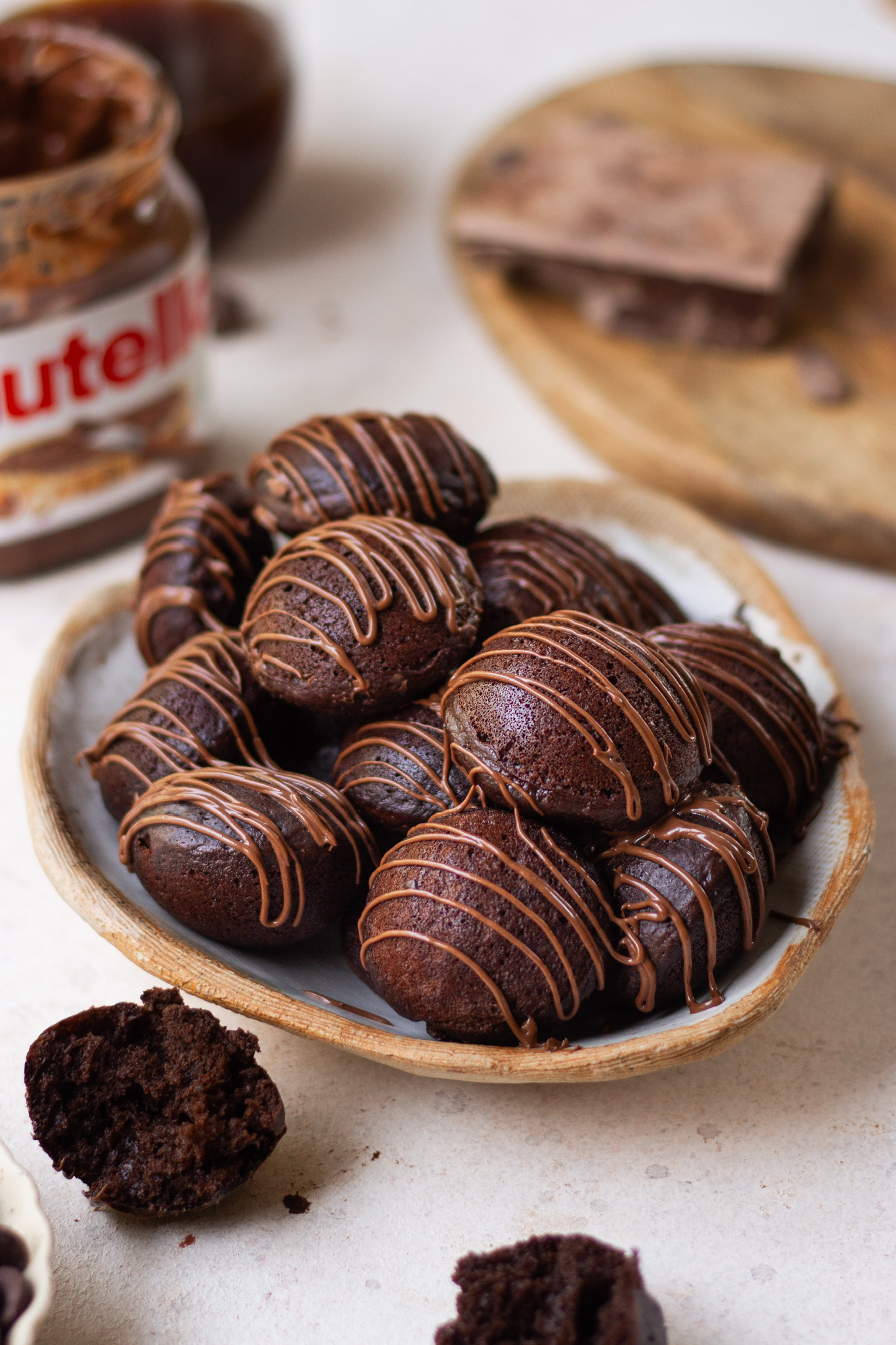 INGREDIENTS USED IN NO OVEN MINI CHOCOLATES CAKES
Cocoa powder is the soul of any chocolate dessert. It provides the rich, deep chocolate flavor that defines these mini cakes. Its intense cocoa taste adds complexity and depth to the dessert, making it indulgently chocolatey.
Milk adds moisture to the batter, ensuring the cakes are tender and soft. It also helps in creating a smooth, pourable batter consistency, allowing the cakes to cook evenly and develop a delicate crumb texture.
Sugar sweetens the cakes and balances the bitterness of cocoa powder. It also contributes to the cakes' tenderness and moistness.
Yogurt serves a dual purpose. Firstly, it adds moisture, making the cakes soft and fluffy. Secondly, it provides a subtle tanginess, enhancing the overall flavor profile. Yogurt also contributes to the cakes' moistness without making them overly dense.
Flour gives structure to the cakes. It provides the necessary gluten to hold the batter together, ensuring the cakes rise properly and maintain their shape.
Oil adds moisture and richness to the mini cakes. Unlike butter, which can solidify upon cooling, oil keeps the cakes moist and tender even at room temperature.
BAKING SODA & BAKING POWDER
Baking soda and baking powder are used as leavening agents to make the mini chocolate cakes soft and fluffy.
TIPS FOR MAKING NO OVEN MINI CHOCOLATE CAKES
Preheat the Appam Pan: Ensure that you preheat the appam pan before pouring the batter. This helps in even cooking and ensures that the cakes cook through without burning on the bottom.
Use a Good Quality Non-Stick Appam Pan: A non-stick appam pan will make it easier to release the mini chocolate cakes without sticking. If your pan doesn't have a non-stick coating, you may need to grease it with a little butter or oil.
Adjust Batter Consistency: Ensure that your cake batter has a consistency that allows it to spread easily in the appam molds. It shouldn't be too thick or too runny. Adjust the consistency by adding a little more liquid or flour as needed.
Fill Molds Carefully: Use a ladle or a pouring jug to fill the appam molds. Ensure that each mold is filled uniformly to achieve consistent mini cakes.
Cook on Low to Medium Heat: Cook the mini cakes on low to medium heat to prevent burning. The appam pan is designed for gentle cooking, and this will help ensure that the cakes are cooked through without getting too dark on the outside.
Cover the Pan While Cooking: If your appam pan comes with a lid, consider covering it while the mini cakes are cooking. This helps trap steam, creating a moist environment that's beneficial for cakes.
Check for Doneness: Use a toothpick or a skewer to check for doneness. Insert it into the center of a mini cake, and if it comes out clean or with a few moist crumbs (not wet batter), the cakes are done.
Cool Before Removing: Allow the mini cakes to cool in the pan for a few minutes before attempting to remove them. This will make it easier to release them without breaking.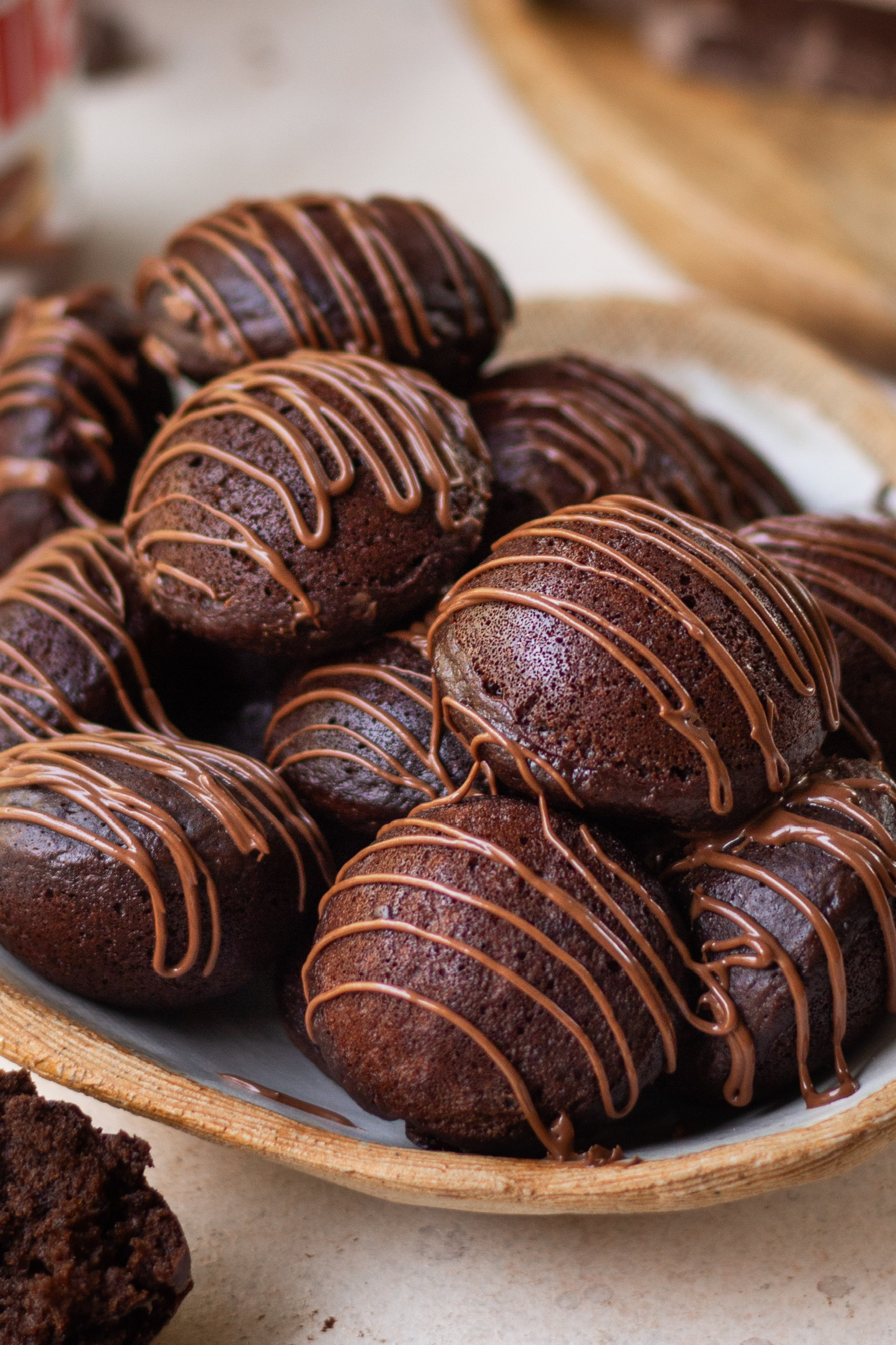 EQUIPMENTS
USED IN MAKING MINI CHOCOLATE CAKES
One equipment that is absolutely necessary to make chocolate cakes is an appe/paniyaram pan.
It is easily available in markets or online. I've used this appa pan.
Not a single day goes in my kitchen when I don't use a Silicon Spatula, this is the one I recommend. Same goes for my set of Measuring Cups and Measuring Spoons.
Mini Chocolate cakes
Ingredients
6 tbsp cocoa powder
6 tbsp milk (warm)
½ cup curd
6 tbsp oil
½ cup sugar
¾ cup all purpose flour
½ tsp baking powder
¼ tsp baking soda
Instructions
In a bowl , add cocoa powder and add warm milk and curd in it. Mix it well.
Now add oil and sugar in this mixture and combine everything well.
Mix in all the dry ingredients-all purpose flour, baking powder and baking soda.
Pour your batter in a piping bag
Now pour out your batter into the pan and cover it with a lid. Let it cook for 3-4 minutes and turn off the flame.
Let the lid be on for a while and let the cake cook in the steam for 1-2 minutes.
Drizzle nutella on the chocolate cake and serve warm.
If you like my no oven mini chocolate cakes and happen to make them in your kitchen, do tag me on Instagram and share pictures with me using #Bakewithshivesh. Happy Baking!