I am so excited for Winters, they're my most favourite time of the year. There are always a lot of festivals lined up and an incessant line of guests demands for some easy and quick winter desserts to soothe your taste-buds and your soul, haha!
Winter also demands the desserts to be comforting and warm, and so, I bring to you 1o Desserts from my blog that you guys should definitely try out this winter. They're easy, they're quick, they're indulgent! These recipes vary from decadent chocolate lava cakes to the heavenly carrot cake donuts.
Try these yourself and I am sure you're gonna love them as much as I do!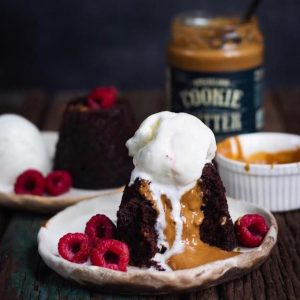 I love chocolate lava cakes! One look at them oozing out the chocolate from within and you are sure to be mesmerised and literally tricked into having them one after the other.
I like my lava cakes with a generous scoop of vanilla bean ice-cream and some fresh raspberries! This recipe is also eggless, so I am sure that it will become the favourite winter dessert for you guys!
Find the recipe here.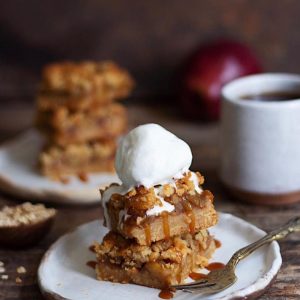 I made these eggless oat-apple crumble bars because I wanted to eat something dessert-y for breakfast. They're made with whole-wheat, oats and not sugar. It also has fruit so basically makes for a great sweet breakfast option. I, off course, beat the purpose by topping these healthy oat apple crumble bars with caramel sauce and vanilla ice-cream.
You can have these bars as breakfast or as dessert by playing with the toppings and I am sure you'll love them as much as I do!
Find this winter dessert recipe here.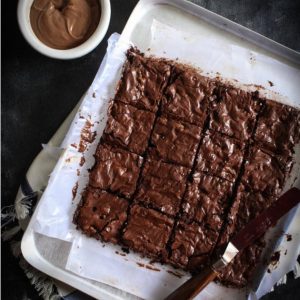 Everyone loves chocolate brownies- they're comforting, delicious and well, chocolaty! These fudgy chocolate brownies are you chocolate dreams come true. The fudgy texture of these brownies, the flaky layer on top and the rich intense flavour make this recipe a total winner. It is an absolutely no-fuss recipe that is very simple to make!
It is the most popular recipe on the blog! Top these brownies off with ice-cream, nutella, peanut-butter, or anything!
Find this winter dessert recipe here.
4. Eggless Banana Chocolate Upside Down Cake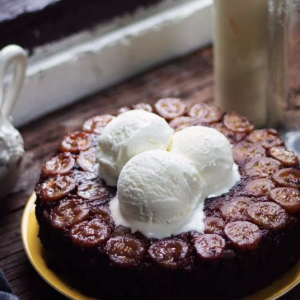 This eggless banana chocolate upside down cake has a beautiful layer of bananas and a delicious eggless chocolate sponge. Each bites has many textures to it and together it seems too divine to be true.
I prefer my slices with some vanilla ice-cream, you can try other flavours and I am sure they will go well!
Find this winter dessert recipe here.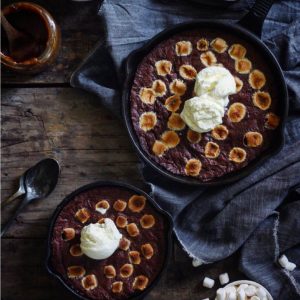 Why I have begun to like skillet brownie is because they take care of both- my chocolate craving and the portions are huger, haha! Plus, the following recipe can even be a one-bowl recipe. Also, it takes minimal dirtying of dishes as well as baking skills to make brownies.
If you are a gooey and fudgy brownie lover who likes their brownies with a tad bit of crackling crust, this recipe of the skillet brownie is going to be your Bible!
Find this winter dessert recipe here.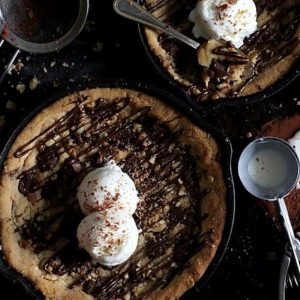 Trust me when I say this, this eggless pizookie might be more divine than any other dessert you have ever had. You turn into a ball of mush and all things warm at every bite and this is one recipe you wouldn't want to share with anyone at all- I guarantee this, haha! This eggless pizookie makes the perfect winter dessert!
Find this winter dessert recipe here.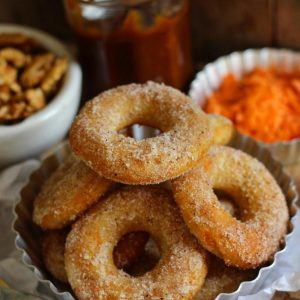 These decadent donuts are made from a super easy recipe and have a subtle yet brilliant carrot-y taste to it. Carrot produce is the best in winters and if you are not utilising it in your baking, trust me when I say this- you are letting go of excellent winter dessert recipes!
I coat them generously in a cinnamon sugar mixture and you need absolutely nothing else in addition.
Find the recipe here.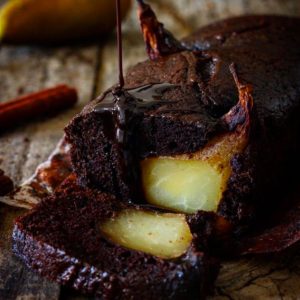 Chocolate and pears are a classic combination that every one seems to love. It might come off as an odd combination at first, but the flavours of both, the pear and chocolate, really balance each other out. For some reasons, I never got myself to work with both these ingredients together. This had to change, and when it did, I was so proud of my creation!
Top this gorgeous loaf cake with some chocolate sauce and you're good to go!
Find this winter dessert recipe here.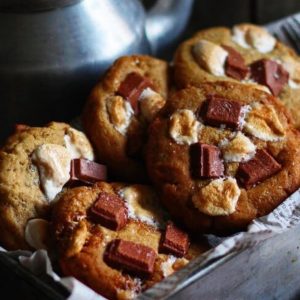 I am always on a hunt for recipes that will be liked by everyone at home. It's so hard to please everyone but here is a secret- chocolate does the trick! Especially when it is in cookies. I decided to take chocolate chunk cookies to the next level by making them S'mores.
These cookies have a beautiful crunch on the outside and are filled with decadence on the inside. I love it to the brim!
Find this winter dessert recipe here.
10. Cinnamon Rolls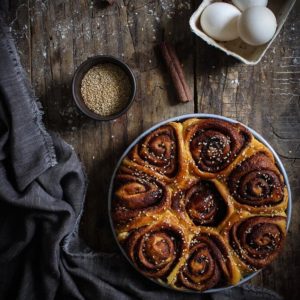 I love cinnamon rolls- they go as any meal, breakfast or dessert, and each bite is as heavenly as the one before and with any topping in the world- from maple syrup to hot chocolate sauce.
Cinnamon rolls are easy to prepare- easier than you know it! You can also top them off with an endless variety of sauces and butters!
Find this winter dessert recipe here.