It's December! My favourite time of the year because I don't need excuses to bake- it's Christmas month! I am always on a hunt for recipes that will be liked by everyone at home. It's so hard to please everyone but here is a secret- chocolate does the trick! Especially when it is in cookies. I decided to take chocolate chunk cookies to the next level by making them S'mores! To make them even better, I added my favourite organic sugar from 24 Mantra Organic.
Stay tuned to the Organic Mantras Initiative and Catch them on Facebook and Instagram for more festive desserts this month!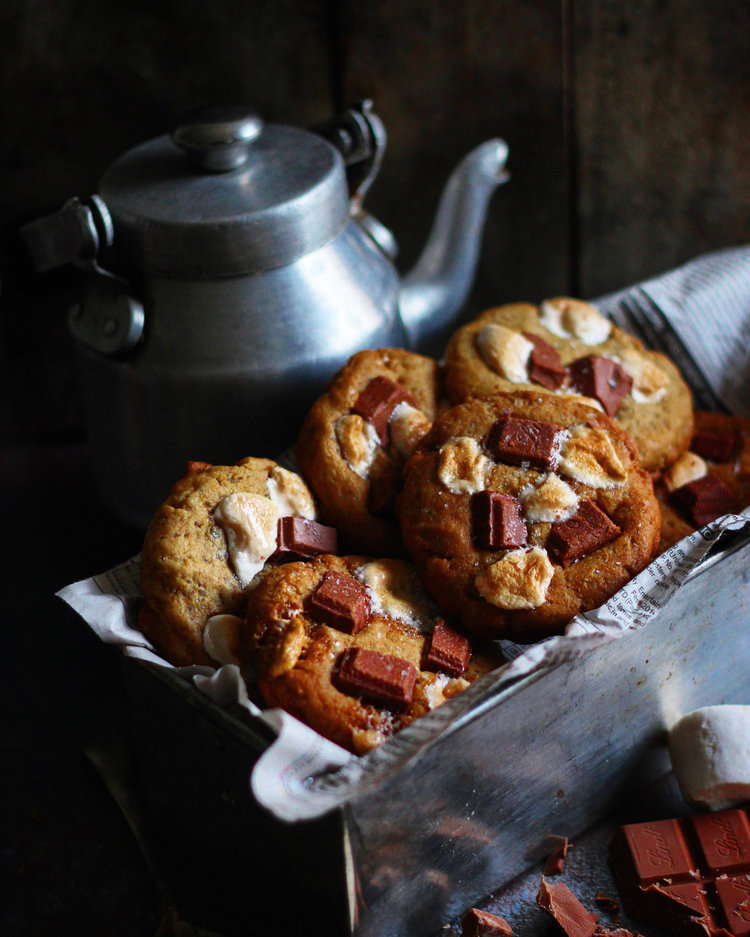 INGREDIENTS
1/2 cup unsalted butter, at room temperature
1/2 cup brown sugar
1/2 cup organic sugar
1 egg, at room temperature
1+1/4  cup all-purpose flour
1 Tbsp corn flour
1/2 tsp baking soda
a pinch of salt
1/4 cup chocolate chunks
1/4 cup marshmallows
PROCEDURE
Using an electric mixer, beat butter until it is fluffy
Add in both brown and organic sugar and cream them with the butter.
Beat in the egg.
In a separate bowl, sift together flour, baking soda, corn starch and salt
Add the dry ingredients to the butter mixture and mix until blended.
Add marshmallows and chocolate chunks. Using a spatula or a whisk, carefully mix them into the batter
Scoop out your dough into balls of equal sizes on a baking tray lined with baking sheet. Refrigerate for 30 minutes
Pre heat your oven to 170C.
Bake for about 12-15 minutes or until the edges become golden brown.
After taking them out of the oven, let them rest on the baking tray for at least 10 minutes..