I always say this- cookies are the hardest to resist them. After 6 years of baking, I can resist absolutely any dessert but I can not say no to chocolate chip cookies. I mean, saying no to cookies could be the worst thing you could do to yourself. Don't you think? I know you'd not be able to say  no to these delicious eggless chocolate chip cookies. They're SO good!!
These chocolate chip cookies are:
eggless
chewy
loaded with chocolate chips
buttery
crispy edged
and delicious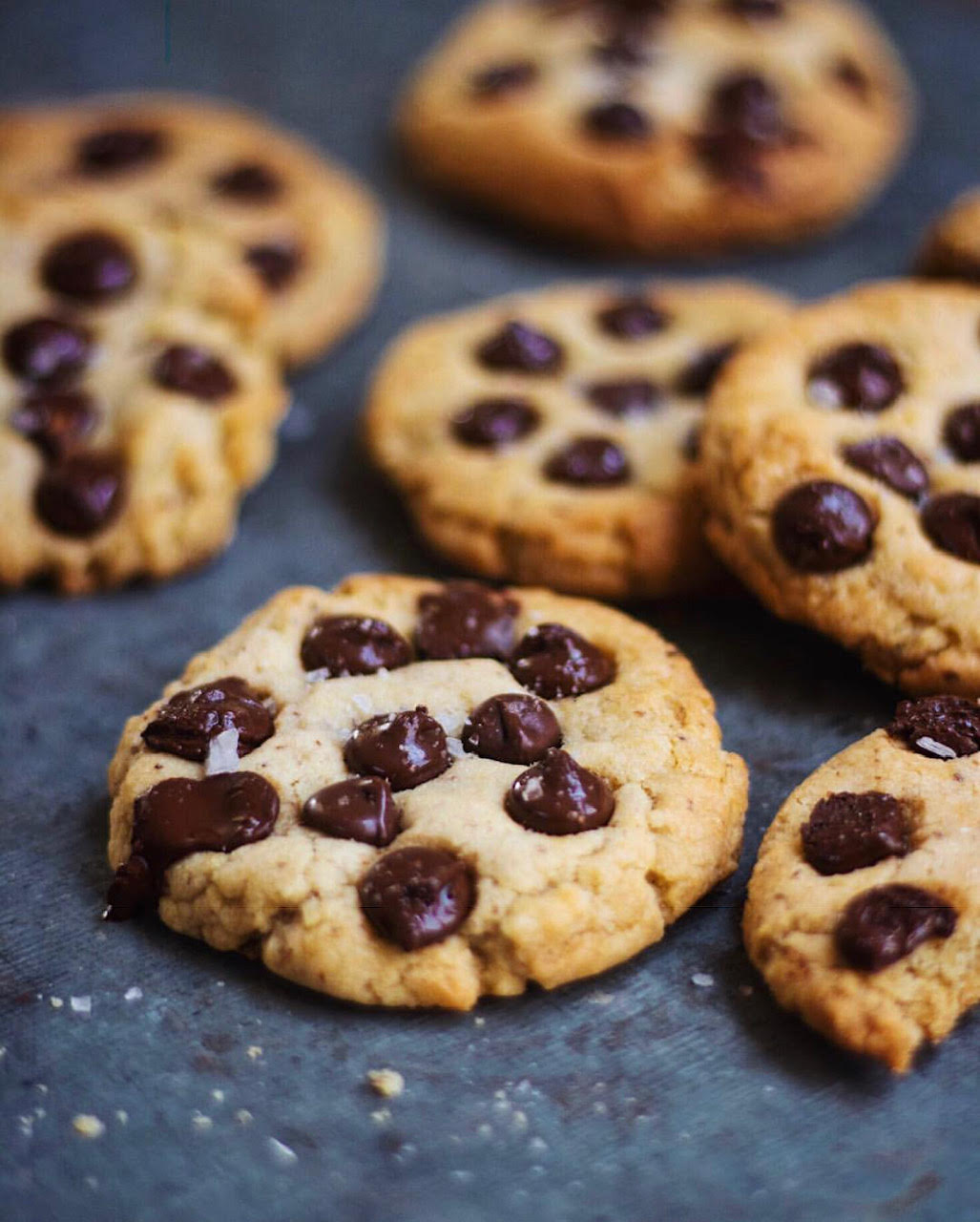 Before you get into making these eggless chocolate chip cookies, I'd also like you to read the post I wrote on How To Bake Cookies Right.
More eggless recipes to try-
Ingredients For Eggless Chocolate Chip Cookies
I use regular salted Amul butter to make these eggless chocolate chip cookies. You can also use unsalted butter but in that case don't forget to add a pinch of salt to your dry ingredients. The recipe also uses both brown and white sugar to get the perfect texture. I would recommend using both to get the perfect eggless cookies. I also add some corn flour/corn starch to the dry ingredients that make these eggless chocolate chip cookies nice and chewy. You can skip the corn flour if you want your cookies to be crunchy.
How Do I Substitute Eggs In Chocolate Chip Cookies?
I often get asked- how do I substitute eggs in chocolate chip cookies?  This brings me to the most important ingredient of this recipe- flax egg! It is nothing but 2 tablespoons of ground flax seeds combined with one tablespoon of water. Just ground flax seeds in a grinder. Add water to in. Give it a good mix and let it rest of 5 minutes. That is what we call a flax egg and that is what we'll use in place of egg in these eggless chocolate chip cookies.
How Do I Make Eggless Chocolate Chip Cookies In Microwave?
Looking for an eggless chocolate chip cookies recipe for microwave?  All you have to do while baking these eggless cookies in the microwave is to reduce the baking time by 25%. So in the microwave these cookies will only take 8 minutes at 180*C. Everything else remains the same.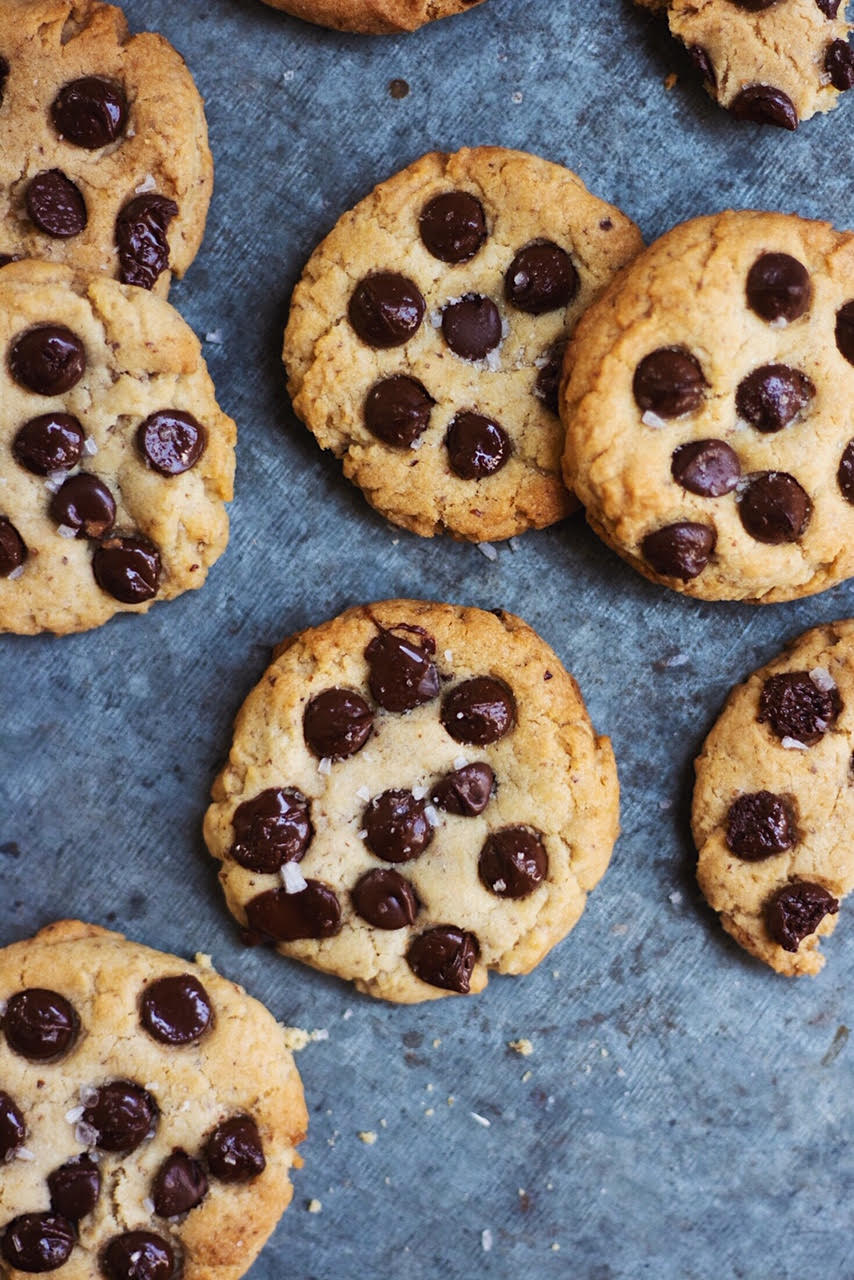 If you bake these cookies at home, please don't forget to share a picture with me on my Instagram using #BakeWithShivesh

EGGLESS CHOCOLATE CHIP COOKIES
These eggless chocolate chip cookies are very easy to bake and so so delicious. You won't believe they're eggless!
Ingredients
½ cup (113g) butter, softened
½ cup (100g) soft brown sugar
½ cup (100g) castor sugar
1 flax egg ( 2 tablespoons ground flax seeds + 1 tablespoon water, mixed and rested for 5 minutes)
½ teaspoon vanilla extract
1 + ¼ cup all purpose flour (maida)
½ teaspoon (2.5mL) baking soda
1 tablespoon (12g) corn flour (optional)
1-2 (15-30mL) tablespoons milk
½ cup (88g) chocolate chips
Instructions
In a large bowl, beat the butter with brown sugar and castor sugar until the mixture is light and fluffy.
Add the flax egg and vanilla. Mix well.
In the same bowl, add flour, baking soda and corn flour. Mix well to combine the dry and the wet ingredients.
Add 1-2 tablespoons of milk if the dough is too dry. Refrigerate the cookie dough for 30 minutes.
Pre-heat the oven to 180*C and line the baking tray with parchment paper/ silicon mat.
Use an ice-cream scoop to transfer the dough into balls on the baking tray.
Press them lightly with your fingers and place chocolate chips on top.
Bake the cookies at 180*C for 10 minutes until the edges of the cookies are golden-brown. Let the cookies rest on the baking tray for another 10 minutes (outside the oven) before you lift them.
Your eggless chocolate chip cookies are ready